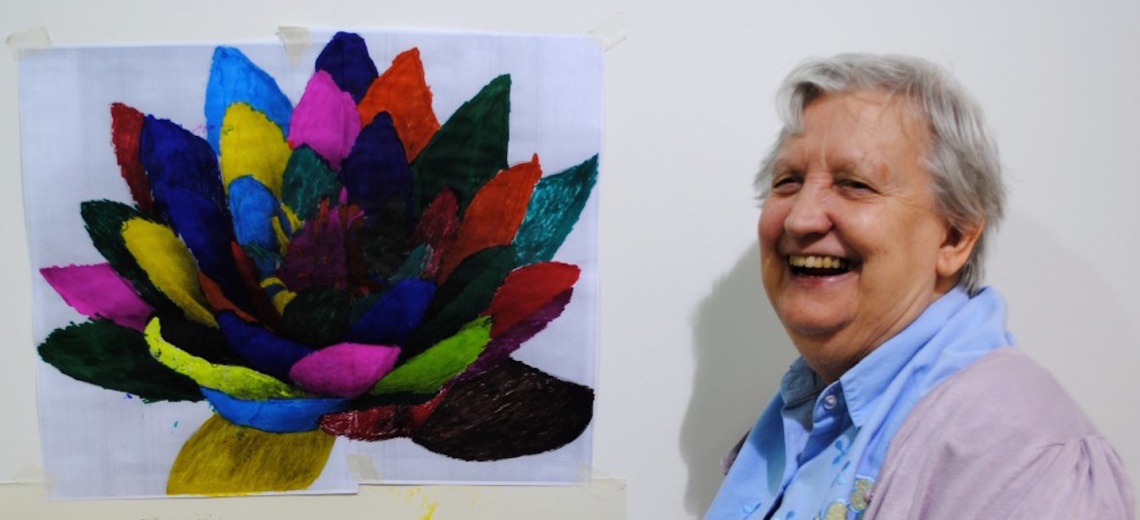 Connie Moth Price creates vibrant patterns and interlocking shapes in her drawing.
Photograph of Connie Moth, a white woman with grey hair standing next to a colourful artwork made with felt tip pens.
Nnena Kalu binds and layers materials together creating raw and intense artworks.
© Photo by: Image © Action Space
Photograph of a black female artist wearing an apron, she is standing against a wall with four colourful abstract sculptures.
Lasmin Salom is predominantly a textile artist with a bold and distinctive style.
© Photo by: Picture © Action Space
Photograph of a black person shot from behind, they are hammering a nail into the wall, which is covered in small colourful sculptures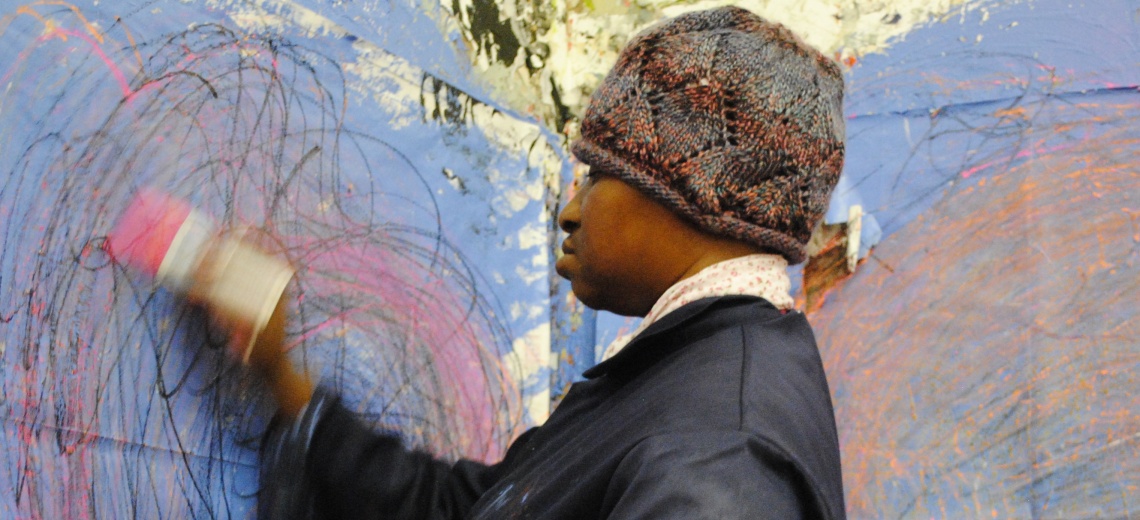 Action Space artist
© Photo by: Image © Action Space
Photograph of a person shot from the side their arm is blurry to indicate fast movement, as they draw on a blue background with a pink pen
ActionSpace artists create large scale temporary installations
© Photo by: Image © Action Space
Photograph of a person wearing a white apron shot from behind. They are painting on a giant canvas in colourful paint.
ActionSpace supports the development of artists with learning disabilities and creates innovative projects for people with learning disabilities to engage with the visual arts.
At their three dedicated art studios based in London, artists with learning disabilities attend weekly Studio Projects and receive guidance and mentoring from their specialist artist facilitators. This supports them to develop their practices and establish their own unique artistic signatures. Their exhibition programme provides ActionSpace artists with opportunities to showcase and sell their work.
ActionSpace's work with high profile cultural organisations such as the Royal Academy, Camden Arts Centre, the Museum of Everything, Outside In/Pallant House Gallery and the National Portrait Gallery has helped to establish a place for artists with learning disabilities in the contemporary arts sector in England. ActionSpace aims to make a professional career in the arts a realistic option for artists with learning disabilities who have the talent and ambition to pursue this.
ActionSpace was launched in the 1960s, was established as an independent charity in 1984, and is currently an Arts Council England National Portfolio Organisation.
Contact details
Sheryll Catto
Co-director
Cockpit Arts
Cockpit Yard
Northington Street
London WC1N 2NP
Pop up Pardip
Description: Join artist Pardip Kapil for a day of spontaneous creative happenings. Pardip will transform Heathbrook Park with a vibrant, interactive installation. Come and create art works, props and costumes and dance at the Hidden Heathbrook Disco.
Extra information: Pop up Pardip is part of Wandsworth Arts Fringe
Freight: none
Shop of Curiosity
Duration: N/A
Description: An exhibition presented by 11 ActionSpace artists from the Cockpit Friday Studio Project.

The Shop of Curiosity invited the viewer into a shop like no other. Audiences entered a multimedia, multi-sensory experience that will transported them into a world of curiosities, intrigue and discovery.
Extra information: This exhibition took place in The Geddes Gallery - a pop up gallery located in a building that was previously an Italian deli, during March 2016.
People on road: N/A
Freight: none
Watch This Space
Duration: N/A
Description: Watch This Space returns to the Southside Shopping Centre as part of the Wandsworth Arts Fringe.

ActionSpace artists Pardip Kapil, Nnena Kalu, Linda Bell, Mark Lawrence, Mary Ogunleye, Claudia Williams and Robin Smith take up residency, transforming an empty shop unit with their unique art works and site specific installations.
Throughout the residency the artists will lead a series of 8 participatory workshops based on their own art practices, inviting the public to create alongside them to develop interactive, large scale art works in response to the developing residency installations
Extra information: The shop and developing installations will be open throughout the festival for the public to explore and to meet the artists.
People on road: N/A
Freight: none
Beyond the Studio
ActionSpace's Beyond the Studio programme extends our work outside of the studio, and responds to the needs and interests of London's learning disabled community. This extends from projects for people with profound learning disabilities and complex needs to groups wishing to explore specific visual arts practices, to ActionSpace artists working on individual projects often collaborating with others. We work with partners across London to deliver projects that stimulate, inspire and transform the participants' lives through building confidence and learning new skills.
Participatory events such as 'Watch this Space' allow their artists to share their practice with the general public and to engage with others with learning disabilities by inviting them to join them in exploring their creativity in a festive environment.
Young People's Programme
ActionSpace's young people's projects provide regular opportunities for young people with learning disabilities to explore their creativity and discover new skills. They also give them the chance to meet like-minded young people and to create strong support networks, which is particularly important during the transition from school to adult life. The visual arts can provide a lifeline for these young people by helping them to develop a method of self-expression, which can reduce their frustration and anger. Exhibiting artwork in local venues provides them with a way of participating in their community and gives them valuable positive acknowledgement.
ActionSpace has been successfully running Arts Award since 2011 and we offer each young person we work with the opportunity to gain an Arts Award.
Latest Video
Action Space worked with film maker Will Halfacree to produce a short film about our artists Thompson Hall, Phillippa Marshall and Andrew Omading
Related artists from the same artform