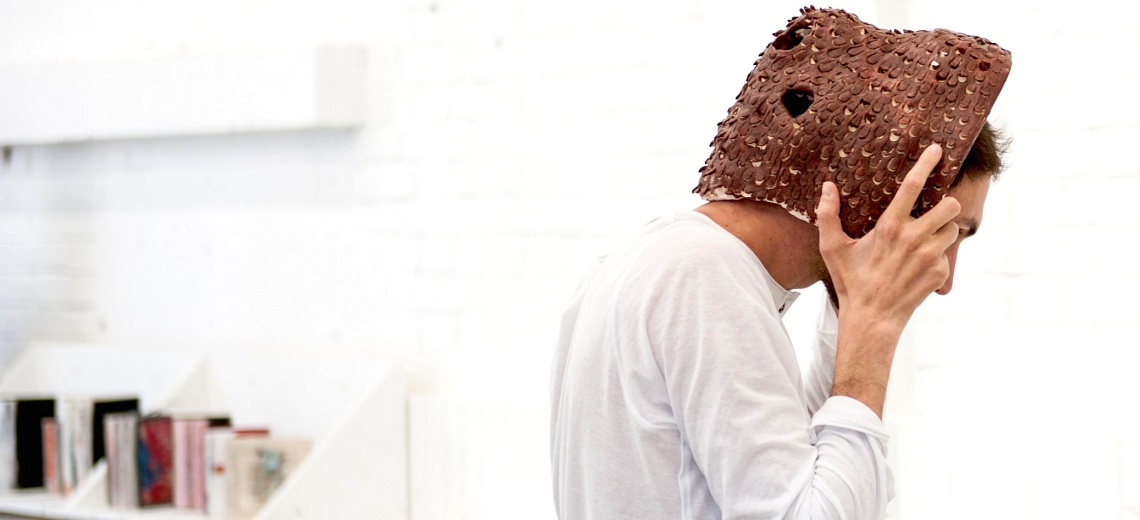 Altrove
Photograph of a man holding a brown object, which is like a mask but designed for the back portion of the head.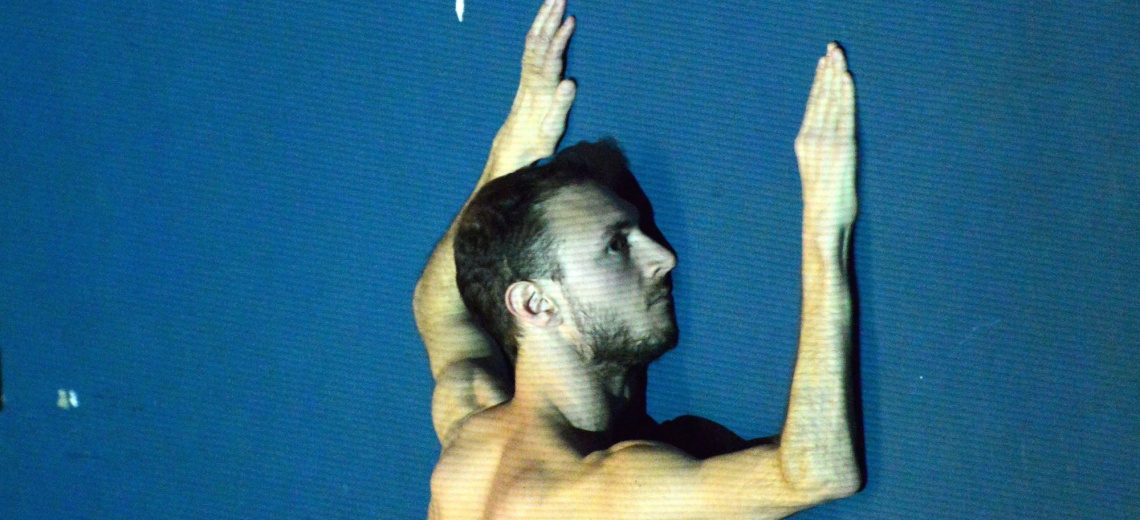 Tell me where it is?
© Photo by: Photo: Nars-Zimmer Nicole
Photograph of a man shot from shoulders up lying flat out on a blue floor. The image is rotated 90 degrees.
Alessandro is a dancer, choreographer and video-grapher based in Switzerland, and his research focuses on less-visible disability. Since the age of fifteen, he has been affected by Hirayama disease, a neuromuscular disability, which slowly reduced the strength in his hands; this didn't stop him dancing in international and renowned dance companies such as: the Bejart Ballet Lausanne (2002-2008), the Ballet Du Grand Theatre de Geneve (2009), the Scapino Ballet Rotterdam (2011), the Konzerttheater Bern (2012) and Ballett Basel (2013-2014).
From 2015 up to now, Alessandro has been supported by the Cultural Commission of the City of Basel. His latest productions are: Altrove – a 20' minute solo performed in several international festivals, and his first corporeal investigation of the less-visible disability movement. As progress of it – Tell me where it is, a full evening solo piece choreographed into a biographical perspective. Alessandro has been awarded of the Choreographic Captures Competition for the video-choreography Mani-Cure(2015). Since 2015 he is an MA student in "Expanded Theatre" at the University of Bern (research project: less-visible disability and corporeal difference).
Artist Statement
What our limits are? Is it possible to transform body limits in new corporeal abilities? What is difference? Can I decide when and how display my difference? How to confront, choreographically, the 'norm' with a less visible disability? Should I show it, Should I hide it? Tell me where is it?
'Questioning' is at the basis of my choreographic investigation, in my practice research there aren't definite answers other then corporeal responses, physical, creative and sensible attempts proliferating in other in-finite questions….
My current research rely on the exploration of "differences" – physical, identitarian, cultural…Hirayama disease, is my personal "difference". At the beginning this disease was source of uneasiness, imperfection, frustration, it was something with which I should struggle against in a dance world made of 'perfection' and 'normality'. Caught in between "disable" and "normal" categories – and disappointed by ant 'categories' – I began searching for new ways of expressing my identity: I rise up new questions and look for answers. Confronting my self with issues of visibility and less visibility of differenciated abilities, I want to choreograph new possible corporeal space of balances to share. My creative impulse generates from the desire to share life experiences, in this aim I compose a personal, intimate, yet accessible and direct language – a delicate connection between my inner and less visible world and that of the audience.
Contact details
Annalisa Piccirillo
Curator
Friedensgasse 53
4056
Basel- Switzerland

Altrove
Duration: 20 min solo
Description: In his first choreographed production Altrove presented at the Theater Roxy in Basel, Alessandro Schiattarella provides the viewer with an opportunity to find a con-tact with his inner body by rendering space tactile. Music of an avant-garde and even psychedelic nature accompanies the movement, while other choreographic passages punctuate the performance with the only sound of the body, visible in its difference and its new abilities. From small but astonishingly intricate gestures, the performance increasingly gain narrative energy; fluid and expansive corporeal act culminate in a final test of tensile strength. The body looks, explores and searches for alternative spaces/stages of the elsewhere.
Extra information: Choreography, Video & Dance: Alessandro Schiattarella
Music: Godspeed you! Black Emperor
Costume: Simona Lanzberg

Full Piece : https://vimeo.com/159429972

All indications of this technical rider are exhaustive.

PERFORMANCE REQUIREMENTS:

Ideal size of the stage is 14(wide) by 10(deep) meters.
The floor needs to be even and smooth, covered with black marley / dance floor.

Please provide:
Normal stereo sound-system / PA with subwoofer, covering the whole stage and audience area, with possible monitoring for the performer.(input source will be either laptop or DVD)

PC (position on the floor on downstage edge, right side)
Profile ( position downstage center)
Profile (position stage right- to be defined on place)
Houselights for the audience area
We will bring:

1 stool / chair without back-rest
1 iPod or CD or Computer
Get-in time: N/D
Rehearsal / warm-up: N/D
Strike: max. 30 minutes
People on road: 1
Freight: none
Tell me where it is
Duration: 50 mins ca.
Description: A dance solo performance about a personal experience: being a professional dancer and the consciousness of being affected by a rare neuromuscular disease. This situation slowly changed my body and challenged my identity. The fact of not fitting into a 'box' placed me in a between space; from here I explore new aesthetics and new qualities of movement, yet finding new strategies of corporeal expression. How is it possible to transform a boundary into a new possibility, a weakness into strength? By attempting to give an answer to these matters, Tell me where it is questions, discusses and challenges issues concerning "less-visible disability". Through my personal story of limits, I choreograph a possible bridge between the stage and the audience, in between a wish of individuality and a protest against the norm.
Extra information: Extra information
Choreography, Video & Dance: Alessandro Schiattarella
Music: Bruno Raco
Costume: Karen Petermann
Lights: Minna Heikkilä
Full Piece: https://vimeo.com/149817767
Trailer: https://vimeo.com/149679304
Tell Me Where It Is
Choreographer: Alessandro Schiattarella
People travelling with the performance: 2
Performer: Alessandro Schiattarella
Technician: Minna Heikkilä
Email: mpheffects@gmail.com
Phone: +41 78 63 55 254
Production: Tell Me Where It Is
Duration: ca. 40 minutes
All indications of this technical rider are exhaustive.
Space requirements:
Ideal size of the stage is 14(wide) by 10(deep) meters. Rigging height minimum 5,4 m.
No curtains, legs or borders.
The floor needs to be even and smooth, covered with black marley / dance floor. The floor is not to be taped on the sides, as the performer will crawl under it during the performance. Specific opening cuts on the taping (indicated on red on stage plot) will be made, to provide him access / exit.
Note: The dance floor needs to be straightened immediately after each performance to prevent damage to the floor. Usually there is no need of taping it new.
For tech, please provide:
Personnel:
Sound technician during the get-in
Light / stage / video technician during the get-in. During the actual shows we don't need assistance providing that all systems are up and running.
stage technician to straighten the dance floor after each show.

Sound:
Normal stereo sound-system / PA with subwoofer, covering the whole stage and audience area, with possible monitoring for the performer
Professional CD-player with A-Cue + single mode
Stereo channel on mixing console for the CD

Video:
Video beamer 5000Ansilumen with preferably in-built shutter and optics that can provide at least 6m wide image at 12m distance.
Projection screen / Opera in approximate size of 5m (width) x 3m (height), white

Light:
5 ETC Source4 25-50 Profiles, and
4 x iris
4 x floor stand / plate
1 piece Rosco #132 frost
Any programmable light console with capacity of 3,00 minute crossfade
House-lights for the audience area, dimmable worklight on stage
People on road: 2
Freight: none
Schiattarella offers masterclasses and workshops in less-visible disability movement for dancers and not professional dancers (with some experience in choreographic knowledge). He also gives post-talk shows and delivers academic papers and creative interventions concerning his research work.
See for example:
6-7 November 2015: Invisible Difference – Dance, Disability, Law "Beyond the tipping Point", Coventry University (UK).
Title co-presented with Dr. Annalisa Piccirillo: "What the Body Can(not) Do?"
http://www.invisibledifference.org.uk/events/our-events/
6-8 May 2016: 13th Congress for Dance Medicine Dresden, Palucca Hochschule (DE).
Title: "A Less-Visible Disability in the Elite Dance Environment".
http://www.tamed.eu/vernetzen/congress/program-saturday-7-may-2016/
Schiattarella offers masterclasses and workshops in less visible disability movement for dancers and not professional dancers (with some experience in choreographic knowledge). He also gives post-talk shows and delivers academic papers and creative interventions concerning his research work.See for example:6-7 November 2015: Invisible Difference – Dance, Disability, Law "Beyond the tipping Point", Coventry University (UK). Title co-presented with Dr. Annalisa Piccirillo "What the Body Can(no) Do?"Schiattarella offers masterclasses and workshops in less visible disability movement for dancers and not professional dancers (with some experience in choreographic knowledge). He also gives post-talk shows and delivers academic papers and creative interventions concerning his research work.See for example:6-7 November 2015: Invisible Difference – Dance, Disability, Law "Beyond the tipping Point", Coventry University (UK). Title co-presented with Dr. Annalisa Piccirillo "What the Body Can(no) Do?"
Schiattarella offers masterclasses and workshops in less-visible disability movement for dancers and not professional dancers (with some experience in choreographic knowledge). He also gives post-talk shows and delivers academic papers and creative interventions concerning his research work.
See for example:
6-7 November 2015: Invisible Difference – Dance, Disability, Law "Beyond the tipping Point", Coventry University (UK).
Title co-presented with Dr. Annalisa Piccirillo "What the Body Can(no) Do?" http://www.invisibledifference.org.uk/events/our-events/
6-8 May 2016: 13th Congress of Dance Medicine, Palukka Schule, Dresden (DE) http://www.tamed.eu/vernetzen/congress/program-saturday-7-may-2016/
"Un lavoro molto intenso, della durata di venti minuti, che ha catalizzato l'attenzione del pubblico per la verità dolorosa che esprime in un linguaggio totalmente libero, fluido, di grande spessore"
("A 20 minute intense work, it has caught the eyes of the audience for the sorrowful truth he expresses in a totally free, fluid and profound language".)
ALTROVE Elisabetta Testa, 12/3/2016 – "Quelli che la Danza….IV Edition" http://elisabetta-testa.wix.com/danza#!Quelli-che-la-danza-quarta-edizione/cgla/56e475480cf2d5aa2196c751
Related artists from the same artform