Churned
Female performer crouching in a metal vat, she is forming a ball of what appears to be butter or cheese in her hands, a milky white substance is all over the floor and her dress.
Churned
© Photo by: Photo: Jenni Berndtson/©Anna Berndtson
Photograph of female performer in blue dress, she is covered in yellowy substance, standing in an empty vat. She faces a small audience on chairs a few feet away.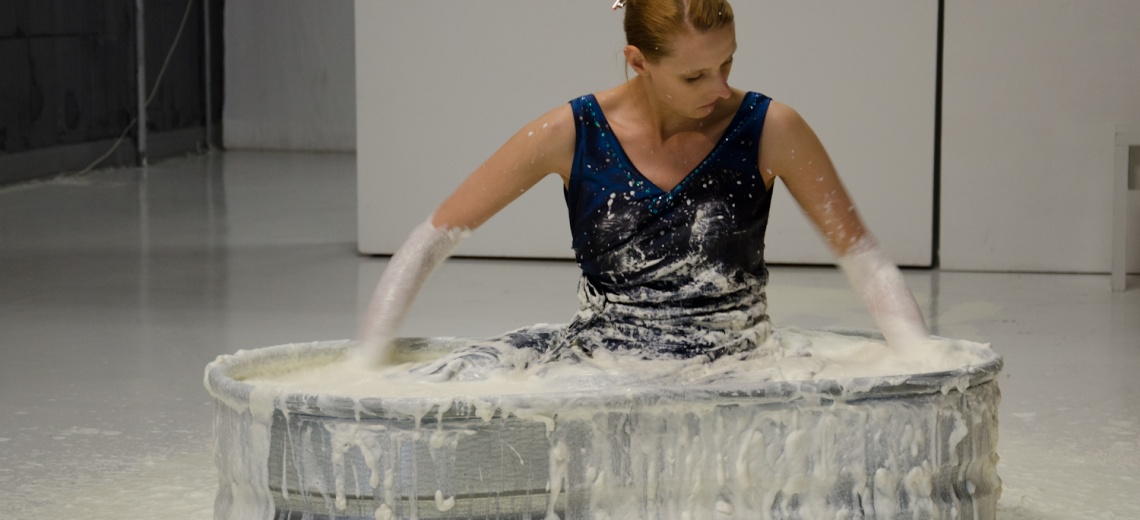 Churned
© Photo by: Photo: Rosa Gaia Saunders/©Anna Berndtson
Photograph of female performer in formal blue dress, sitting in a metal vat of a white liquid, possibly yoghurt. She is covered in it.
Performance is the foundation of my artistic practice, working foremost with Long Duration Live Performance Art. The public is essential in my work, as their presence becomes part of the live experience. Being present over several hours or even over several days is the main challenge in this art form. The sustained long duration can simultaneously be perceived as both exciting and boring, both eventful and monotonous.
The mission to stimulate the public, capture their attention and keep it, is reflected in the endurance of the artist, as the public experiences the passing of time and the continuity of space. Simultaneously I work on maintaining the position, the presence and the concentration on what is performed. To me it is imperative to always renew my ideas and ways of working and I see it as an enrichment to constantly work with new materials and subject areas.
I was born in 1972 in Malmö, Sweden but have both lived, worked and studied in England and Germany. I graduated from Dartington College of Arts, UK in 1999 and in 2001 joined the performance class of Marina Abramovic at the HBK Braunschweig, Germany, where I graduated with a Diploma in Fine Arts in 2005.
I have performed and exhibited work extensively including; Fondation Beyeler, Basel, the Bluecoat, Liverpool, Liljevalchs, Stockholm, The LAB Gallery, Dublin, Artists Space, New York, Van Gogh Museum, Amsterdam and VV2 at the Venice Biennale.
Recently I received residency grants from amongst others Bergman Estate on Fårö, Nordic Artists' Centre Dalsåsen and Fire Station Artists' Studios in Dublin, as well as working grants from Aase & Richard Björklunds fond and Konstnärsmämden in Sweden.
Contact details
Anna Berndtson
Performance Artist
Churned
Duration: 5 – 6 hours
Description: Dressed in a blue evening dress I stand sit and lye in a big tub. The tub is full of cream. As I move in the tub, the cream gets churned into butter. I make lumps and hold the butter in my arms. The cream and butter sticks to me and to my dress in different ways throughout the duration of the performance.

In the old farmer community in Sweden butter was considered to have a very high status. It was kept under lock and key in the cupboard and if you did not have any money you could pay your taxes with butter. If you where rich, you would build butter sculptures, during Christmas time, to manifest your success. In 2011 butter once more became a rarity in several European countries as the milk farmers struggled on the EU-market. Also in 2015 the milk market was deregulated which caused instability yet again.

Butter represents wealth and creating butter can be seen as a way of making your own capital.
Extra information: Materials:
Blue evening dress
Washtub or a trough – large (fitting a sitting person) and free standing with flat base.
Cream (whipping cream) – "tub filling"

Requirements
A well lit gallery like space with florescent light or similar (an even, bright light that doesn't cast a shadow). The space needs to be durable for cream and butter splashings, have enough space for the tub and with some distance to the public who doesn't want to get splashed at.

White gallery like benches so the public can watch from the side for longer would be good.

The tub or trough should be free standing and have a flat surface at the bottom, for me to stand on (not have a curved base). There should be no holes or drain.

The cream needs to be kept cooled till just before the performance.

I need somewhere to change (with a toilet and water) and a place to leave my private stuff. I need access to a warm shower after the performance.

Assistants/Volunteers

Guard for the performance
Assistant for photo and video documentation
Assistants to help fill the tub quickly with cream and help me in at the beginning and out at the end (and to the showers)
Assistants to find, transport and clean up all materials; i.e. tub and cream.
People on road: 1
"Anna Berndtson's performance Churned feels like a triple threat. It's as beautiful as a painting (if the clam shell was a cattle feeding trough, she would be the milk maiden in a new version of Botticelli's The Birth of Venus); she's hard at work creating what basically will be a food sculpture, carving from one material the likeness of another; and she has promised the audience a feast for our eyes lasting five and a half hours, a performance." Shannon Cochrane
Related artists from the same artform