Back to Back Theatre's LADY EATS APPLE, Perth International Arts Festival 2017
Photograph from Back to Back Theatre's LADY EATS APPLE depicting one performer seated holding up a picture of a chicken to another performer, who is standing on the other side of the stage to him. The word chicken is projected onto the back wall between them
Back to Back Theatre's GANESH VERSUS THE THIRD REICH
© Photo by: Jeff Busby
A photograph of Back to Back Theatre's GANESH VERSUS THE THIRD REICH, depicting a topless man with an elephant's head, wearing Indian trousers. He is standing on the right of the stage, behind him a stage set depicting a shadowy female figure, trees and long grass.
Back to Back Theatre's THE DEMOCRATIC SET
© Photo by: Jeff Busby
A photograph of Back to Back Theatre's THE DEMOCRATIC SET, depicting a person a person dressed in a robot costume made out of cardboard boxes. The person is standing in the middle of a small room with wooden walls, floor and ceiling. There is a door on the lefts and the right hand side of the room, and a bright strip light on the ceiling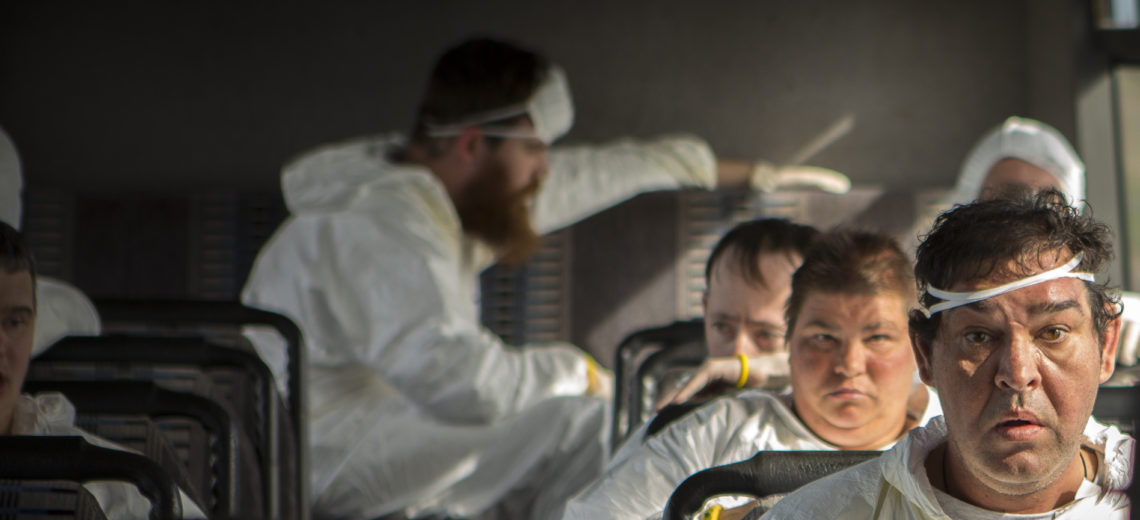 2017 Back to Back Theatre's ODDLANDS
© Photo by: Tao Weis
A photograph of Back to Back Theatre's ODDLANDS, depicting six people sitting on a bus in separate seats. All the people in the picture are wearing white overalls, and some of the people are wearing white surgical face masks which have been positioned over their heads or back to front. Three people are wearing a similar yellow wrist bangle.
Back to Back Theatre creates new forms of contemporary performance imagined from the minds and experiences of a unique ensemble of actors with a disability, giving voice to social and political issues that speak to all people.
Based in the regional centre of Geelong, the company is one of Australia's most globally recognised and respected contemporary theatre companies.
Since 1999, under the Artistic Directorship of Bruce Gladwin, the company has nurtured a unique artistic voice with an emphasis on the ensemble's own commentaries on broad social and cultural dialogue. Created through a process of research, improvisation and scripting, new work is realised across time via collaboration between the ensemble, Artistic Director and guest artists.
In addition to its professional practice Back to Back collaborates intensively with communities around the world, with a focus on artistic excellence and elevated social inclusion for all people of difference.
Back to Back Theatre proposes work for the near future. Our artistic vision extends our momentum, maturity and ambition to make theatre of global significance that cannot yet be imagined. We seek to create an international artistic legacy by provoking genuine cultural and social change, re-defining possibility in theatrical practice, and thus, in society.
Contact details
Rebecca Kleindienst
Marketing Manager
60 Little Malop Street
Geelong, VIC 3220
LADY EATS APPLE
Duration: 75 minutes (including audience entrance)
Description: Set inside a vast, awe-inspiring inflatable, Lady Eats Apple is a story about the inevitability of death, our fragility and the myths and illusions we create to fortify ourselves.

It's about intelligence and what it means to be a cracked vessel. It's about Thanatos and curiosity, about power and what you might need to get it, about wanting to drive a car but not having a licence. It's about castration and empowerment. It's about our simultaneous desire for the myth of limitation and the myth of progress.
Extra information: Director: Bruce Gladwin

Devisors / Performers: Mark Deans, Simon Laherty, Romany Latham, Brian Lipson, Sarah Mainwaring & Scott Price

Set Design: Mark Cuthbertson

Projection Design: Rhian Hinkley

Lighting Design / Technical Direction: Andrew Livingston, bluebottle

Composition: Chris Abrahams

Sound Design: Marco Cher-Gibard

Sound System Design: Nick Carroll

Sound Design & Mix: Lachlan Carrick

Dramaturgy: Melissa Reeves, Tamara Searle & Kate Sulan

Creative Development Artists: Robbie Croft, Shio Otani, Sonia Teuben & Brian Tilley

Costume Design: Eugyeene Teh

Stage Manager: Alice Fleming

Assistant Stage Manager: Lucy Harrison

Production Manager: Dans Maree Sheehan

Mechanical Design and Fabrication: Kinetic Sets

Senior Producer: Ally Harvey

Executive Producer: Alice Nash
People on road: 18
Freight: necessary
Freight details: Freight is required for 14 items. Please contact us to discuss logistics, the exact items and their weight.
"I find the work they're doing really interesting, and how their work is slowly beginning to influence the mainstream"
– Katrina Foster, ABC's The Mix (Melbourne)
"Theatre this perfect leaves you breathless"
– The Plus Ones (Melbourne)
"Courageous, confronting, intelligent and magisterially considered theatre"
– The Age (Melbourne)
"A stunningly intriguing and beautiful journey, much to contemplate and be inspired by"
– Audience member on LADY EATS APPLE
Latest Video
Trailer for LADY EATS APPLE. We are finite in an infinite world: the punchline of existence is how little of it we are given.

This project has been assisted by the Australian Government's Major Festivals Initiative, in association with the Confederation of Australian International Arts Festival Inc., Melbourne Festival, Adelaide Festival, Perth International Arts Festival, Carriageworks, Wiener Festwochen, and with support from the Keir Foundation and Thyne Reid Foundation.

Lady Eats Apple has been supported by Lord Mayor's Charitable Foundation (Eldon and Anne Foote Trust Donor Advised Program 2016).

Related artists from the same artform