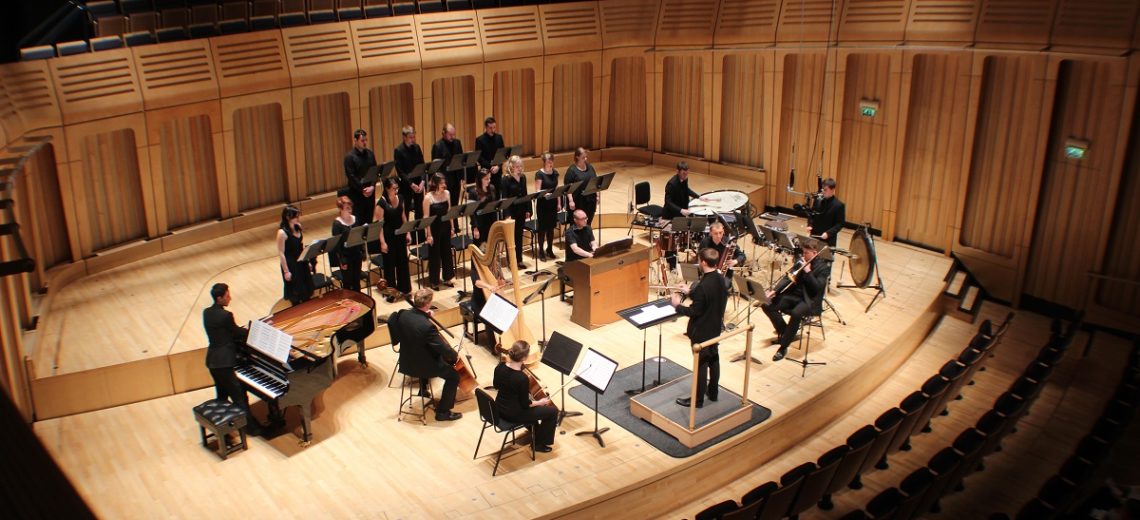 Ben Lunn
A photograph depicting Ben Lunn conducting an orchestra and choir all dressed in black, on a wooden stage in an auditorium encased in wood. To the left of the stage, there is a someone stood by a grand piano, a person playing a cello and a double bass. To the centre of the stage, there is a harpist and a keyboard player. To the rear are two rows of choir singers, the first row is all female, and the row behind is all male. To the right of the stage, are two people playing woodwind instruments, and two people playing percussion. The conductor is at the front of the stage facing the orchestra and choir.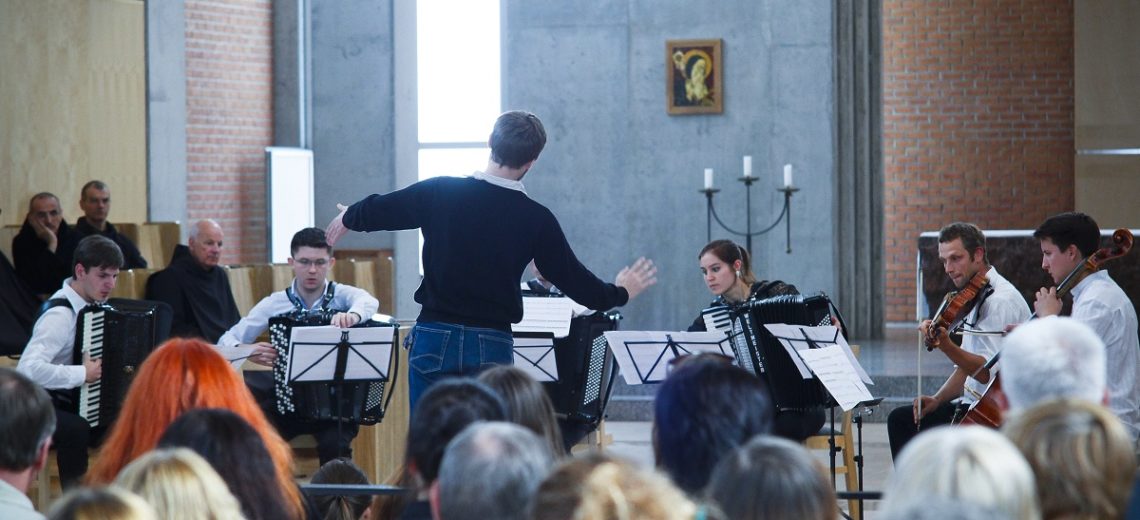 Ben Lunn
© Photo by: © Dominykas Digimas
A photograph depicting the back of composer Ben Lunn, conducting an orchestra playing to a small audience. four of the musicians are playing the accordion, one is playing a cello and another is playing a violin. The composer is wearing jeans and a black jumper. The setting is modern with exposed brick and granite walls. There is a candelabra in the background.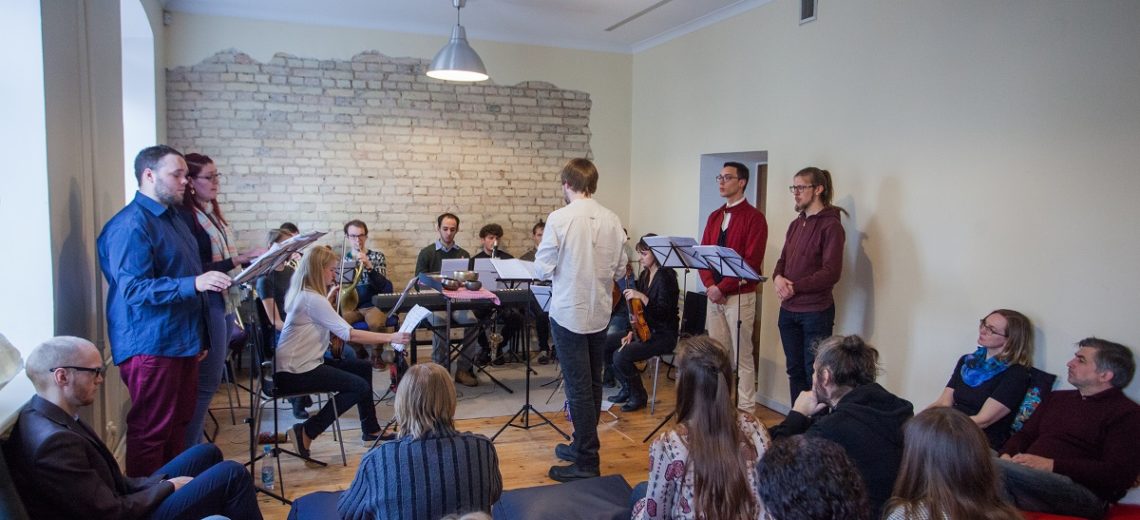 Ben Lunn
© Photo by: © Dominykas Digimas
The picture depicts Ben Lunn, stood in the middle of a room conducting a small number of musicians in front of a seated audience. Ben has his back to the audience and to the viewer. There are two singers at either side of the room. The musicians are playing a range of instruments, and are seated around the conductor. The audience are seated on small cube-shaped beanbags.
Ben Lunn's music has been described as 'Evocative' – Buzz Magazine, 'Restrained Otherworldliness' – P.G. MusicWeb International 'Chilling' – Theatre Wales or 'produces…glorious roaring sounds' and 'desolate monotone'. He has also been referred to as a 'Composer of life music' – M.K.
His music, as he continues to develop, is more and more retrospective often drawing more influence from the ancient. Despite being so reflective of tradition, his work always remains of the time. His contradictory influences from Buddhism and Bataille, Perotin and Rădulescu, Part and Harvey continue to hold him on the precipice of the now and the past.
Ben Lunn is a Makem composer, who studied his bachelor's at the Royal Welsh College of Music and Drama under the guidance of Peter Reynolds. He graduated in 2014 with a First Class Honours Degree and the composition prize. In 2015 he was awarded 3rd place in the Sofia International Composition Competition. From 2015-17 Ben has been working towards his master's degree studying in the Lithuanian Academy of Music and Drama, under the guidance of Marius Baranauskas. He has also received guidance from Param Vir.
His work has been performed across Europe and by varying ensembles and soloists. These have included Martynas Levickis, Rolf Hind, Francoise Green Duo, Caryl Hughes, Welsh Sinfonia,N.A.M.E.S., Ensemble Synaesthesis, Plamen Djuoroff, Dalia Dedinskaite, Gleb Pysniak, and Nikolai Matsov.
On top of this his works have made appearances in a wide collection of festivals including Sounds New Festival, The London New Wind Festival (2011,2012,2016), Second Movement's 'Rough for Opera' (2012), Monmouth Festival (Inaugural Student Composer in Residence 2013), Leeds Lieder+ (2013), Atmospheres Festival (2014), Occupy The Pianos (2014), St. Christopher's Festival (Vilnius 2014), Vale of Glamorgan (2015), Hearing Art Seeing Sound (Yerevan 2016), Druskomanija (Vilnius, 2016), and CrossRoads International Contemporary Music Festival (Salzburg, 2016).
Contact details
Ben Lunn
Composer/Composer/Music Journalist
Seskines g. 65-101
07162
Vilnius
Lithuania


Luminous Path to Liberation
Duration: 90
Description: A setting of the Buddhist sadhana by the same name, Luminous Path to Liberation, stands as an meditational oratorio which guides the audience through the process of meditation and giving offerings.
Extra information: Ensemble:

Mezzo-Soprano, Tenor, Baritone, Bass (or Basso Profundo)

Oboe, Clarinet in Bb, Bass Clarinet in Bb, 2x Horns in F, Tenor Trombone, Harp, 2x Violins, Viola, Cello

And Conductor who plays singing bowls.

This does not stand as a singular group, but could easily be picked up by musicians to perform it. Please contact for score and advice on performance.
People on road: 16 people needed to perform the work
Freight: baggage
Freight details: Movement of Harp, Cello, and Bass Clarinet would be of most challenge, but as previously stated the work is free for other ensembles or groups to perform the work.
Bhava
Duration: 50
Description: An exploration of Buddhist themes, Bhava (from the Sanskrit becoming), stands as a concert oratorio for ensemble and choir. Drawing inspiration from Buddhist mythology, mantras, and the Tibetan Book of the Dead.
Extra information: Ensemble:

Choir (SSAATB)

Tenor Trombone, Bassoon (doubling contrabassoon), electric organ (or chamber organ), harp, cello, double bass, piano and 2x Percussion.

Percussion set up:

Bass drum, tam-tam, 10 tom-toms, crotales, and singing bowls.

The whole work is conducted
People on road: Depending on the size of choir, the group could be anywhere from 15+ people, ideally this would be larger as a choir needs to be large enough to project over the ensemble.
Freight: baggage
Freight details: Organ, harp, piano, percussion and double bass would need to be moved, but this work could be picked up by any ensemble with the correct forces, please contact me for information on accessing the score and advice for performing the work.
"Lotus and lightning is a contrast between sexual opposites, combining piano solo with electronics in a manner which totally confounds any suggestion of eroticism and instead brings a profound spiritual quality to the music. The score is far from clear in its expression of what precisely the musical relationship between the two soloists should be, but since the composer is himself the pianist here we must assume that the performance here is what he expects. In many ways the improvisatory impression is the most attractive of all the music here without teetering over the border into 'new age-y' vagueness. It is clear that the composer's style continues to evolve, and his insistence in placing the avant garde gestures (which in so many modern composers substitute for real invention) into a purposeful context continues to impress, as does his innate understanding of the techniques of the instruments and players for whom he writes." 
– Paul Corfield Godfrey
"It wasn't clear from the programme note how far the religious meaning of these texts is, in itself, important to Lunn – and perhaps that doesn't matter. Clearly, he has been moved by them, and the larger wisdom they represent, to urge his audience to greater awareness of matters spiritual, ancient and modern. The result is a work that is as heartfelt as it is thoughtful, and which signals an interesting turn to a more tonal language for its composer."
– Steph Powers, Wales Art Review
"Ben Lunn's highly dramatic The Horror and the Ecstasy…contrasted two elements, one pianist erupting in smashing chords in the lower register, the resonant harmonics of which were picked up and delicately elaborated by the other player. Indeed, the elaborations were so delicate that they were sometimes drowned out by the background noise; but the results, as so often with this composer, were hypnotically beautiful in their effect." 
– Paul Corfield Godfrey, Seen and Heard International
Related artists from the same artform