The Dance WE Made by Casson & Friends
A photograph from The Dance WE Made by Casson & Friends, depicting a man with a missing lower left arm, stood on grass with his arms outstretched. There are young and older people stood all around him. Some are watching him, some are engaged in other activities. There are trees in the background.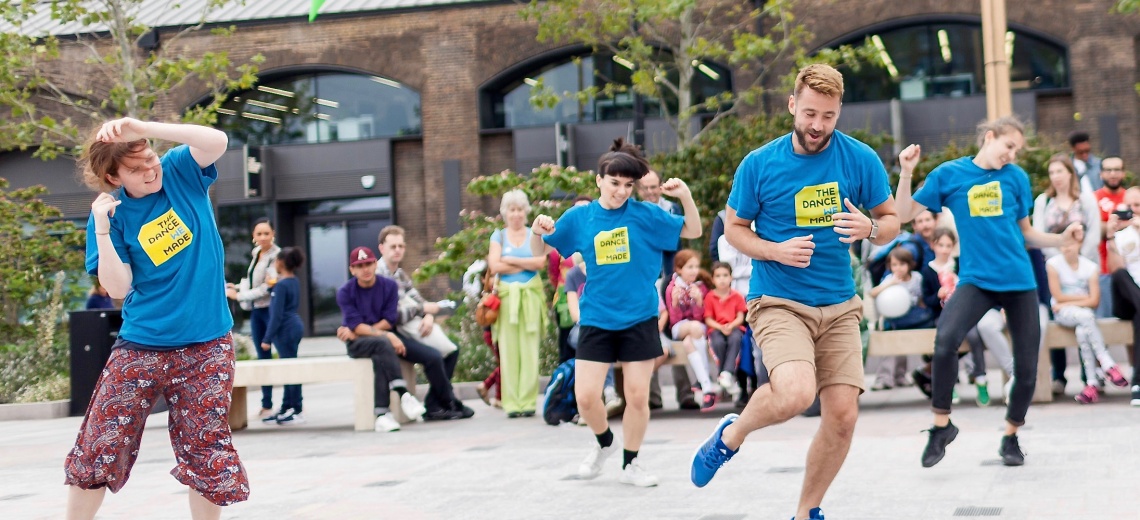 The Dance WE Made by Casson & Friends
© Photo by: Photograph: Benedict Johnson
A photograph from The Dance WE Made by Casson & Friends, depicting three women and a man dancing in front of a small crowd in the open air. The dancers are dressed in similar mid-blue tee-shirts, with a logo on a yellow background reading The Dance WE Made. The dancers are in the foreground of the picture, and in the background is a building with arched windows.
Night at the Theatre by Casson & Friends
© Photo by: Photograph: Alicia Clarke
A photograph from Night at the Theatre by Casson & Friends depicting three people stood in a row on a stage all making a different pose. On the right of the stage is a man wearing a brightly coloured check shirt pointing to the left, with his right arm above his head. In the middle, there is a woman in a wheelchair wearing a baseball hat. She has her right hand raised and her left hand across her chest. On the left, there is a woman wearing a yellow top leaning backwards, folding her arms in a expressive pose.
Night at the Theatre by Casson & Friends
© Photo by: Photograph: Alicia Clarke
A photograph from Night at the Theatre by Casson & Friends depicting three people on a stage, the one in the middle is holding a small torch as if to search for something. The person on the left has only their body in shot. They are wearing a yellow coat. The person in the centre is wearing a baseball hat and a beige coat. The women to the left is wearing a green gilet over a yellow top. She is miming holding something that could be a torch.
Under the direction of Tim Casson, Casson & Friends are a Record Breaking Dance Theatre Company that create interactive accessible performance with a focus on collaboration, interaction and joy. The company works with a diverse range of performers and collaborators from filmmakers and musicians to computer programmers and psychologists, but most often collaborates with the public, inviting them to engage with dance and performance in exciting and accessible ways. With a passion for bringing dance to people in new and unusual contexts, C&F's work to date has been presented in a range of settings including Shopping Centres, Libraries, Hotels, Pubs, Offices and Football Stadiums. C&F also explore the potential of digital technology to create new ways of enhancing and engaging with dance performance. The company has presented it's work across the UK and Internationally including at Sadler's Wells Theatre, Glastonbury Festival, Brighton Digital Festival, bOing International Family Festival, The Lyon Biennale & Downtown Dance Festival in New York. Casson & Friends have also previously been Associate Company at Pavilion Dance South West (2013-2015), Dance Digital (2014) and in were selected to curate their own 'Wild Card' evening at Sadler's Wells in 2015.
Contact details
Tim Casson
Artistic Director
London, UK
Night at the Theatre
Duration: 55mins
Description: When three friends become trapped in an abandoned theatre, little do they know that they will soon become the stars of their own show... An integrated cast of three performers provide the perfect introduction to dance for all ages, helping audiences to discover the amazing things that can happen at the theatre, to learn the many different things that dance can be, and even create their own performance! Combining a mixture of dance theatre, audio-description and imaginative storytelling with Casson & Friends' trademark interactivity; Night at the Theatre, sparks the imagination of children and adults alike. It's accessible performance for everyone, so come along, join in and let's make a dance!
Extra information: For children aged 4+ (and their grown ups).
Originally created in collaboration with Stopgap Dance Company.
Supported by DanceEast, house Theatre and supported using public funding by Arts Council England.

People on road: 6 people: 3 performers 1 director 1 production manager/technician 1 access worker
Freight: baggage
The Dance WE Made
Duration: 120
Description: The Dance WE Made is the Record Breaking interactive dance performance that invites YOU to be the choreographer: no experience required! The performance roams public spaces, inviting members of the public to devise original choreography in collaboration with The Dance WE Made's highly skilled team of professional disabled and non-disabled dancers. These newly created dances are then performed by The Dance WE Made Team in each location, filmed, and posted online for the world to see!
Extra information: We can also work with local artists training them up to perform the work and to interact with their local communities.

We have previously collaborated with Candoco Dance Company (UK) to train up their dancers to perform this production. Please get in contact for further information.

Find out more at http://www.thedancewemade.com
People on road: 2-6 (1 director, 1-4 performers, 1 filmmaker)
Freight: none
The Company have over 15 years of teaching experience and Tim has taught and led education work on behalf of many organisations in the UK and Internationally. He has worked extensively for Jasmin Vardimon Company, including co-founding their 'Postgraduate Certificate in Physical Theatre for Dancers and Actors' at Royal Holloway University and created the JVC Certificate - 'JV2'.
Tim also works with Sadler's Wells' National Youth Dance Company, as Course Leader on behalf of Guest Artistic Directors such as Jasmin Vardimon, Akram Khan and Sidi Larbi Cherkaoui. As an Independent Dance Artist Tim has delivered education for many organisations across the UK and Internationally, including;
SADLER'S WELLS / THE PLACE / GDA / BIRD COLLEGE / THE BRIT SCHOOL / UNIVERSITY OF BEDFORDSHIRE / GLOUCESTER UNIVERSITY / STOPGAP DANCE COMPANY / WAYNE MCGREGOR | RANDOM DANCE / RUSSELL MALIPHANT COMPANY / PAVILION DANCE SOUTH WEST / EAST LONDON DANCE / DEBORAH COLKER COMPANY (BRAZIL) / UNIVERSIDAD DE CHILE (CHILE) / Y DANCE / SURREY ARTS COLLECTIVE / KENT DANCE NETWORK / YORKSHIRE DANCE / NATIONAL YOUTH DANCE COMPANY / LONDON CONTEMPORARY DANCE SCHOOL / PRO DANCE LEEDS / TRIPSPACE / DANCE UNITED YORKSHIRE
"A joyful introduction to dance as something possible for anyone, at any age, with any type of body"
— Disability Arts Online on 'Night at the Theatre'
"Highly original, refreshingly unpredictable and totally inclusive!"
— Ipswich Waterfront on 'Night at the Theatre'
"A funny, vibrant and clever production and in my daughter's opinion: "cool, fantastic and awesome"." — Ipswich Waterfront on 'Night at the Theatre'
"A hybrid story that has the wit of the physical and the playfulness of the imagination, a brand of theatre that comes from the heart as well as the head."
— Nicholas Minns, writingaboutdance.com on 'Night at the Theatre'
"The Dance WE Made brings dance to the public in wonderful new ways"
— The New York Times on 'The Dance WE Made'
"It's a creative project that not only draws attention to public space and how we inhabit it, but exemplifies the creative force in each and every one of us."
— The Huffington Post on 'The Dance WE Made'
Related artists from the same artform