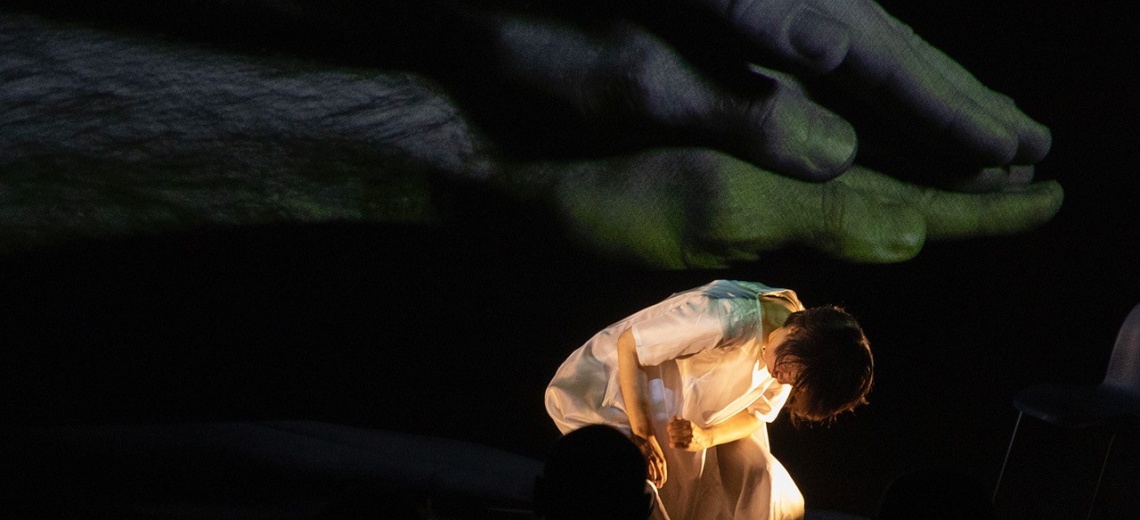 Scored In Silence, Chisato Minamimura, 2019.
A photograph from Scored In Silence, Chisato Minamimura, 2019, depicting a woman wearing a white gown, bending over. She is on a dark stage with a large projection of hand on hand in the background.
Scored In Silence, Chisato Minamimura, 2019.
© Photo by: Photograph: Mark Pickthall
A photograph from Scored In Silence, Chisato Minamimura, 2019, depicting a woman wearing a white gown, standing on a dark stage looking upwards and with raised arms.
Chisato Minamimura is a Deaf performance artist, choreographer and BSL art guide. Born in Japan, now based in London, Chisato has created, performed and taught internationally and is currently a Work Place artist at The Place. Chisato has been involved in aerial performances with Graeae Theatre Company, London's Paralympic Opening Ceremony and Rio's 2016 Paralympic Cultural Olympiad. Chisato trained at Trinity Laban in London and holds a BA in Japanese Painting and MA from Yokohama National University.
Chisato approaches choreography and performance making from her unique perspective as a Deaf artist, experimenting with and exploring the visualisation of sound and music. By using dance and digital technology, Chisato aims to share her experiences of sensory perception and human encounters.
Contact details
Michael Kitchin
Producer
Scored in Silence
Duration: 1 hour
Description: Scored in Silence is an end on theatre production, which works best in mid-scale black box venues.

A film version with various access offers is also available, which can be streamed online or screened in person.

Extra information: Live Performance Packages:

- Option 1 - Theatre set-up, for up to 50 audience members. Each audience member will wear a Woojer© strap, and this would ideally be in a theatre black box studio space.
- Option 2 - Theatre set-up for up to 120 audience members. Subject to discussion, the show can accommodate a larger audience, however it is not possible for all members to wear Woojer© straps in larger theatre spaces.
- Option 3 - Gallery setting
We can stage the live performance in gallery spaces which have a good technical infrastructure and sound system. It must be possible to suspend a projector, a basic lighting rig, and easily mount the Holo-Gauze projection surface.

Access & Language Translation:
The performance is in English with English captions, English voice-over and British Sign Language. We are however very happy to collaborate and find ways of translating the production into your local language:
1. A caption script and voice-over script in English can be provided, and this can be used for translation into your local language.
2. Our filmmaker can then edit the film and projection to include the captions in your local language. You will need to provide us with the translation in advance of the tour. The cost for this is £300.
3. Chisato can also learn and incorporate the local sign language into. the performance. In order to do this, Chisato will need to meet with local Deaf people who have excellent Sign Language skills a day before the get-in begins. This will take 1 day. We can also use this time to work together on the voice-over. The cost is £300 for 1 day work, plus additional night accommodation for 2 people (Chisato and BSL interpreter).

Film Packages:
- Option 1- Full performance film, available with/without Woojer© vibration straps. The film is available with/without audio description (English) and captions (English and Spanish).
- Option 2- Extract films (10 minutes), suitable for events, conferences and gallery installations. Available with/without 2 x Woojer© vibration straps and 2 x headphones.

Film screenings are suitable for:
- A small cinema-style set up with a suitable sound system.
- A black box space with a suitable screen and sound system.
- A gallery installation space with flat TV or screen.
- An exhibition space installation with flat TV or screen
- An event space with flat TV or screen.
- A conference with flat TV or screen.
- Online screenings.
People on road: 5 people for live performance . 4 people for performance film
Freight: necessary
Freight details: 1) live performance
- Holo-guaze screens
- 20 Woojer belts

2) performance film
-10 Woojer belts

a. Baggage – large bag to transport essential cabling, small equipment
b. Hand Luggage – for Holo-Gauze tech pro
Deaf for 4'33"
Duration: Durational (6-8 hours, but can be flexible)
Description: Deaf for 4'33" is an installation work where Chisato performs live for 4 minutes and 33 seconds, every hour on the hour.

It can be responsive to environments, works well when there is a lot of passers by. Can be outdoors or indoors.
Extra information: This work takes inspiration from John Cage's score 4'33", this is Chisato's performative response from her Deaf perspective, where over the course of the day she slowly destroys an (old) piano to explore her sound. It was originally shown at Firstsite Gallery in Colchester, as part of We Are Invisible, We Are Visible (WAIWAV) in July 2022.

Simple tech set up, requires a locally sourced old piano and a TV screen.
People on road: 2
Freight: none
Hesychia
Duration: 10 minutes (can loop)
Description: A new visual vernacular performance film, created by Deaf artist Chisato Minamimura, enables audiences to experience myths and beliefs of ancient Greece and Egypt with all five senses.

The film Is projected on the ceiling, with accompanying Woojer straps, and works best in gallery/museum contexts.
Extra information: Created in partnership with Reading University's Ure Museum, Hesychia – which is named using the Greek word for 'silence' - is a film which was projected onto the ceiling of the museum. Viewers experienced smells and tastes of ancient Greece and wore Woojer™ straps which use vibrations to provide another way for people to experience the sound in the performance.

The installation was complemented by Greek and Egyptian artefacts from the Ure Museum collection which tell stories about silence and sounds in the ancient world. It is part of Meeting Point, a programme led by contemporary arts agency, Arts&Heritage, which partners artists with museums and heritage sites to produce new works of art.
People on road: 3
Freight: necessary
Freight details: Projection screen, projector, Woojer straps
INPUT:OUTPUT
Duration: 10 minutes (TBC)
Description: Immersive residency, where Chisato collaborates with a local sound artist and filmmaker to create a brand new film work and Deafscape in response the sounds from your local environment.

Trialled at Snape Maltings in Sep 2022 with Sound Artist Loula Yorke and Filmmaker Laurence Scott.
Extra information: This exploration is transferable to different sites and locations, and Chisato is open to exploring Deafscapes in a multitude of spaces.
People on road: 2
Freight: none
Chisato is interested in wraparound activities including:
- Post-show conversations about the ideas, themes and form of her work and practice more broadly.
- Artist conversation panels around Deaf-led creative practice and access. Recent examples of this include: DansFunk's Aesthetics of Access Conference in Sweden, and Do Fast Win More panel discussion as part of Arts & Heritage's Meeting Point programme.
- Workshops/masterclasses for professionals, non-professionals, and student/youth dance companies.
- Choreographing for professionals, non-professionals, and student/youth dance companies for theatre spaces, gallery spaces and site specific contexts.
Review: scored in silence at Theatre Passe Muraille, Toronto, Canada, May 2022.
Available at: https://nowtoronto.com/culture/stage/review-scored-in-silence-unpacks-hidden-war-stories
Reviewed by Melissa Mostyn at Scored in Silence, Ovalhouse Theatre, 21 Jul 2019
msmelissamostyn.com/2019/07/28/review-scored-in-silence-ovalhouse-theatre-21st-july-2019/
FEATURE: Deaf Digital Solo Show on Hiroshima prepares for British Council Edinburgh Showcase 26 July 2019, Colin Hambrook, Disability Arts Online
disabilityarts.online/magazine/opinion/deaf-digital-solo-show-on-hiroshima-prepares-for-its-british-council-edinburgh-showcase
Review: Scored in Silence – a physical retelling of the stories of the unique perspective of deafvivers, 29 September 2018. Colin Hambrook, Disability Arts Online
disabilityarts.online/magazine/opinion/scored-in-silence-a-physical-retelling-of-the-story-of-hiroshima-from-the-unique-perspective-of-deaf-survivors
Latest Video
Scored in Silence Trailer. Scored in Silence is a new solo digital performance that unpacks the hidden perspectives of Deaf people from the handful that survived the horrors of the atomic bomb atrocity in Japan in 1945. Survivors of the A-bomb are known as 'hibakusha'.

The work is based on my research and original film of elderly Deaf people with lived experience of Hiroshima and Nagasaki. I bring these untold narratives into stark relief, touching upon the atrocity of the event and its aftermath including the layers of discrimination experienced by these isolated members of Japanese society. At the heart of the show is cutting-edge visual and vibration technology: Woojer™ straps worn by audience members offer a tactile vibrotactility of the haunting sound composition; and Holo-Gauze™ a projection material that creates a 3D holographic illusion, reflecting the live performance, sign-mime, animation and film footage of Deaf hibakusha.
Brass Retold Trailer. In 2021 Durham Brass festival commissioned Chisato Minamimura to research and make a piece of work, which reflected her response to Durham, brass music and the history of brass with Durham communities. She created a new documentary film, BRASS:RETOLD. Capturing the experiences from her residency in Durham, the film explored brass music from a unique sensory perspective, uncovering historical and cultural narratives around this iconic musical style and the communities with whom it is so closely connected.
Related artists from the same artform