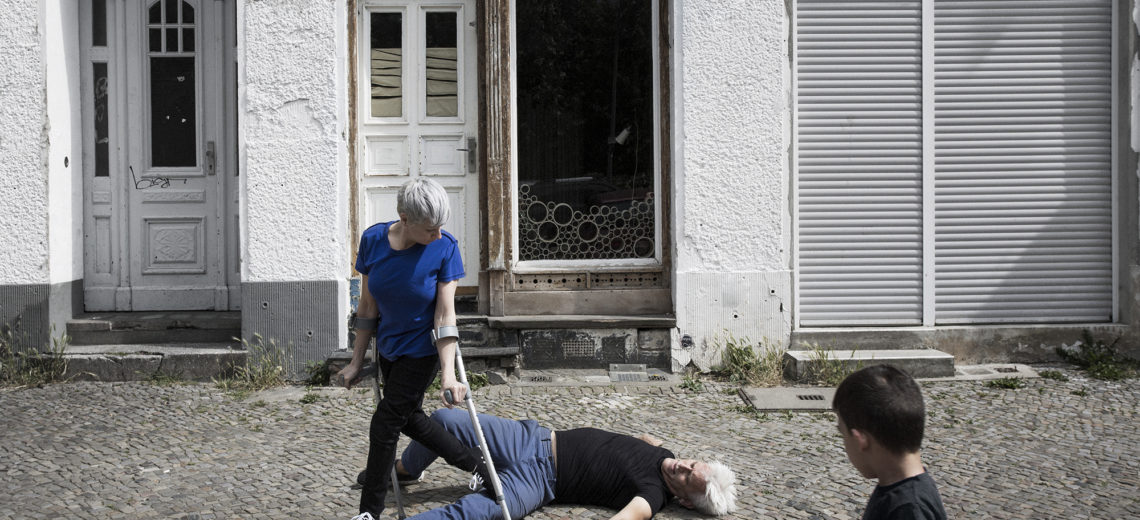 The Way You Look (At Me) Tonight
A man with white hair, black t-shirt and grey trousers lays on the street, on his back with one leg bent at the knee. A woman with white hair, a blue tshirt and black trousers walks over him, one foot on his ankle, one on his foot, she used crutches to take her weight. She looks backwards, towards his face. In the foreground, a boy wearing a black tshirts, watches them.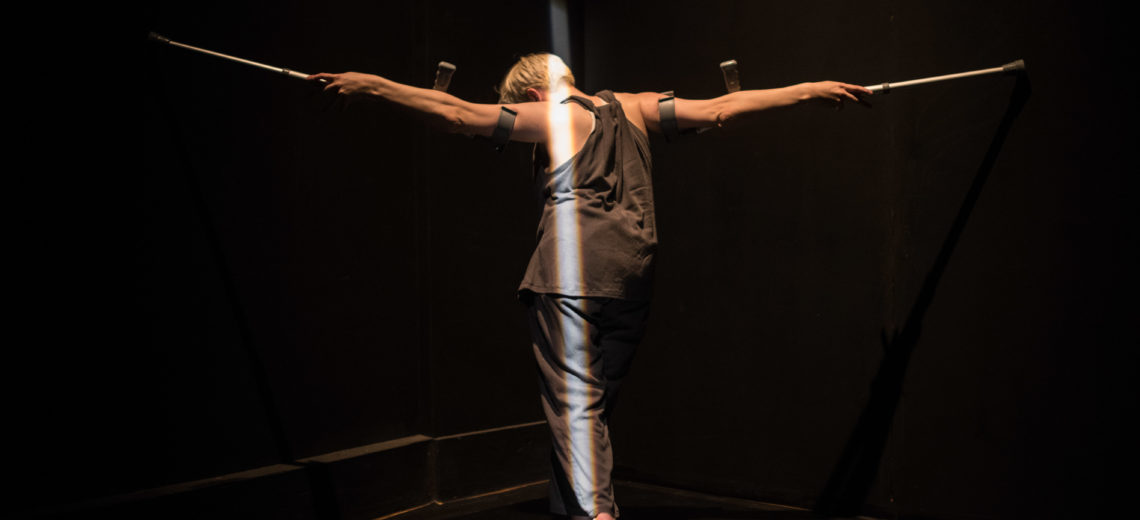 Give Me A Reason To Live
© Photo by: Hugo Glendinning
A woman dressed in loose grey trousers and grey sleeveless t-shirt with bare feet stands with her back to us, her arms outstretched to her sides. She holds crutches which reach out past her hands, resting on walls, the cuffs of the crutches are wrapped around her arms. Her head is bowed and we can't see her face, only her bright blonde hair.
Guide Gods
© Photo by: Colin Mearns / Sunday Herald
A woman is dressed in a white shirt and trousers, she has bare feet and bright blonde hair. She is using a crutch in each hand, the cuff of the crutch wrapped around her arm, just below the elbow. She holds her weight on the crutches allowing her to rest one foot on an upside down tea cup while the other reaches out to the side searching for another tea cup to stand on. On the white floor there are many upside down tea cups of different sizes, shapes and colours.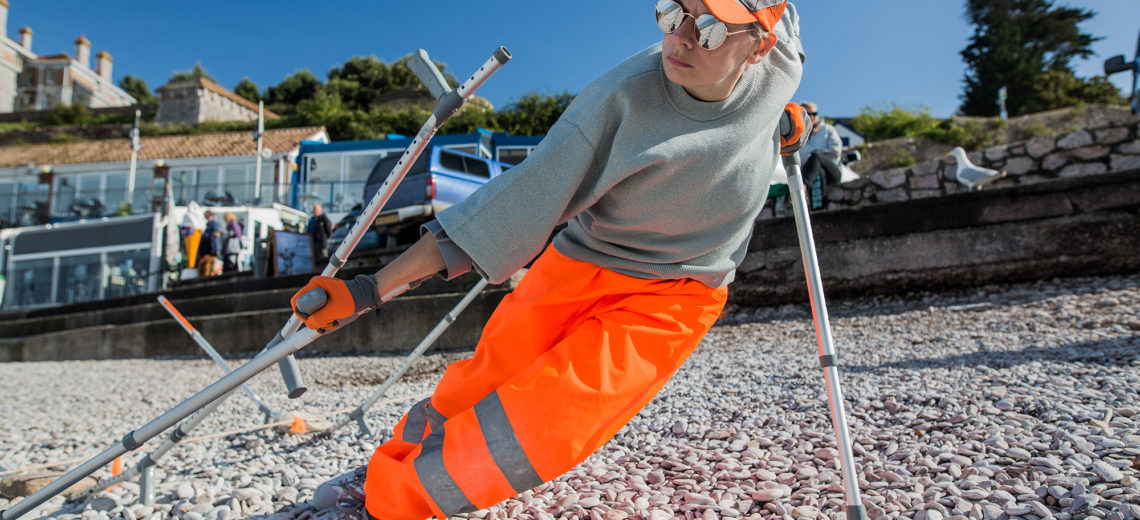 Beyond the Breakwater
© Photo by: Paul Blakemore courtesy of Situations
A woman is on a grey pebble beach, she weaers a grey jumper, bright orange baggy trousers, a grey and orange cap and mirrored glasses. In the glasses we catch a glimpse of the beach and the ocean. The woman is holiday crutches and has one stretched out to her side while the other is vertical and holds her weight, she stands slanted to the side. In the background there are other crutches standing up on the beach and people, cars and buildings further back on the shore.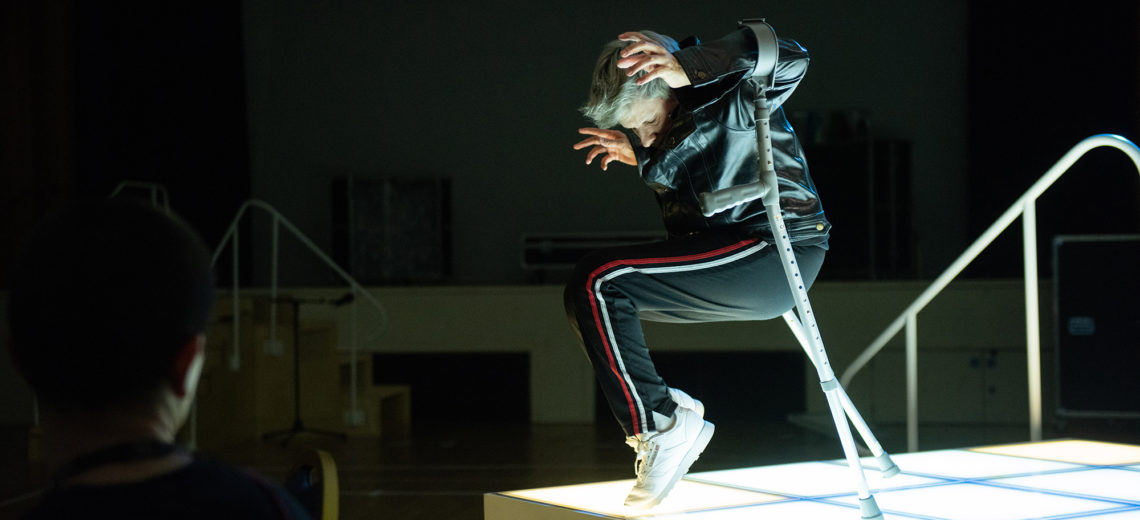 Claire Cunningham in Thank You Very Much
© Photo by: Hugo Glendinning
A woman is dressed in black trousers with a red and yellow line up the leg, and a black leather jacket. She has short blonde hair. She is using crutches, the cuff of each crutch on her forearm, taking her weight leaving her in a sitting position with her feet on tiptoes. She stands on a brightly lit stage, the lighting coming up from below the floor.
Claire Cunningham is a performer and creator of multi-disciplinary performance based in Glasgow, Scotland and a current Factory Artist with Tanzhaus NRW Düsseldorf, Germany as well as a Work Place Artist with The Place, London.  
One of the UK's most acclaimed and internationally renowned disabled artists, Cunningham's work is often rooted in the study and use/misuse of her crutches and the exploration of the potential of her own specific physicality with a conscious rejection of traditional dance techniques (developed for non-disabled bodies).  This runs alongside a deep interest in the lived experience of disability and its implications not only as a choreographer but also in terms of societal notions of knowledge, value, connection and interdependence.  A self-identifying disabled artist, Cunningham's work combines multiple art forms and ranges from the intimate solo show ME (Mobile/Evolution) (2009), to the large ensemble work 12  made for Candoco Dance Company.   
In 2014 she created Give Me a Reason to Live, inspired by the work of Dutch medieval painter Hieronymus Bosch and the role of beggars/cripples in his work, and the full length show Guide Gods, looking at the perspectives of the major Faith traditions towards the issue of disability. Awarded one of the Unlimited Commissions in 2016 she created with choreographer Jess Curtis a duet The Way You Look (at me) Tonight which has since toured world-wide and been selected in 2018 for Tanzplattform Germany and nominated for an Isadora Duncan Dance Award.
Claire is a former Artist-in–Residence at the Women of the World Festival at the Southbank, London and of the Ulster Bank Belfast Festival at Queens.  In 2016 she was Artist in Residence with Perth International Arts Festival, Australia and Associate Artist at Tramway, Glasgow.
In July 2019 Claire premiered a new ensemble piece, Thank You Very Much, at Manchester International Festival.
Contact details
Nadja Dias
Executive Producer
33 Furnace Court
Hurlford
KA1 5HA
The Way You Look (at me) Tonight
Duration: 110 mins
Description: A social sculpture-a sensory journey, for two performers and audience. Developed in collaboration with philosopher of perception Dr. Alva Noë, Claire and performer Jess Curtis dance, sing, tell stories and ask questions about our habits and practices of perceiving each other and the world.
Extra information: The work is flexible and able to scale to a variety of performance spaces, Including large halls such as at the Southbank Centre, mid-scale traditional theatre/ black box theaters like CounterPulse and Uferstudios, with iterations also possible for Gallery, non-traditional, durational installation, classroom and site-specific settings.
People on road: 4 or 5 depending on schedule
Freight: baggage
Freight details: No more than 2 additions suitcases at 30kg each
Give Me a Reason to Live
Duration: 35 minutes approx
Description: In a starkly beautiful work of transcendence and trial, Cunningham delves into the work of medieval painter Hieronymous Bosch, to explore religion, religious art, and the judgment of souls and bodies.

Extra information: This work can be performed in a black-box studio theatre or in a non-theatre or gallery space. The space must feature a corner and a back wall clear of any doors, windows, signage, plug sockets, heaters or other fittings and furniture. The corner area must feature 1.5m of clear wall space (as described above) on each side from the centre out. The walls which form this corner must be solid and bear Claire's weight.

A photograph of the corner area must be provided to the artist before a presentation can be confirmed.

The floor can be wooden or dance floor but not stone or concrete

The sound score can be played from a laptop which will travel with the company. A sound system or speakers must be provided which is compatible with a Mac for amplifying the sound.

The lighting will be created from in-house lighting and this must be provided by the presenter in theatre and non-theatre spaces.

The company will require a full day prior to the first performance for technical rehearsals. More tech info available on request.

The audience can be seated or promenade in front or to the sides of the performer.
People on road: 3
Freight: none
Guide Gods
Duration: 70 minutes
Description: Using dance, live music, humour and interviews with religious leaders, academics and deaf and disabled people, acclaimed performer Claire Cunningham goes on a perilous quest to explore how the major world faiths view deafness and disability in this witty and illuminating show.
Extra information: The production is designed for the audience to sit within the performing space.

The seating is limited to 48, which includes 28 seats (to be provided by the venue) and cushions on a carpeted floor (provided by the company). The production can be performed in non-theatre spaces and in studio theatre spaces. The minimum floor area required is 10m x 8m.

The piece integrates audio description and the captioning is displayed on television screens which are part of the set.

The audience is invited to join the performers for a cup of tea after the performance.
People on road: 5 (including captioner)
Freight: necessary
Freight details: The production has a set which will need to be transported. All elements of the set and flooring fit into a high roof panel van or container (approx. 2.5m high/1.9m wide/3.5m long)
Thank You Very Much
Duration: 1h30 no interval
Description: Thank You Very Much invites you to join an evening informed by the experiences of an international company of leading disabled performers. Through the lens of the competitive world of tribute artists, among the messiness of navigating society's ideas of normality, the ensemble takes apart the myth of how bodies should be.
Extra information: Performances take place in thrust, with audience on three sides, on a mixture of cabaret tables and rows of seating. Stage floor must be flat.

Sprung wooden dance floor – floor must have no splinters, sharp edges etc. Dancers perform on occasions in bare feet and perform lying/crawling on the floor. Concrete floors are not acceptable.

We require the use of house masking to dress the edges of the cyc. (1 set of legs and 1 border.

For venues without a proscenium arch we require additional making to set a false proscenium up stage of the L shaped treads.

We require controllable heating / air conditioning in the performance and warm up space. A minimum temperature of 21 degrees is required.

All spaces must be wheelchair accessible

Please contact nadja@clairecunningham.co.uk for the full tech spec.

People on road: 12 depending on schedule
Freight: necessary
Freight details: The show tours in a 3.5T Luton van (please allow parking and dock space for a 7.5T truck as this may depend on vehicle availability).
INVITATION TO ATTEND
In the Invitation to Attend Workshop, Claire will share methods and scores central to her work, opening up dialogues about where her choreographic practice based on attending/attention and perception, and practices learned from normative-bodied artists, meets with concepts of Crip politics – such as Crip time – and the phenomenology/lived experience of disability.
4 LEGS GOOD
4 Legs Good is a lecture performance exploring Claire's artistic practice- specifically the use/ misuse, study and distortion of crutches as artistic practice and how they shape her own practice. In the widest sense her work has shifted from its explorations about the connection between the crutches and the body – what is possible in the combination of the crutches with her and other bodies- to how the crutches connect her to the world.
Cunningham can offer other masterclasses in movement for disabled and non-disabled individuals above age 16 and with some experience in movement. Please contact us to discuss your requirements.
"Smart, sensitive and sometimes sensual… well worth seeing" The Times ★★★★  on The Way You Look (at me) Tonight 
"Astonishing…a life-affirming display of community spirit that would make Elvis quiver with pride"  ★★★★★ The Herald  on Thank You Very Much
"devastatingly powerful, unsettling and moving… as emotionally expressive and communicative as only the best dance can be…. The impression is that you have seen something unique and extraordinary, and afterwards you are left with an unsettling sense that your own attitudes have been challenged – and hopefully reset." ★★★★ Salford News on Give Me a Reason to Live
"Cunningham is such a magnificent artist… [a] unique and completely beautiful show" ★★★★ The Scotsman on Guide Gods
Latest Video
Thank You Very Much Trailer
The Way You Look (at me) Tonight by Claire Cunningham and Jess Curtis
Beyond the Breakwater
Guide Gods
Give me a Reason to LIve
Related artists from the same artform