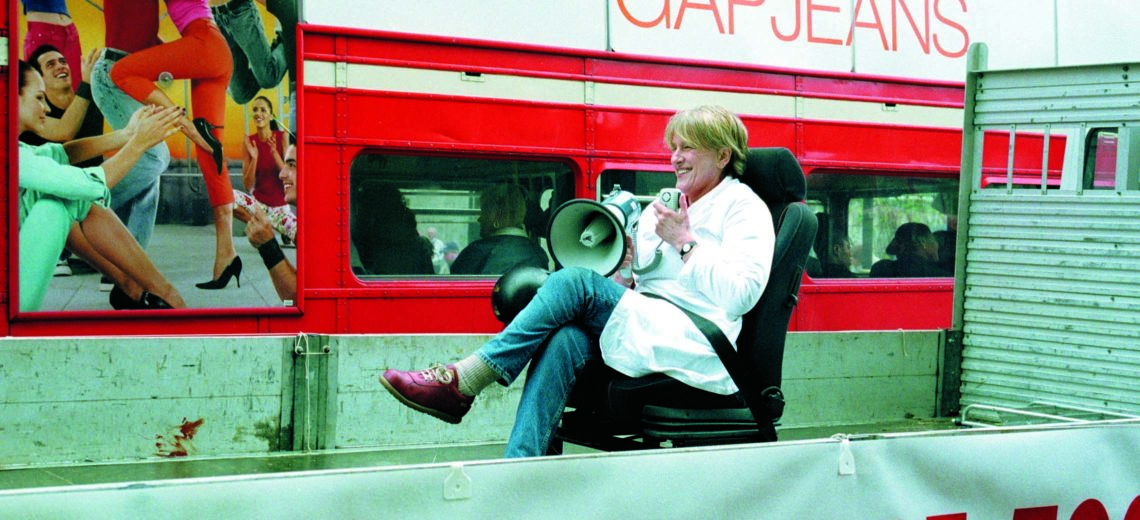 Bobby Baker's Pull Yourself Together
A picture of Bobby Baker's Pull Yourself Together depicting a woman sat on a chair which is on the back of a van. The woman is holding a megaphone. There is a red bus in the background.
Daily Life Ltd aims to investigate and celebrate daily life and its limitations. They showcase and promote the abilities of people with lived experience of mental distress through live and online curated programmes, collaborative research and diverse participation. Creative excellence not art-as-therapy is their driver. Daily Life Ltd believes in the radical potential of art to transform ourselves and our relationship to the world around us.
Contact details
Emma Cahill
Programmes Co-ordinator
Daily Life Ltd
Studio 8, Essex House
375 High Street
Stratford
London E15 4QZ
United Kingdom
Bobby Baker's Diary Drawings: Mental Illness and Me 1997-2008
Duration: n/a
Description: This remarkable exhibition of Diary Drawings charts the ups and downs of Bobby Baker's experiences of the mental health system over 11 years: mental illness, family life, work as an artist, breast cancer, recovery… and just how funny all this harrowing stuff can be.

Bobby began the drawings in 1997 when she became a patient at a day centre in Clerkenwell. Initially private, they became a way to communicate complex thoughts and emotions to family, friends and professionals.

The original large-scale show premiered at the Wellcome Collection in London in 2009, and the accompanying book was awarded Mind Book of the Year 2011.
People on road: 2
Freight: necessary
Freight details: Three 60 x 60 x 60 cm art crates
Additional cardboard packages of interpretation material and documentation images
Mad Gyms & Kitchens
Duration: 80 minutes, including participation activity
Description: Prepare to be surprised and delighted, moved and enlightened as Bobby Baker demonstrates how she achieves that ultimate ʻwellbeing' factor. From working-out to chilling out, via the kitchen sink, Bobby's solo road-show investigates how to get better at feeling better – cup of tea included.

Bobby has developed this brand-new show out of her own experiences with illness and hard-won recovery. An extraordinary set of fantastical ʻrecovery' apparatus, designed in collaboration with sculptor Charlie Whittuck, promises surprises galore as well as state-of-the-art technical equipment, all developed with wellbeing in mind. Follow Bobby's expert example and join her on the road to wellness and beyond.
People on road: 5
Freight: necessary
Freight details: The set for the show consists of five large custom-made flight cases:
1) 123 x 71.5 x 81.5 cm
2) 124 x 80 x 96 cm
3) 144.5 x 75.5 x 85 cm
4) 104 x 52 x 87 cm
5) 92 x 128 x 62.5 cm
as well as 20 clip-lock plastic crates and a large ghetto blaster.
Bobby Baker's Diary Drawings: Mental Illness and Me 1997-2008
Duration: 16 minutes
Description: This is a 16-minute screen-based exhibition, based on the original large-scale show which premiered at the Wellcome Collection in London in 2009. It opens with a three-minute film of Bobby Baker introducing herself and the work (with subtitles) and then scrolls through 31 drawings with captions. It was first shown in Rio, 2013, and has toured the UK since. Technical specifications upon request.
People on road: 1
Freight: necessary
Freight details: LCD screen and leads
Raspberry pi
Interpretation board
Headphones
A rich programme of wraparound activities is available including; illustrated artist's talks tailored to contexts ranging from NHS professional training sessions to art galleries, to community arts and health groups; graduate masterclasses; workshops within arts, academic and mental health settings; post-performance discussions; interdisciplinary academic collaboration and residencies.
Daily Life Ltd is interested in a diverse range of collaborators and practitioners including mental health 'experts by experience and by professions', digital technology specialists, academics across disciplines, artists, arts administrators and NHS professionals.
'I would go without food for a week just to get a ticket for her next show.'
Nigel Slater, The Observer
'Exceptionally funny, Bobby Baker is a performance artist of rare quality and distinction.'
Charles Spencer, Daily Telegraph
'Like all Baker's work…you leave feeling better than you came in…what Baker is offering is not a show but a priceless gift wrapped in a theatrical box of tricks.'
Lyn Gardner, The Guardian on Mad Gyms & Kitchens, October 2011
Latest Video
Video

The Daily Life Project: Chapter One

Chapter One of Bobby Baker's online graphic serial, charting The Daily Life Project in East London.

Produced in collaboration with Radish Films.
Related artists from the same artform