Dance Into Space Foundation
Offering caravan
A photograph of Dance Into Space Foundation's MIXED ABILITY performance on sexual and reproductive health rights advocating for the rights of PWD in sexuality
Agwata
© Photo by: DISF
Ritual healing process in the African society when a child is born disabled. Parents observe such traditional rituals in the hope that the child will be cured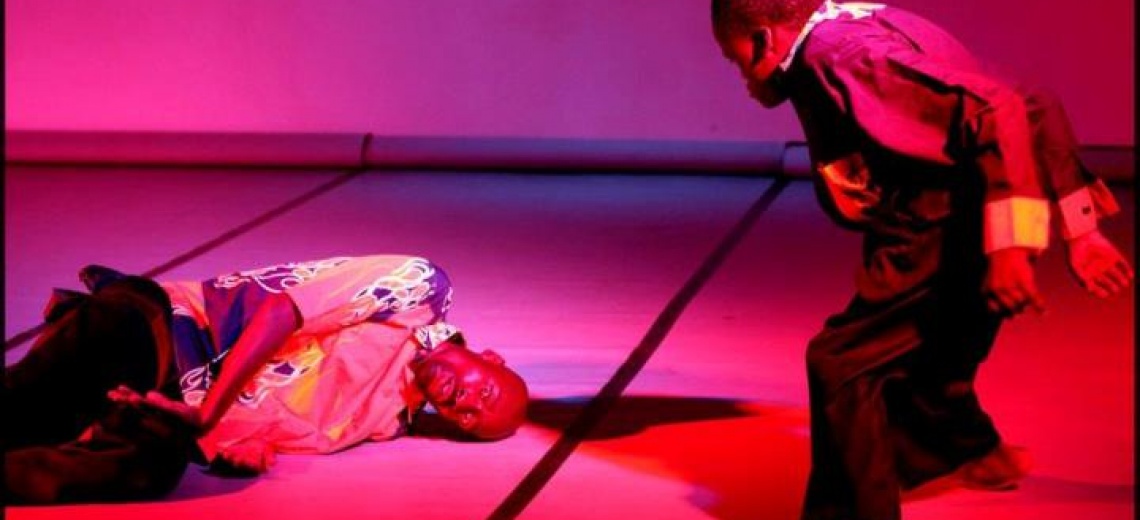 Improvability
Choreography Ondiege M. Goethe Inst. 2011
© Photo by: Photograph: Horst Dresing
A photograph of Dance Into Space Foundation depicting two performers on a stage in conversation, one is lying down, the other is bent towards him, staring intently. The stage is lit up in red/pink.
Boy child
© Photo by: DISF
Gender based violence meted on a man with disability
Dance Into Space Foundation (DIS) is an East African Contemporary dance theater company with a mission to give a dance to all. DIS generates independent and collaborative projects in conventional contexts for local and international audiences as well as in unconventional spaces in community education and development.
Contact details
Ondiege Matthew
Artistic Director/Choreographer
P. O . Box 19050 00500 Nairobi Kenya
Office: Chaka Rd. ,
Apartment 4
Breaking barriers
Duration: 45 mns
Description: sexual and reproductive health rights for both disabled and non-disabled people
Extra information: Rituals of healing, disabled people are not asexual as some segments of society think, gender based violence sometimes targets the male with disability and offerings can be made by anyone irrespective of disability
People on road: 5 dancers, 2 musicians, technical/ manager, and choreographer
Freight: none
Mixed ability training and dance workshops for dancers with and without disability, choreographic workshops for young choreographers and group leaders, capacity building in management and fundraising for disabled artists and groups, youth mentoring programs for young learners, post and pre performance discussions and deliberations and collaborative projects.
"Dancing beyond the limits of their bodies" – Kwamchetsi Makokha. Daily Nation
"Artistes Careers Soar with Dance Into Space" – Magretta wa Gacheru. Bussiness daily
"Mixed ability breaks barriers" -BBC Africa
Related artists from the same artform