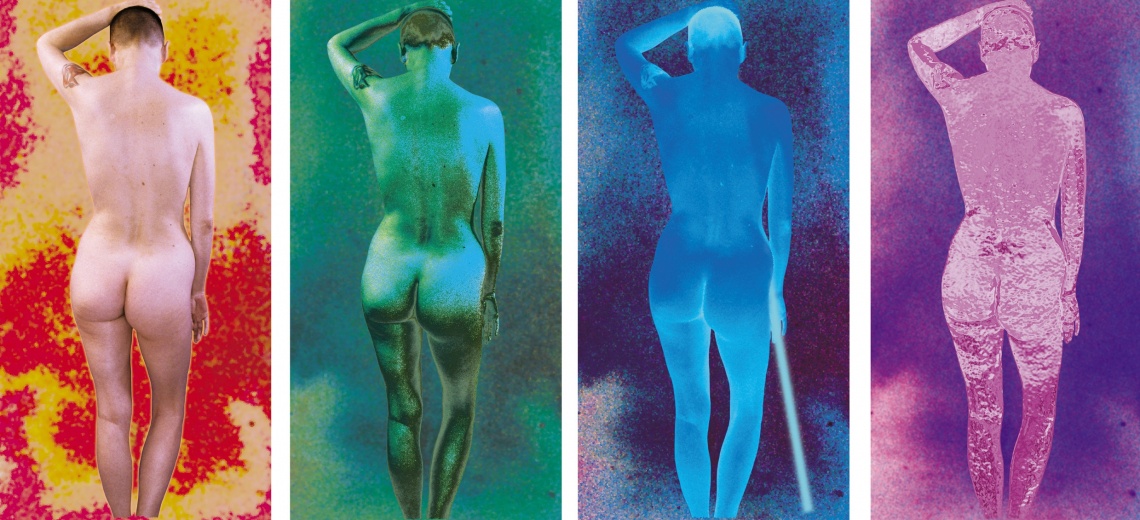 Perception I-IV: After Matisse, Backs I-IV
A photograph entitled Perception I-IV: After Matisse, Backs I-IV by Ju Gosling aka ju90 depicting the back of a naked person stood with their hand on their head. The portrait image is repeated four times in different colours; orange, green, blue and purple. The blue image includes the model holding a stick.
Dr Ju Gosling aka ju90 works largely with digital lens-based media but also with performance, text and sound. She situates her work within the theories and traditions of the Disability Arts movement, and has gained an international reputation. Ju developed the Scientific Model of Disability and her work is widely studied and referenced, both in the UK and overseas.
Since 2012, Ju has also been working to develop the Paralympic Cultural Legacy in the main host borough of Newham, where she has been based since 1985. She is Artistic Director of two organisations which have been created as part of this work, Together! 2012 CIC and Folk in Motion. Ju is committed to producing work of the highest quality, whether in her personal practice or when working with the community.
Contact details
Dr Ju Gosling aka ju90
8 Kildare Road
London E16 4AD
United Kingdom
Abnormal touring exhibition
Description: Abnormal toured the UK from 2008-2012, funded by the Wellcome Trust. It was developed during a residency at the National Institute of Medical Research, and includes the development of Ju's 'Scientific Model of Disability' within the accompanying website.

Full descriptions and images are available at http://www.ju90.co.uk/nimr/exhib.htm

Freight: necessary
Freight details: The exhibition can be loaned in full, or by item.
Individual works from the exhibition have previously been loaned for showing at the International Smithsonian in Washington (2011) and the DOX Centre for Contemporary Art in Prague (2013).
Perception I-IV: After Matisse, Backs I-IV
Description: The lightbox series Perception I-IV: after Matisse, Backs I-IV, was originally created in 2003 with funding from Arts Council England's Innovate Fund. This edition was remade in 2010 for the Bluecoat Gallery in Liverpool as part of DaDaFest, and has since been shown at the ViewTube in London (2013).
Freight: necessary
Freight details: The work consists of four 2m high by 1m wide by .25m deep lightboxes (main materials are perspex and wood).
UK-host country electrical socket adaptors will be required for the power supply.
What's Normal Anyway?
Duration: 20 minutes
Description: What's Normal Anyway is a spoken-word piece which was developed in London in 2013 and subsequently performed in Ontario as part of the Common Pulse festival in Durham in September. It can be combined with Ju leading a workshop, participating in a symposium, speaking at an event or giving an artist talk. Ju's artwork is also available for touring.
Extra information: What's Normal Anyway? simply requires access to a hands-free microphone.
People on road: 1
Freight: none
Experienced in leading workshops, giving artist's talks, participating in symposiums, and speaking at conferences and events (often as a keynote speaker).
Her work would be of particular interest to professionals from across a number of disciplines, including medical sciences and health and social care as well as the arts, but is accessible to the public as a whole including disabled people.
Ju is an internationally respected speaker on a wide range of issues relating to disabled people, disability and the arts as well as her own practice. Due to her UK commitments, Ju is able to undertake short international residencies only.
'Ju has always pushed to maximize the impact of both real and virtual realities, from taking part in virtual residencies, such as Outward Retreat residency organized by The Art House at Mount Grace Priory, her body of work (and resulting publication) Abnormal, and the Letter Writing Project.'
Jo Verrent, 'Digitising Disability: on the work of Ju Gosling, Simon McKeown and Merce Cunningham
'[Abnormal] is deserving of a tour of even more than 9 venues.'
Anna McNay, Art-Corpus
'Gosling has a far more nuanced view of science and medicine than the average disability activist. Even so, my preference is for art that makes you work harder to find the message, or which even leaves you unsure of what you think at all. For example, Abnormal, a photograph of the artist in her underwear wearing a fox mask intrigues me. Clearly, Gosling is referring to the tradition of anonymous and alienated medical photographs of disabled people, but the image is so strange that it lingers and troubles long after the explanation.'
Tom Shakespeare, The Lancet
Related artists from the same artform