The Chairs by Eugene Ionesco
A photograph Extant's The Chairs depicting three performers on a large stage. In the foreground of the set are a number of chairs under dim lighting. At the back of the stage in the centre is stood a performer wearing a white contamination suit and gas mask. On either side of the set is an actor raised on a platform, standing in front of a porthole window.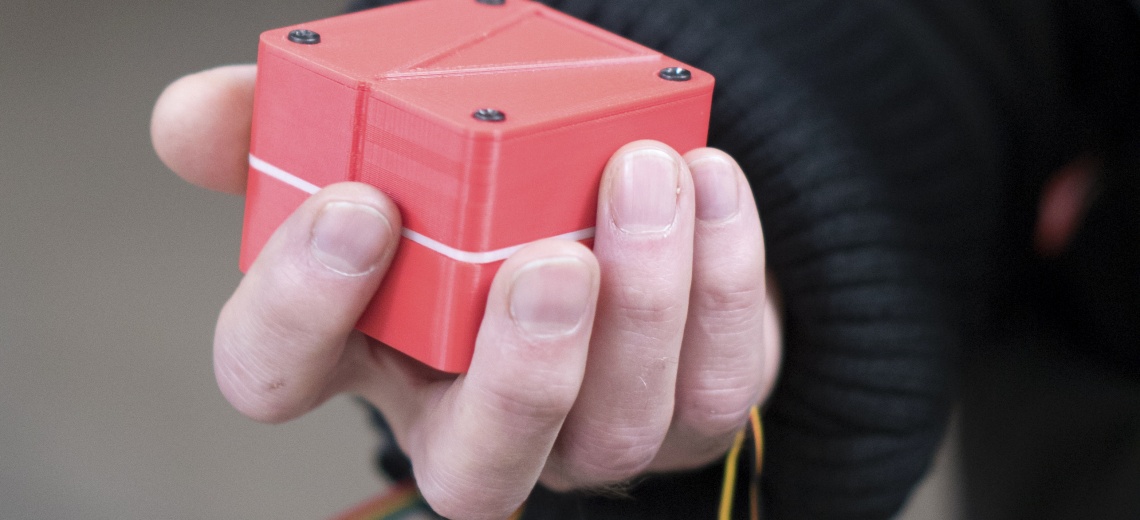 Flatland
A photograph Extant's Flatland depicting a hand holding a red plastic box.
Extant is the UK's leading performing arts company of visually impaired artists. Our strength is our drive to innovate. Utilising imaginative collaborations we create shared experiences for visually impaired and sighted audiences, and uncover new ways to engage, move and excite.
Extant fulfils its artistic aims through a rolling programme of research and development, touring and productions, education/youth and training. They collaborate with and advise organisations like Punchdrunk, Fuel, Science Museum, Upswing, Royal National Institute of the Blind, and the robotics exploration GrabLab at Yale University.
Contact details
Tabitha Allum
Executive Director
The White House
Oval House Theatre
52-54 Kennington Oval
London SE11 5SW
United Kingdom
Finding Flatland
Duration: 20 minutes – allows several back to back performances in one evening, possibly leading up to 2 hours in length altogether
Description: Finding Flatland is a touring demonstration of some of the incredible sensory effects that Extant pioneered in the full-scale FLATLAND haptic adventure. It aims to enable us to challenge people's conceptions of what artistic interactivity can and should be at the same time as opening up conversations about the wider power of haptic engagement in navigation and the environment. Up to 4 audience members at a time are blind-folded and navigated through a tactile environment using a haptic device called the Animotus. An audio sound-scape accompanies the experience through surround sound and bone conducting headphones. Visit www.flatland.org.uk for more information
Extra information: The original Flatland was a large-scale, pilot installation which used haptic technology – the science of communicating by touch – to guide audiences through an immersive, pitch-black world of sensation and sound. It was produced by Extant, the UK's leading theatre company of visually impaired artists, in collaboration with the Open University and robotics experts Haunted Pliers, to research new ways of presenting performance which levels the playing field for sighted and visually impaired audiences.
People on road: 4
Freight: necessary
Freight details: 3 flight cases of technical equipment
The Chairs by Ionesco
Duration: 90 minutes
Description: A unique adaptation of Ionesco's absurdist farce reimagined for two visually impaired performers and incorporating live audio description as an integral part of the sound design. This production has been designed for small-mid scale performance venues (approx.150-300 seats).
Extra information: The company has also created a venue awareness training programme to accompany the production on tour; Extant trainers visit the touring venue prior to the show's run in order to equip theatre staff (FOH and administrative) with sighted guiding skills, and further knowledge concerning the context of accessibility and needs of visually impaired patrons.
People on road: 10 including performers, stage crew, creative team and access support.
Freight: necessary
Freight details: Estimated weight of the set: 2 tonnes, transported in a 7.5 ton van
Extant runs workshops as part of our participation programme for visually impaired individuals in London and focus regions: Birmingham and Manchester. These include introductions to skills in drama, creative writing, poetry, music and singing, movement and dance. Free workshops are aimed at those with any experience or ability, and of different age ranges although we predominantly work with individuals aged 15-60+ Alongside touring productions we organise touch tours as well as post-show discussions for audience members to engage in questions about the event. Extant also creates professional development opportunities for visually impaired artists/practitioners through training and networking.
We offer arts venue awareness training for departmental staff working to improve their access for visually impaired audiences.
We provide innovative ways for creative teams to approach accessibility, and how to go beyond audio description.
On The Chairs 2016 production: 'Extant's production is a refreshingly ambitious show that brings absurdist theatre firmly into the 21st century' Disability Arts Online
On Extant and Graeae theatre companies: 'presents disabled people as strong, capable, talented activists and artists… [They] make their work look effortless in a difficult time' Exeunt Magazine
Latest Video
Trailer for The Chairs by Extant: combines groundbreaking avant garde theatre with experimental sound design and audio description cleverly incorporated into the live performance, making a dynamic shared experience for sighted and visually impaired audiences.
Related artists from the same artform