ON DISPLAY TIMESTAMPed
A photograph from ON DISPLAY TIMESTAMPed by Heidi Latsky Dance depicting four dancers in front of a marquee in a range of dance movements. The photograph is in black and white. In the forefront are two dancers dresses in white gowns, and with their arms in outstretched positions. In the background is a dancer laid against a large round flat marble cylinder, and another dancer is stood on a similar piece to the right of the photograph.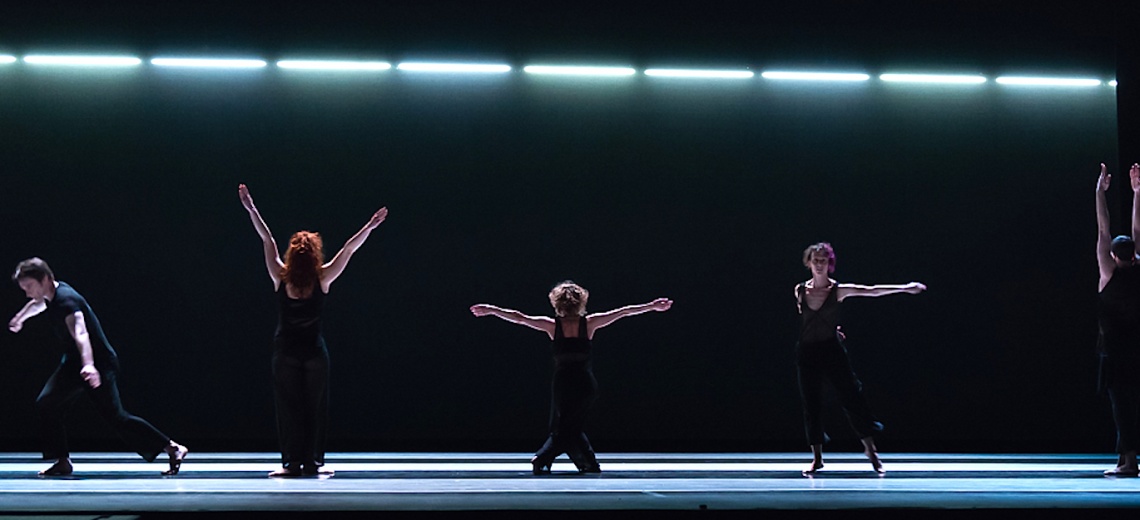 TRIPTYCH
© Photo by: Photo by Dariel Sneed
A photograph from TRIPTYCH by Heidi Latsky Dance depicting five dancers on a dark stage in different poses with outstretched arms. All are wearing black, and are back lit by the lighting along the top of the stage.
TRIPTYCH
© Photo by: Photo by Dariel Sneed
A photograph from TRIPTYCH by Heidi Latsky Dance depicting a group of five dancers on a stage in a range of positions. They are all wearing white and two dancers in the forefront of the photograph are leaning towards each other over the backs of two other dancers.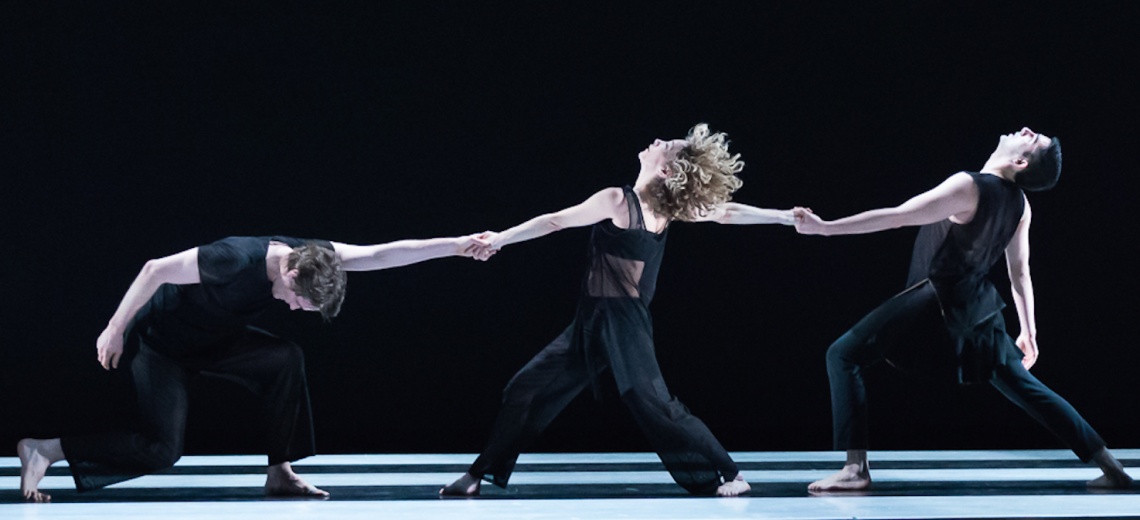 TRIPTYCH
© Photo by: Photo by Dariel Sneed
A photograph from TRIPTYCH by Heidi Latsky Dance depicting three dancers on a stage, their arms outstretched and holding hands. All are wearing black.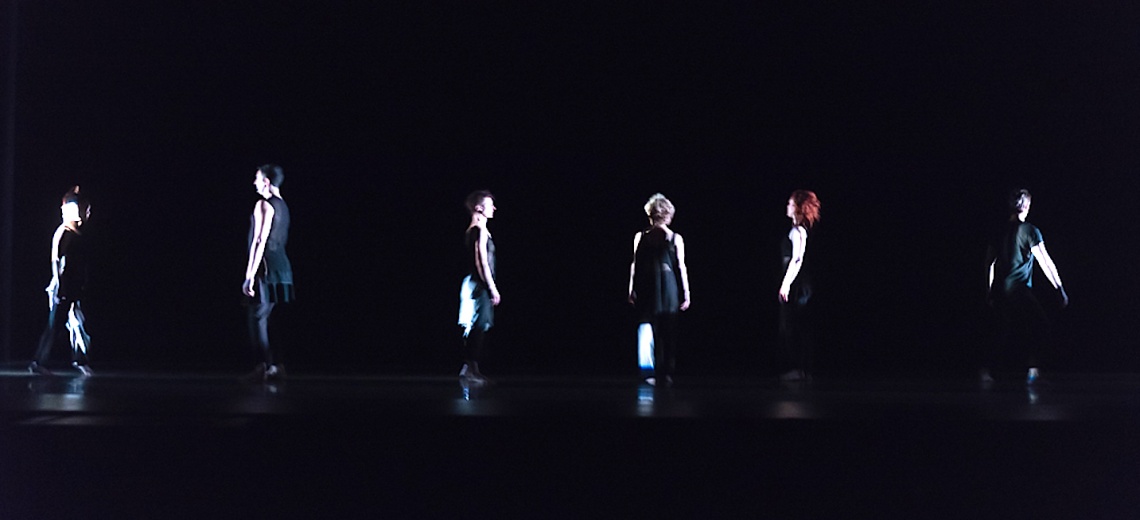 TRIPTYCH
© Photo by: Photo by Dariel Sneed
A photograph from TRIPTYCH by Heidi Latsky Dance depicting six dancers at a distance, on a stage. All are facing different directions. All are wearing black.
Heidi Latsky Dance (HLD) is an internationally recognized physically integrated dance company from New York City whose mission is to redefine beauty and virtuosity through performance and discourse using performers with unique attributes to bring rigorous, provocative contemporary dance to diverse audiences. Through the singular choreographic direction of Heidi Latsky, HLD has produced riveting works like GIMP (2008), IF (2010), and TRIPTYCH (2014), a three paneled evening featuring a dynamic physically integrated art film titled Soliloquy, Latsky's directorial debut. These proscenium works create a picture of the rigorous and inclusive company that is Heidi Latsky Dance, a company changing how we see different.
As Heidi Latsky creates expressive works for the stage, her company is also devoted to deep exploration in public art, film, and community development and advocacy. These manifest in works like ON DISPLAY (2015) an art installation bred from a personal invitation from the NYC Mayor's Office for People with Disabilities to create and plan performances to commemorate the 25th Anniversary of the Americans with Disabilities Act. The result was ON DISPLAY, a commentary on the body as spectacle; a deconstructed fashion show/art exhibit including text and a custom fashion line featuring a diverse cast spanning ages, races, genders, and abilities.
Soliloquy, the first commissioned film in the Dance for Film on Location at Montclair State University program underwritten by the Andrew W. Mellon Foundation is a necessary and beautiful entree into the silent and frenetic world of a physically integrated cast. Directed with as much parts fire and water by Latsky, this short piece enlivens our perception of the beauty of difference.
Contact details
DJ McDonald
Company Representative
400 W. 43rd Street
21 S
New York, NY 10036
ON DISPLAY TIMESTAMPed
Duration: 45 minutes
Description: A human sculpture court featuring 15-35 diverse bodies as living sculptures in a public space where passersby and invited audiences can walk through or post their experience via social media. A commentary on the body as spectacle, the piece allows a safe space to engage with difference as the cast is made up of various ages, genders, races, sizes, and disabilities. TIMESTAMPed is either scored by two 20-minute cycles of robotic, clinical text describing 30 random people with an alluring environmental underscore or can performed in silence. Upon cues, 10 sculptures burst from the court with frenetic movement called timestamps - individualized movement portraits performed on a spot or along a path, actively shifting passive notions of viewership for audiences who become a part of the work.
Extra information: As with all works in the ON DISPLAY portfolio, TIMESTAMPed allows for community involvement both in and around the work. HLD will travel with 5-10 of its 35-person cast to perform featured timestamps within the installation and teach local artists or the community both the sculpture court and timestamps to insert into performance.
People on road: 5 Performers
Freight: none
TRIPTYCH
Duration: 62 minutes
Description: A three-paneled evening, TRIPTYCH is HLD's premiere concert work. In it, dancers fly and intertwine with an urgency unlike anything onstage. Using her unique blend of architectural and physical choreography, Heidi Latsky exhibits a frenetic display of a soloist juxtaposed with a group (Solo Countersolo); an art film offering a still and engrossing entree to a physically dynamic integrated company (Soliloquy); and a interwoven production of movement portraits which reveal, test, and celebrate the diverse bodies onstage. Taken together or a part, the evening presents a full bodied exploration of the individual in relationship to herself and community.
Extra information: Choreography by, Heidi Latsky in collaboration with the dancers; Lighting Design by Robert Wierzel; Original Music by Chris Brierley (Solo Countersolo, Soliloquy) and Ximena Borges (Somewhere); Costumes by Carlos Arias (Solo Countersolo)
People on road: 9 Dancers 1 TD
Freight: baggage
HLD offers workshops, residencies, and lectures on the intersection of dance and disability.
ON DISPLAY is a portfolio of works for various populations to engage on ideas of inclusion, equality, beauty, and power. Thet program is facilitated by Latsky and her own performers through direct smaller installations and interdisciplinary experiences in schools from primary through university, in museums and cultural centers, and with community activists and groups.
"Heidi Latsky's GIMP…is one of those ideas that arrive as visionary, only to soon inspire the question: Why Not?"
–Chicago Tribune
"The performers are like a thicket of trees subsisting on the same soil, light, and water, but each expressing its response to those elements with irrefutable distinction."
–Dance Magazine
"Heidi Latsky – a choreographer and dancer of uncommon intelligence and fluidity…"
–The New York Times
"The choreography gives you chances to focus on individuals…"
–Deborah Jowitt, Arts Journal
Related artists from the same artform