Le rêve de Newton
A photograph of Le rêve de Newton by Juan delGado depicting an isolated industrial fort like building on a flat coastal site.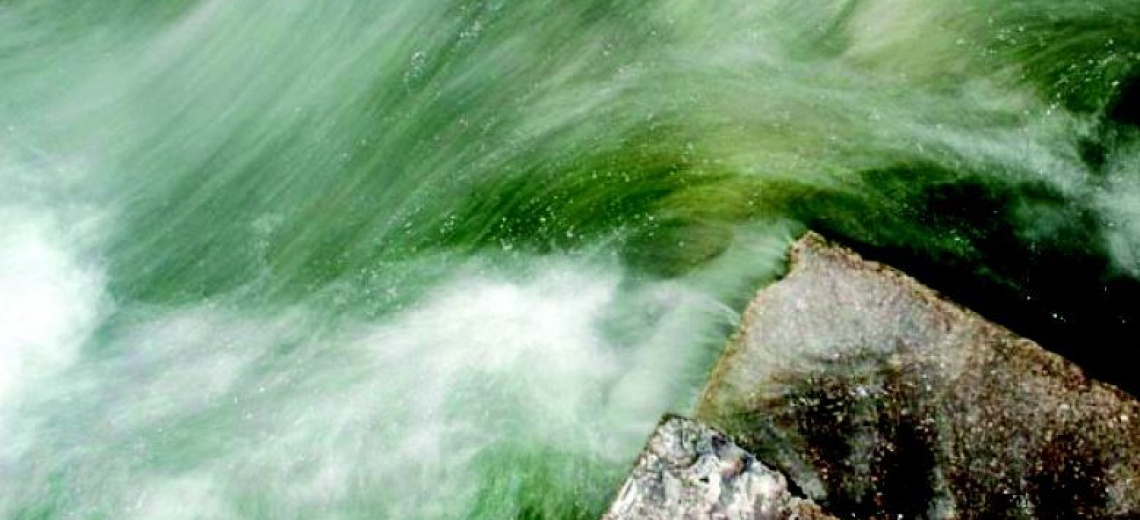 Sailing Out of Grain
A photograph from Sailing Out of Grain by Juan delGado depicting swirling green and white water around a corner of stone.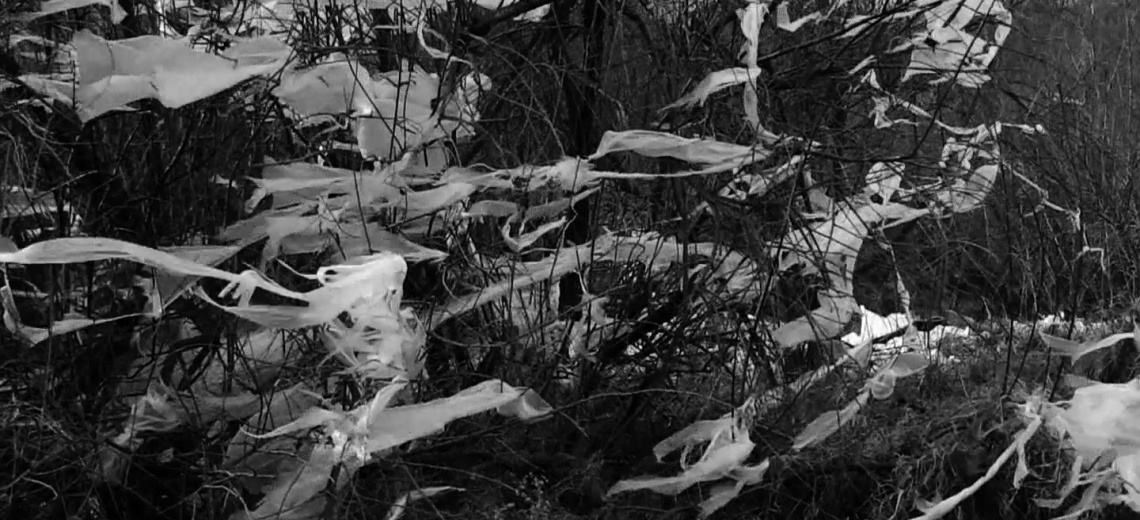 Altered Landscapes
A black and white photograph from Altered Landscapes by Juan delGado depicting white material entangled in bushes.
Altered Landscapes
© Photo by: Image (c) Juan delGado
A black and white photograph from Altered Landscapes by Juan delGado depicting a close up shot of the hand of an older person.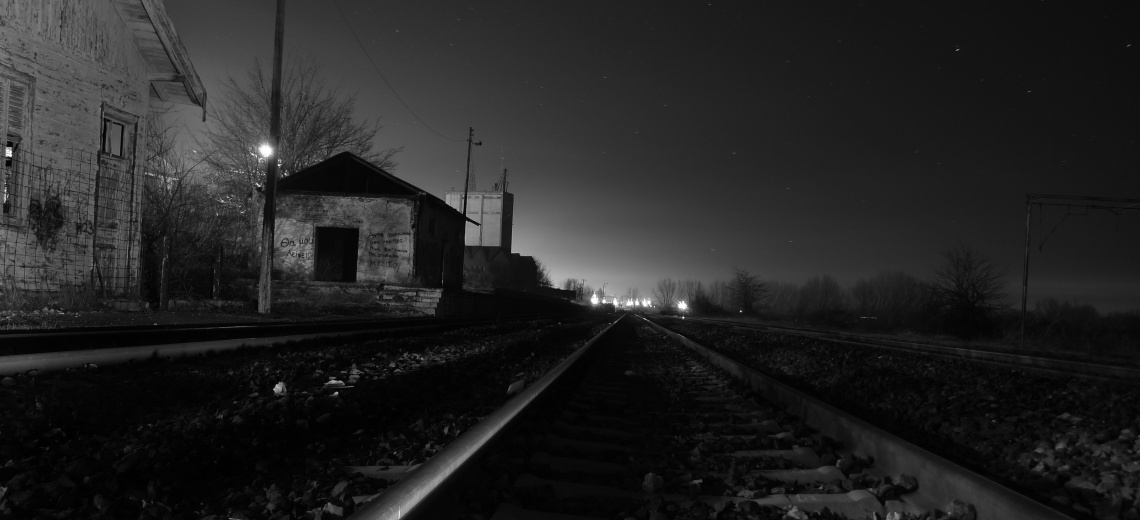 Altered Landscapes
© Photo by: Image (c) Juan delGado
A black and white photograph from Altered Landscapes by Juan delGado depicting a railway track at night, with lights in the distance. To the left are two outbuildings.
Altered Landscapes
© Photo by: Image (c) Juan delGado
A black and white photograph from Altered Landscapes by Juan delGado depicting a stream running through a barren and rocky landscape with sparse vegetation.
Juan delGado works across a range of media including installation and photography and has produced an extensive body of work that explores themes of trauma, landscape, disability, dislocation and gender.
delGado has exhibited widely including at ARCO'05 in Madrid; Freud Museum, London; Budapest Biennale; Salisbury Arts Centre; Istanbul Biennal, Lighthouse, Poole and Southbank Centre, London.
He was selected for the 2012 BBC Big Screens programme for Sailing Out of Grain, made with solo yachtswoman Hilary Lister for London 2012.
Since 2013 Juan delGado has been working as Creative Producer on 'Qisetna:Talking Syria' – an online (bilingual) platform he is curating in collaboration with a team of young refugees across Europe and Syria.
In 2014 his project Ringing Forest was shortlisted for the Jerwood Open Forest exhibition and in 2016 delGado's immersive installation Altered Landscapes (Photography, Video & Sound) premiered at Watermans Arts Centre, London. delGado's immersive installation (Photography, Video & Sound) premiered at Watermans Arts Centre, London 2016
Since his graduation in 2001 from the University of Westminster, London, his work has been supported by many prestigious organisations including the British Council, the Wellcome Trust, Artsadmin, Artschool Palestine and Arts Council England.
Contact details
Juan delGado
Artist
14 Leighton House
John Islip Street
London SW1P 4EA
United Kingdom
Altered Landscapes
Duration: 11'32"
Description: The landscape bears witness to the traumas and displacements of the people that move through it. Altered Landscapes is an immersive multimedia installation which traces a personal narrative through the scarred vistas of Europe in the midst of the largest mass migration in living memory.

For this exhibition delGado travelled to Greece, Macedonia and Calais to record the
journeys taken by refugees. delGado has not filmed these 'invisible' people but the
places they have passed through. Traces of their existence are left on the land as they
pass through to find safety. In place of the images proliferated by the media delGado
presents fragments of experiences and fleeting moments that tell the human story of people caught in the unfolding sweep of history.

Through the use of video, photography, light and sound, Altered Landscapes brings the
the viewer on a journey. This intimate account of the experience of travelling through an unfamiliar landscape echoes the real life experience of tens of thousands of refugees.

The viewer navigates the different elements in the gallery space absorbing the
experiences of the refugees and witnessing the reshaping of the continent as Europe's
horizons fill up with the authoritarian towers of a new militarised border control.

Inspired by the text The Metamorphosis by Czech writer Franz Kafka, and the anxiety
ridden B movie The Incredible shrinking man from 1956 the project centres on a
personal diary from a narrator, a European subject, who is describing how his human
identity is gradually eroded, being transformed into something else, as a response to
the suffering he is viewing.

These reflections are provoked by the events and debates of the last few years around
the refugee crisis and are contextualised in a landscape which is strongly embedded in
our collective imaginary, Greece with its Acropolis, the ancient citadel of Athens, and
the birthplace of the democratic values and culture.
Extra information: Technical Specifications

● A screen of 307 x 228.5 cm approx. hanged from ceiling about 85 cm above the floor.
● Two Speakers (40 wat) placed on each side
● A circular screen of 180 cm diameter approx painted white onto the floor.
● A directional speaker hanging from the ceiling near the projector.
● Space should be darkened with dark grey (85%) and if possible the floor also painted in shiny black.
The main video installation is accompanied by an audio description available through
headphones, and is screened with captions at regular intervals.

For more information click on this link to the Arts Council England website
Freight: baggage
Freight details: 2 video projectors
2 speakers
1 screen
4 prints 30 x 40 cm approx.
4 light-bulbs
4 Mp3 players with headphones
Le Rêve de Newton
Duration: 8 minutes 37 seconds
Description: Le Rêve de Newton depicts a poetic reflection on ageing, vulnerability and the changing landscape as well as an exploration of the politics of sport and the body.
Extra information: http://lerevedenewton.wordpress.com
Sailing Out of Grain
Duration: 8 minutes 59 seconds
Description: Sailing Out of Grain explores the inner world of solo yachtswoman Hilary Lister, her life, dreams and achievements. An intimate portrait of this extraordinary, yet vulnerable woman.
Extra information: http://vimeo.com/47584307
delGado can deliver artist talks and discussion panels on several themes mostly focusing on the politics of food, trauma, landscape, disability, dislocation and gender.
He is experienced in undertaking interviews and participating in residencies, symposia, development trainings and events.
His work can be of particular interest to specific audiences and is accessible to everyone including disabled people by keeping within the aesthetic vision for the work itself.
Libby Anson, Art critic, editor and writer in Filmwaves 
'Juan delGado's work includes experimental media, video and installation, film and photography. The films reveal a brutal honesty with which the artist gives voice to his ideas. His subject matter comes from either direct, or informed personal experience, yet he is able to work with objectivity and distance, rigorous control and sensitive direction.'
Juan Soto in interview with Juan delGado for DisabilityArtsOnline: 17 July 2014
"The Flickering Darkness (Revisited) intentionally travels a path of lingering uncertainty. It became a productive aspect of the artistic process, with an emphasis on the accidental – of literally walking into new spaces, accidentally. Corabastos is remarkable because of that. All of a sudden one is being led by the smell of thousands of fruits, by the organic shapes of piles of amassed potatoes, by the figures of policemen patrolling 'chaotic' spaces of exchange…"
Aina Pomar in interview with Juan delGado for Artdependence Magazine: 19 May 2016
"Since 2013 I have been the creative producer of Qisetna:Talking Syria, an online-based project, in which I have been collecting stories from Syrians that connect them with their human side that war has taken away.  This project was featured by Unesco's United 4 Heritage's campaign as a living archive to preserve the Oral Heritage of Syria.
I am also preparing the path to start researching ideas that will shape Troubled Waters, an artist film, which will be the continuation of Altered Landscapes. In this new work I am planning to collaborate with a Syrian writer in what will be a reflection about the different facts that turned this geopolitical region into a war that has expanded outside its borders."
Latest Video
Please click on the following links to visit Juan delGado's Youtube Channel and Vimeo homepage

Video: Shape Arts - Artist Talk: Juan delGado - November 2015
Related artists from the same artform