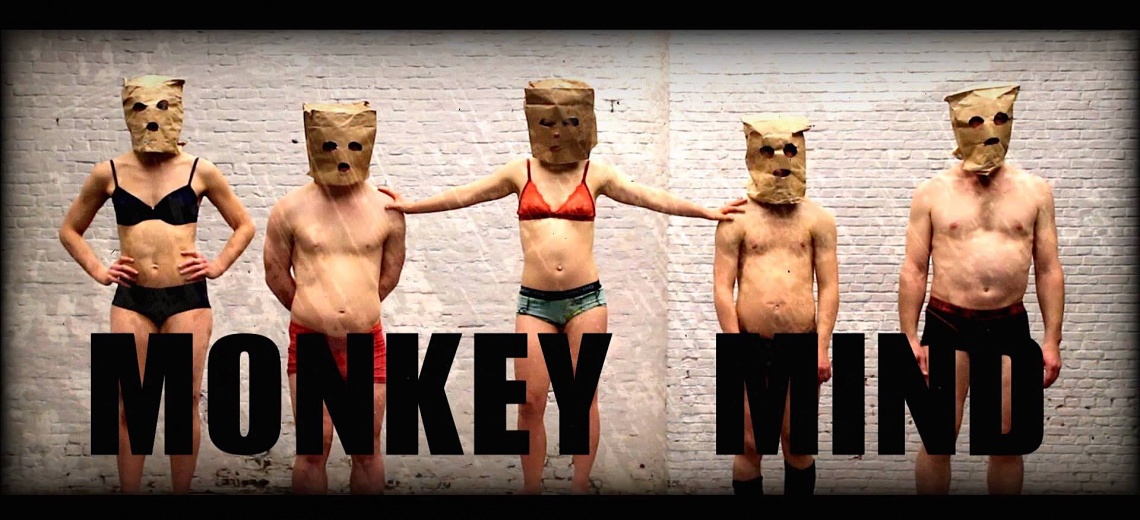 Monkey Mind
A photograph from Monkey Mind by Platform-K depicting three men and two women in a row wearing only underwear and a paper bag on their heads. They are standing against a white brick wall. There are the words MONKEY MIND in black capital letters across the bottom of the image.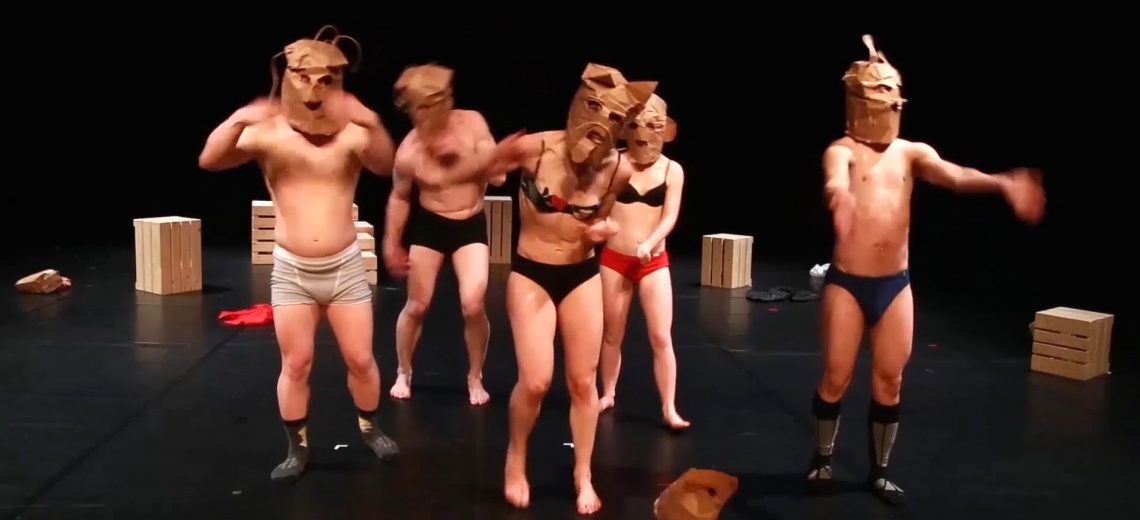 Monkey Mind
© Photo by: Image © Platform K
A photograph from Monkey Mind by Platform-K depicting three men and two women on a stage wearing underwear and a paper bag on their heads. There are wooden crates strewn around the stage.
In all of our dance projects, Platform-K challenges disabled and non-disabled artists to work together and create new art forms; dance and movement languages.
In 2016 Platform K made Monkey Mind in collaboration with Les Ballets C de la B. The performance, choreographed Lisi Estaras. Lisi Estaras develops a choreographic pattern of dance phrases and frames that are the result of associative thoughts and impulses. She worked with dancers Nico Vladyslav (Les Ballets C de la B) Anna Calsina and three Platform-K dancers, Kobe Wyffels, Hannah Bekemans and Fernando Amado. This performance is touring to several cities in Belgium as well as the Gathered Together festival in Glasgow in September 2016.
The Beast in the Jungle premiered in 2013. Inspired by Henry James' novel of the same name, published in 1903, Oliver Roels and Charlotte Dhaenens created a duet for Taha Ghauri (P.A.R.T.S) and Kobe Wyffels (permanent dancer with Platform-K).
The performance was reviewed in several Belgian newspapers. The international project You et Vous took place in 2015. It was a major collaboration between four different dance organizations for people with disabilities. Stopgap Dance Company from London (UK), Indepen-dance from Glagow (UK), Micadanses from Paris (FR) and Platform-K(BE). it was performed in Ghent and Paris.
Contact details
artistic director
Platform-K
Koning Boudewijnstraat 51
9000 Gent
Belgium
MONKEY MIND
Duration: 55 minutes, no intermission
Description: Monkey Mind is an intensive encounter between five dancers. They go beyond the expected and do not shy away from breaking conventions or even taboos.

Monkey Mind : the non-stop conversation inside your head, the jumping from thought to thought, from one feeling to another, like a monkey from tree to tree.

In this creation Lisi Estaras (les ballets c de la b) works with five dancers, three of whom have Down syndrome. Will they be able to find each other in the 'Monkey Mind' ?
Extra information: The organiser provides:

- sufficient dressing rooms with showers,
- sufficient towels (min. 1 per person),
- mineral water on stage for the dancers,
- water, coffee, tea, fruit and refreshments.

Stage

- Minimum surface: 8m x 8m
- Free height under the fly bars: at least 6,5m.
- A wooden floor, with a black dance carpet/floor covering the whole surface.
- Masking: Black box
- German style (backdrop and side masking, borders are optional) with sufficient space for the dancers behind the backdrop, OR
- Italian style with 4 or 5 legs.

The organiser should provide at least 1 light technician and 1 sound technician for the whole day. It would be preferable if dance floor and masking is ready on arrival of the company crew.
People on road: Monkey Mind is a performance with 5 performers on stage and travels with 1 technician, 1 choreographer and 1 tour manager from Platform K
Freight: necessary
Freight details: The set consists of about eight wooden boxes in different sizes that are brought by the company.
Platform-K offers dance training/classes and a performing stage to dancers with disabilities.
The press about Monkey Mind, performance of Platform-K and Les Ballets C de la B in 2016.
"As always in Platform-K performances, the boundaries between "normal' and "not normal" are broken down on purpose. Yet, it is a Catch-22: the audience should perceive them as any other professional dancer, but actually it is the aesthetics of these dancers, of their disability that is a source of inspiration on stage. Estaras embraces this paradox and even deliberately displays it. It is a quest that leaves us with a double feeling and yet, it is the driving force of this performance. (ETCETERA, 26 February 2016, Eline Van de Voorde)
" … it is amazing how Estaras moulded her crew into such a close group and how they dazzle with sexual taboos. … All too often the intimacy of people with a disablility is subject to censorship."… "It's exactly what inclusive dance does so well, extracting a new opportunity out of differences, without ignoring them." (DE STANDAARD, 20 February 2016, Charlotte De Somviele)
Latest Video
Trailer: Monkey Mind
Related artists from the same artform