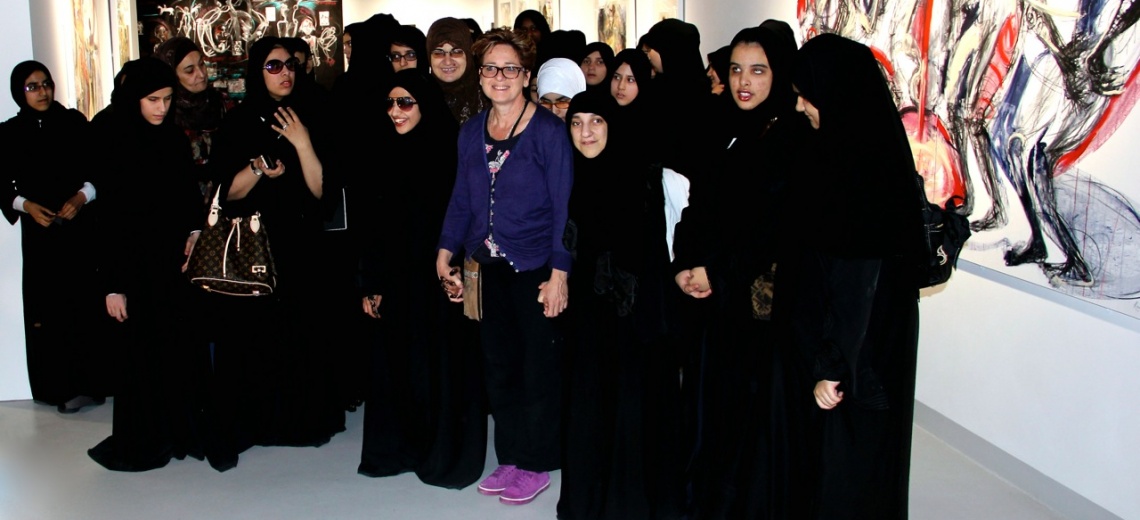 Rachel Gadsden with students from the Al Noor School
A photograph from "This Breathing World Exhibition" Qatar, depicting a woman in western clothing standing amongst a group of women in black Islamic dress.
Rachel Gadsden is a unique and exciting visual artist who creates dynamic work and leads a range of national and international participative programmes. Gadsden's work explores themes of fragility and resilience, and the universal and deeply positive desire to survive and she is motivated to empower others to find a voice with which to challenge prejudices.
Gadsden is a multi-award winning artist who has a BA and MA in Fine Art; she was the first contemporary artist for Hampton Court Palace 2008 – 2009, and artist for Parliamentary Outreach's 2010 General Election public engagement commission. Gadsden directed the international commissions of Unlimited Global Alchemy and Starting Line for the London 2012 Cultural Olympiad.
In 2013 Gadsden represented the UK, creating "This Breathing World" for Qatar – UK Year of Culture 2013, for British Council and Qatari Government at Katara Cultural Village, Doha. HRH Prince Charles formally opened the exhibition. Further 2013 commissions included a cross-media performance, Talking Souls, in collaboration with British Council South Africa & Artscape Women's Festival, Cape Town; and Cube of Curiosity with Marc Brew for Liberty Festival, London. Gadsden also created a series of paintings of the Patron Saints for Parliament, in collaboration with the Family Arts Festival and the Big Draw and commissioned by the Speaker's Art Fund, Parliament.
In March 2014 Gadsden created a digital artwork in collaboration with filmmaker Abigal Norris for the lighting of the Sochi, Russia 2014 Winter Paralympic Torch, as part of the Paralympic Torch lighting Ceremony at Stoke Mandeville.
This year Gadsden embarked on Al Noor ~ Fragile Vision, a multi-cultural collaborative project between UK and Middle East communities and arts organizations whose objective is to focus upon perceptions of disability, of culture, diversity and openness about impairment. The commission includes an exhibition of artworks, animated digital films, a music, live visual art, digital performance and an outreach programme in UK and Middle East.
Gadsden was awarded the National Diversity Award 2013: Positive Role Model for Disability.
Contact details
8 Amity Grove
Raynes Park
London
SW20 0LJ
Al Noor - Fragile Vision Exhibition of Paintings and Digital Films
Duration: n/a
Description: Al Noor ~ Fragile Vision is an exhibition of Artworks, 2 digital films and a gallery performance - Shamal (music,live art, digital film) created by Rachel Gadsden, Claire McCue Abigail Norris and Lesley Shrigley Jones (18 mins).

An Art book is currently being created that documents the vision of this commission.

Suitable for all ages
People on road: 2-6 people
Freight: necessary
Freight details: Gallery Monitor x 2
20 - 40 Artworks
Gallery Hanging system
The exhibition of artworks can be adapted to suit the Gallery/Exhibition Space
Freight to be confirmed depending on number of artworks and scale of exhibition etc
Rachel Gadsden is a highly skilled and experienced visual art workshop leader and speaker.
Workshops, performance discussions, residencies and masterclasses are an important part of each of Gadsden's projects. Gadsden delivers the wrap - around activities to all ages.
'Gadsden is creating an artwork with frantic speed, fighting her own real-life fight against the dying of the light. In the act of painting, she tells us, she is "living in the second". A profoundly affecting reminder of our shared humanity.'
Luke Jennings – Guardian Observer Newspaper 2012
'Gadsden sees her work operating on both personal and global levels and consequently has become interested in cultural leadership given the possibilities of wider cultural and political change that leadership offers. This portrait is an example of how an artist can, through the uniqueness, clarity and power of their artistic voice, become a cultural leader and a force for wider social awareness and change.'
Levelling Up Report, 2014 – The leader as powerful artist
'Rachel Gadsden is nothing short of an inspiration and serves as the ideal positive role model for disabled people. An internationally acclaimed contemporary artist, Rachel has battled successfully against a potentially life limiting illness to produce works of art that are applauded worldwide. Featured by the likes of the Observer and the Arts Council and British Council, Rachel's work and inspiration has been showcased across the world – Qatar, Bahrain and South Africa being good examples – where she has helped local people understand the power of art. Her work is underpinned by the notions held around disability, balanced by positivity. Rachel's artistic practice exemplifies the importance of the right to the freedom of expression, addressing issues relating to disability and thereby contributing to the bigger picture of bringing cultural change to our society.'
National Diversity Awards 2013
Related artists from the same artform