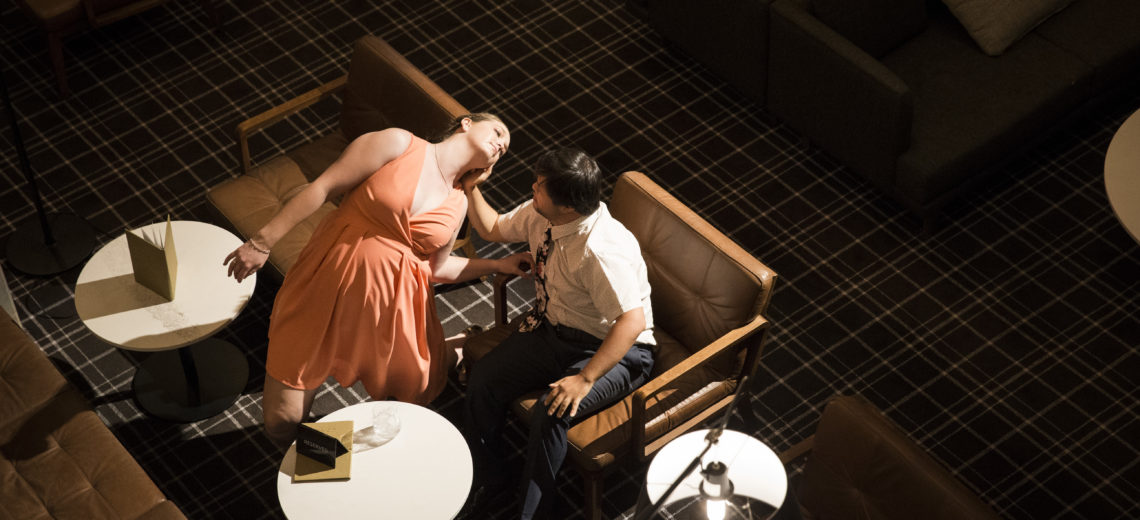 Intimate Space 2017
A photograph from Intimate Space by Restless Dance Theatre depicting man and a woman together in a room. The man is sitting on a brown leather chair, and the woman is stood close to him. He is stroking her face. In the room, there are other brown leather chairs and round white coffee tables.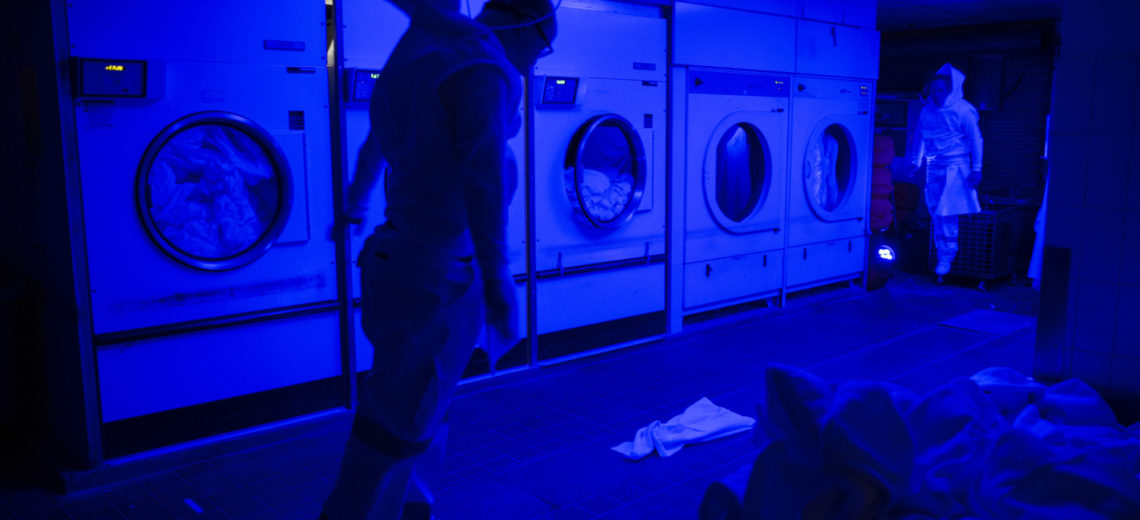 Intimate Space 2017
© Photo by: Image by Shane Reid
A photograph from Laundry by Restless Dance Theatre depicting two performers suspended from the ceiling in a launderette setting. They are wearing white boiler suits, and are at either end of the launderette. There are five large laundry machines in the background. The scene is lit in blue.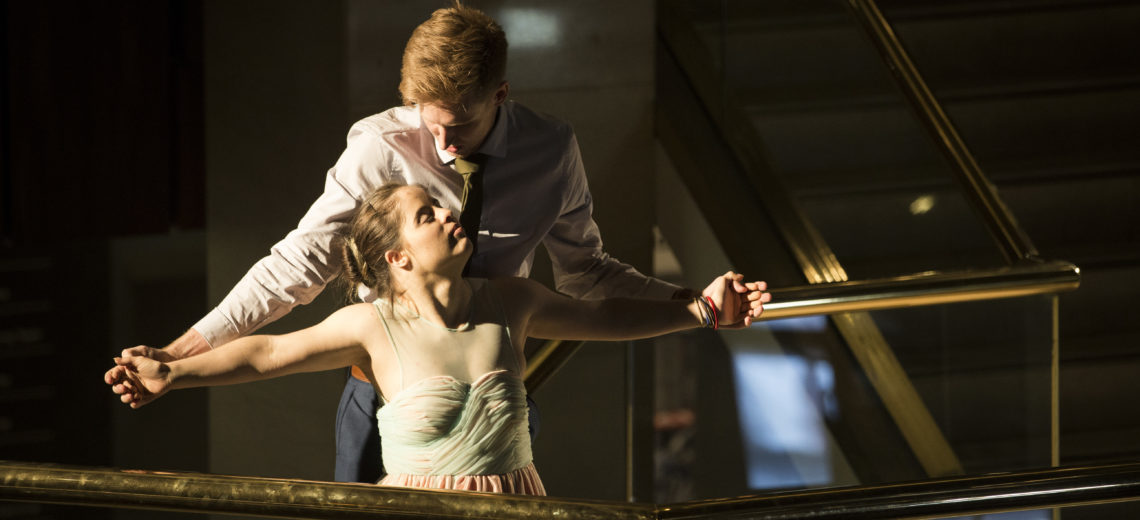 Intimate Space 2017
© Photo by: Image by Shane Reid
A photograph from Intimate Space by Restless Dance Theatre depicting a man holding a woman on a balcony. He is holding her arms from behind, and looking at her lovingly.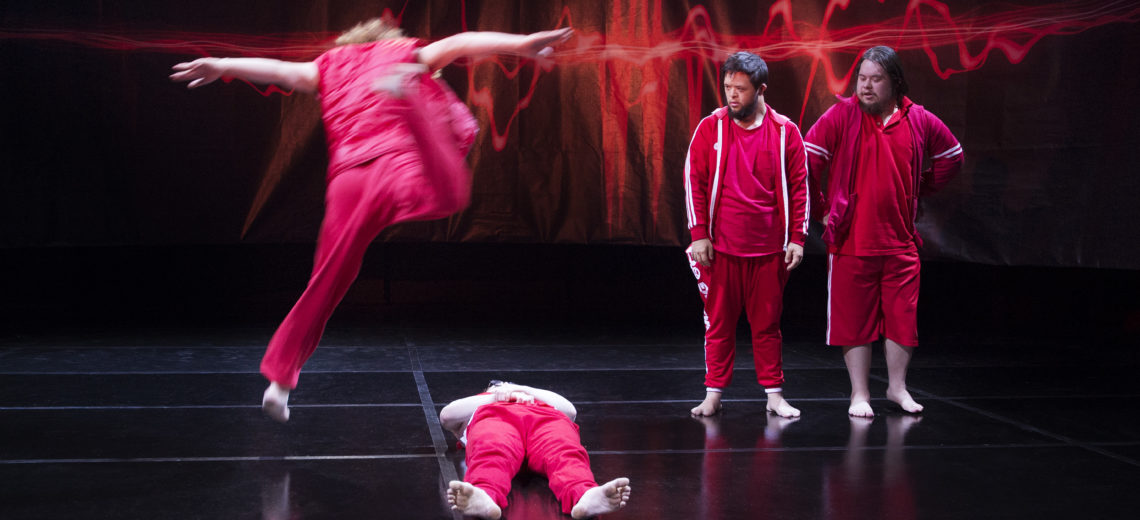 Touched
© Photo by: Image by Andy Rasheed
A photograph from Touched by Restless Dance Theatre depicting four performers on a stage, all wearing red clothing. Two performers are standing to the right of the stage. One is lying on the stage floor, and another is mid dance move in the air. There is a heartbeat signal projected behind the stage in red.
Led by Artistic Director Michelle Ryan, one of Australia's leading dance artists, Restless Dance Theatre creates high quality real, raw and uninhibited dance theatre. It is Australia's leading dance theatre company working with young people with and without disability to collaboratively create outstanding inclusive dance theatre informed by disability. The company presents unexpectedly real dance theatre works in multiple mediums to diverse audiences.  Restless artists enliven and diversify Australian dance creating original and remarkable work that extends the definition of what dance is.
Contact details
Nick Hughes
Company Manager
195 Gilles Street
Adelaide
South Australia
5000
Australia
Intimate Space
Duration: 60 minutes
Description: An experiential work of dance theatre set in a leading hotel. Witness a tender and cheeky duet in a private room then an urgent physical explosion in the laundry. All looks neat and tidy but what is going on behind the scenes of these emotional dance vignettes?
Extra information: Intimate Space is an experiential, promenade work in a 4 or 5 star hotel. It's an intimate work for just 12 audience members at a time. The audience check-in and receive a baggage tag that they put around their wrist and go on an exclusive journey encountering a series of engaging and surprising performance vignettes along the way, all guided by an evocative and immersive soundscape by Jason Sweeney.

First they are led through the sophisticated areas of the hotel then take a lift to a hotel room where they are given torches to illuminate a couple on the bed. Next, through back of house to the kitchen where the smells of the day fill the air as a large woman waves a cleaver. Into the industrial laundry where the relentless tumble of the dryers form the backdrop to an explosive duet. To the mezzanine where the audience watch couples performing intimate duets below in the lush bar to a soundtrack of whispering judgements. The work is funny, compelling, immersive and very poignant. The intimate audience are not just voyeurs but become key players integral to the intricate performances.

Michelle Ryan directed the work with assistance from Josephine Were. The Set and Costume Design is by Meg Wilson, the Lighting Design by Geoff Cobham and the Composition is by Jason Sweeney.

The thrilling thing about Intimate Space is that no 2 shows are the same. Hotel guests and staff form the backdrop. Whether it's the 50 rev heads in the bar in town for the Clipsal car race, an eccentric woman walking her 2 whippets through a scene, or a smashed glass being swept up from the floor in the lobby, there is always a surprise and every sense is ignited. Think Wes Anderson meets David Lynch.

Intimate Space is a site-specific work that can be re-worked to suit a variety of hotel layouts in all sorts of destinations. It will suit programmers of festivals that are interested in placing a work in a hotel context, venue programmers who are interested in programming off-site and programmers of festivals that are based in non-traditional spaces. It offers a unique opportunity for presenters with hotel partners to activate their premises, providing an exclusive performance experience for their guests.

A full tool kit is available including;

A suite of brilliant reviews
High quality striking imagery and promo clip
A comprehensive risk management plan
And a detailed proposal to help secure a presenting hotel
Guidance around Auslan & Audio Described performances
Community Engagement Plan
Endorsement from Hilton Adelaide hotel
People on road: Touring Company of 19 (11 Performers, Director, Project Manager, Stage Manager, Technical Manager, 3 ASM's, FOH Manager/Performer). In each city 9 local performers will be engaged for particular scenes OR fully local cast with 6 weeks to develop a unique
Freight: baggage
Restless Dance Theatre will develop an innovative and meaningful community engagement strategy alongside the work we present to ensure that audiences and communities are engaged deeply and will benefit from the experience for the long term. Restless runs an extensive high quality workshop program and has a long history of delivering community workshops and extended residency programs. Restless can work with these existing skills as well as innovate by thinking more creatively about how it engages with its audience before during and after a performance presentation. We can also offer post show Q&A's, tailored presentations and participate in panel discussions.
"5 STARS. Innovative, potent, bold and beautiful…an extraordinary and highly entertaining experience" – Limelight
"…exquisite, daring, compelling, profound, thrilling, funny, cheeky and sweet" – The Advertiser
"…exceptionally beautiful and highly skilled, often funny, and always moving" – Robyn Archer
"A magically beautiful, stunningly presented and wonderfully staged production" – The Upside News
"Restless changes attitudes to disability every time it performs" – Noel Jordan
"…one of the great treasures of Adelaide. It's an amazing company of dancers and performers. But what you don't see on stage is disability, you just see an extraordinary group of human beings dancing with such heart and such talent" – Neil Armfield
Latest Video
Promotional video for Restless Dance, which introduces the company and its work
Related artists from the same artform