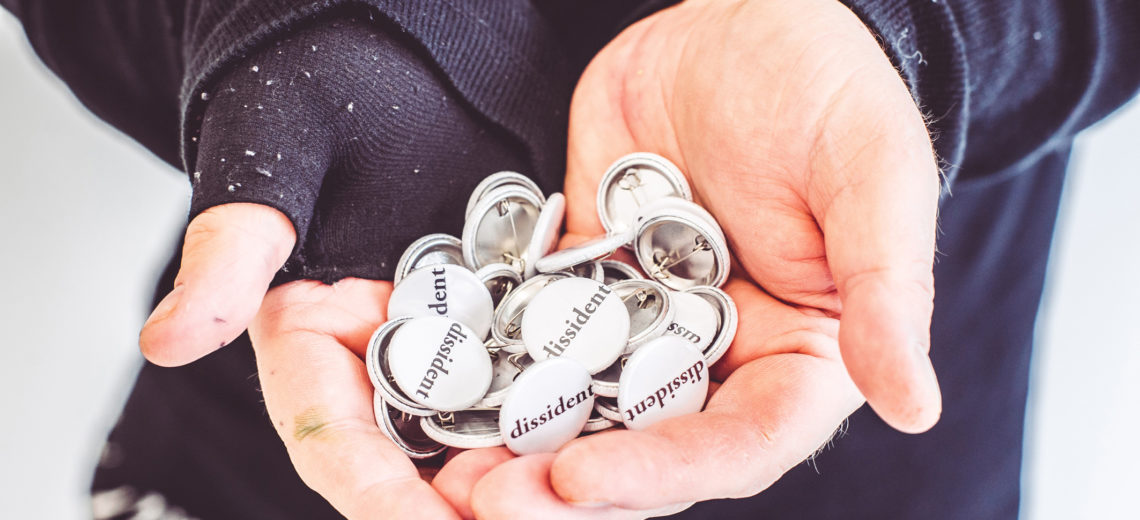 still from rose carved in rain
hands holding a number of badges with dissident printed in black ink on a white background. image from performance
'artist immersed in a wide variety of art-forms, whose work continues to defy pigeon-holing crossing visual, performance, literary and digital art forms with ease and uncomforting elegance. An abiding concern within his work is the disconnect between hierarchy and human rights. Often playful to the point of frivolous, as in his series of work that 'may contain nuts,' he is also capable of writing and producing arresting theatre that cuts to the quick. '  
disability arts online
experienced solo performer for many types of space and audience, indoors and out. music theatre includes ships-ov-fool originally commissioned for gift: gateshead international festival of theatre and touching edges of flood (sage gateshead sessions). 2 sound&music awards. artistic associates with museum of homelessness and disability arts online (both are lived experiences). jessie kesson literary fellow at moniack mhor – scotlands new writing centre; society of authors award; solo exhibitions internationally including with alma zevi venice. alumni of graeae theatres write to play including writers attachment at the royal court theatre, now part of graeaes beyond partnership with theatres nationwide. mgc futures bursary holder 2021
an amazingly light touch with very serious and important topics, giving your audience space to experience your work and concerns in such an intimate way. I find your work relevant, poetic and so original. … we are dealing with the antithesis of all that is mass-produced, commercial; one needs time to engage and to listen to the work. It might even help us to listen to ourselves. … a great, and singular artist, with no other justifications or conditions needed.
alma zevi venice
Contact details
burn
love&rage international
tyne & wear, europe (north)
provoked to madness by the brutality of wealth
Duration: 60minutes
Description: solo theatre show. a 'support worker' refused us help saying 'what dya need books for yr homeless?'. this highly visual shows our revenge. thirteen years of reading, graduating from the open university in 2016. shows about 'rewriting the future'
Extra information: supported by BOOST : Third Angel Mentoring Scheme in association with Sheffield Theatres, also supported by a camden peoples theatre bursary, arc stockton residency, and museum of homelessness bursary
People on road: 2
Freight: baggage
rose carved in rain
Duration: 60 minutes
Description: barely surviving a homeless hostel we discovered the incredible artist/film-maker sergei parajanov. soviet union imprisoned him because of his bisexuality, causing huge mental distress / trauma yet his childlike wonder couldn't be silenced. we share so much with this fat-mad-bisexual-big-kid-dissident. we all need our dreams back
Extra information: seedpot bursary holder for newcastle fringe festival / alphabetti theatre, also supported by Curious Arts queer arts north bursary, the NewBridge Project and sound&music awards.
People on road: 2
Freight: baggage
Freight details: ask for details
still alone in her voices
Duration: variable
Description: internationally touring (including belfast, venice, teesside) : a haunting exhibition and accompanying performances exploring mental distress spiralling out of our lived experiences of 'psychosis'. our voice is continuously erased, we constantly have to write ourselves back in.
Extra information: exhibition with accompanying performance / participation - touring internationally. available in multiple formats
People on road: 2
Freight: necessary
Freight details: please ask for details
experienced facilitators available to make unique experiences including via residencies, commissions, workshops, discussions, provocations, exhibitions, performances
gobscure's talent lies in their strength in telling difficult stories about abuses of power, inequality and resistance in ways that allow us to examine our own relationship to privilege and marginalisation but always with some focus on the absurd. … provoked to madness by the brutality ov wealth admonishes us to look for alternative empowering narratives and to regain our voice and to tell different, better stories. DAO review
https://disabilityarts.online/magazine/opinion/gobscure-reframes-personal-stories-to-create-a-bigger-picture-in-their-latest-show/
british theatre guide on joey :
Like all good poets, he sees below the surface and what he writes is multi-layered and is driven—so very driven—by his life experience. … You've looked into someone else's heart and mind and felt what they have felt. … Powerful, moving, insightful and distressing.
https://www.britishtheatreguide.info/reviews/joey-northern-stage-17698
gobscure's production of Collector of Tears is that rare bird. It's a flawless fusion of writing, performance, design and lighting, which led, not to a whooping standing ovation of the kind we have become very familiar with over recent years, but to heartfelt applause and comments such as "That was beautiful" and "One of the best plays I've seen in years".
british theatre guide, 2014, north-east play of the year
Latest Video
rose carved in rain intro
Related artists from the same artform