Detail from The Nightmare (After Fuseli)
Tom Shakespeare
A photograph depicting a naked man of short stature sitting on a woman who is lying over a bed. The woman has her eyes closed and is wearing a white gown. The back of the set is a red curtain.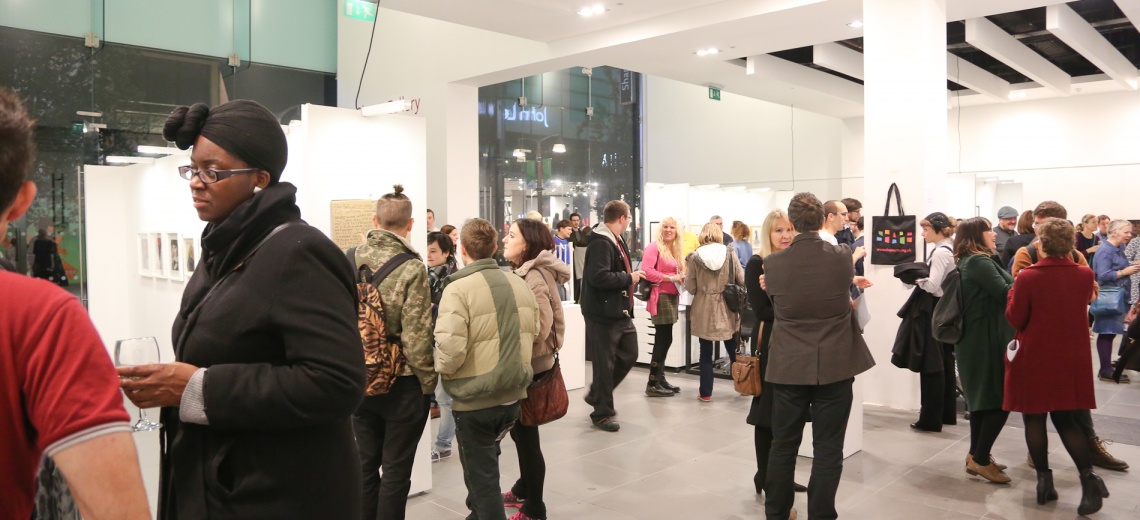 Shape Open 2014
[in]visible Private View
© Photo by: Andy Barker
A photograph of people walking around a white walled gallery for a private view.
Noemi Lakmaier
'The Observer Effect'
© Photo by: Jonathan Murphy
A photograph of person sat at a table wearing a breathing mask making a shoe. Behind are shelves covered in a range of bright blue footwear. In front of the table is a large pile of shoes and boots which are all brown, black, white.
James Lake
'Sitting without purpose'
© Photo by: Shape Arts collection
A photograph of a lifelike sculpture made from cardboard of a man sitting in an armchair. Around the sculpture are blue chairs.
Shape is a disability-led arts organisation, currently celebrating its 40th anniversary. Shape is founded on the principle that all disabled people should have the opportunity to participate fully in arts and culture, and works with the vision of an inspiring and inclusive arts sector that is accessible to all.
In order to achieve this, Shape develops opportunities for disabled artists at all stages of their career, trains cultural institutions to be more open to disabled people, and runs participatory arts and development programmes. The scope of Shape's Artistic Policy encompasses the work of disabled artists across all creative disciplines.
Shape champions high quality art that is ambitious, challenging and intriguing. Shape celebrates the creative process as well as the finished product, and supports the element of risk in making excellent art.
The following are just some of the opportunities and projects currently delivered by Shape:
Inspiring Futures is Shape's youth programme. It provides workshops with arts professionals, mentoring opportunities and advisory sessions, all building the confidence of young participants to engage with the arts.
Networking events provide an accessible open forum for artists to develop new ideas and partnerships, and encourage critical debate amongst artists.
Adam Reynolds Memorial Bursary opens doors for a mid-career disabled artist, offering a three month residency at some of the UK's best-known galleries and cultural institutions.
The Shape Open is an annual call-out for both disabled and non-disabled artists to submit work of any medium in response to a disability-focused theme.
Unlimited, delivered in partnership with Artsadmin, helps disabled artists develop their practice and encourage new relationships and collaborations with producers, venues and promoters.
National Disability Arts Collection Archive (NDACA) will create an important resource for both disabled and non-disabled people to explore the rich history of the Disability Arts Movement.
Access consultancy services offered by Shape include training programmes and access audits to support organisations in becoming more inclusive.
Contact details
Lulu Nunn
Arts Engagement, PR and Marketing Officer
Shape Arts
Unit 21
Deane House Studios
27 Greenwood Place
London NW5 1LB
The Shape Collection
Duration: N/A
Description: Shape are proud to hold one of the UK's most extensive collections of visual artwork by disabled artists or artwork by non-disabled artists which relates to the experience of disability.

This expanding collection currently holds over 25 works on long term or permanent loan, including sculptural works by Adam Reynolds and the Incarnate photographic series by Tom Shakespeare.
Extra information: Work is available to loan on request. If you have any queries about the collection please contact:


People on road: Variable
Freight: necessary
Freight details: Transportation of delicate artworks.


"The Shape Open provides a fantastic platform for disabled artists to show their work. Such exhibitions offer great opportunities for artists to be discovered by institutions and larger audiences." Yinka Shonibare MBE (RA)
"Shape can be proud of the successes of their ARMB award-winners."
Disability Arts Online
"It marks a point at where we see the disability arts movement grow and flourish, especially with the new blood that has added to its ranks creating such wonderful work. It also is a show that you miss at your peril!"
Mik Scarlet
Related artists from the same artform