Fusion
Step Change Studios - large group of ballroom dancers arranged in a semi-circle on stage, the back row of dancers are all in wheelchairs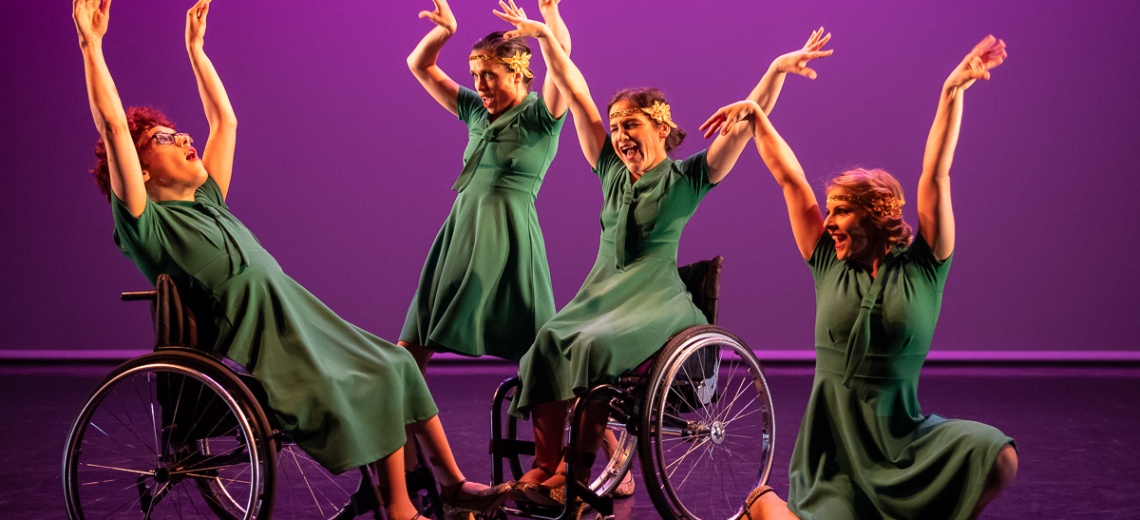 Fusion
© Photo by: Stephen Wright
Step change ensemble of 4 female dancers all in the same green dress, two of them are wheelchair users
Fusion
© Photo by: Stephen Wright
Duet of a formal dance style, both dancers dressed for ballroom. The female dancer is a wheelchair user
Fusion
© Photo by: Stephen Wright
Male wheelchair using dancing on the floor out of his chair
Our work
Step Change Studios is an award-winning, pioneering dance company committed to making dance accessible for everyone. We offer fun, engaging opportunities for disabled and non-disabled people to dance. We cater to different ages, abilities and needs. We provide regular dance classes; deliver dance in schools, social care, healthcare and community settings; produce professional dance performances and productions; share our knowledge and experience through conferences and workshops; and we create imaginative bespoke dance projects in collaboration.
We want to support everyone to achieve their ambitions – whether that is to dance for fun, to be active, to perform, and inspire and enable others to dance.
Our values
What makes us different is we only see possibility. We make things happen. We get our energy from collaborating with good people who share our values. We understand that what we do is about more than dance. We love what we do and enjoy learning from everyone around us. We aspire to lead by example and to contribute to a sustainable, strong, and diverse dance sector.
Contact details
Rashmi Becker
Director
2 Mandeville Place
London W1U 2BF
United Kingdom
Fusion
Duration: 66 minutes (10 standalone pieces and artist-audience Q&A so can be adapted to different running times)
Description: Fusion is the UK's first inclusive Latin and ballroom dance showcase by disabled and non-disabled artists.

Bringing together talented professional artists to push the boundaries of ballroom with beautiful, powerful, performances that redefine the genre, Fusion is a creative exploration between disabled and non-disabled artists drawing on different dance influences such as swing and contemporary to develop original pieces inspired by Latin and ballroom.

Dance, in all forms, draws influence from different styles, settings, and stories. Dancers' physical form influences the artistic and performance process. Fusion brings together these different influences and forms through playful, creative collaborations that aim to question our ideas about dance and dancers.
People on road: Minimum 8, maximum 20, made up of: 8-15 dancers 1 producer 1-2 hair and make-up support 2 creative support
Freight: none
Freight details: n/a
Step Change Studios develops tailored activities to compliment dance performance. This includes audience discussions with artists, integrated dance workshops and taster sessions for the public and in specific settings such as schools and care settings, masterclasses for professionals, speaking at seminars and conferences, practical demonstrations, reflective practice, and exploratory, experimental workshops with professionals from different art forms and genres. We like to capture feedback and evaluate our impact and work with partners to identify positive outcomes and reflect on learning.
'So inspirational'
Sky News
'In perfect harmony on the dancefloor… …Really inspiring.'
BBC Breakfast News
'This was in turn innovative, expressive, playful, sassy, beautiful and infectious and a reminder of what can be achieved with ambition, forward-thinking arts programming and commissioning and reasonable adjustments (to method – not to quality).'
The Social Issue
'The UK's first inclusive Latin and ballroom dance showcase with disabled and non-disabled artists, has been making headlines and leaving audiences demanding more.'
Mobile Women
'Brilliant performances from all involved, given with authenticity, artistry and talent.'
Arts Council England
'I was taken by Rashmi's passion and her vision of shifting the audience's expectation around disability and dance… a fantastic evening of dance – an entertaining and uplifting experience for the audience.'
Joce Giles, Sadler's Wells
'A perfect example of Rashmi's dedication to bringing inclusive dance to the forefront of the industry. The enjoyment on the faces of both performers and audience members shows just how crucial these opportunities are.'
East London Dance
Latest Video
Trailer for production Fusion. Credit: David Kaplowitz
Related artists from the same artform