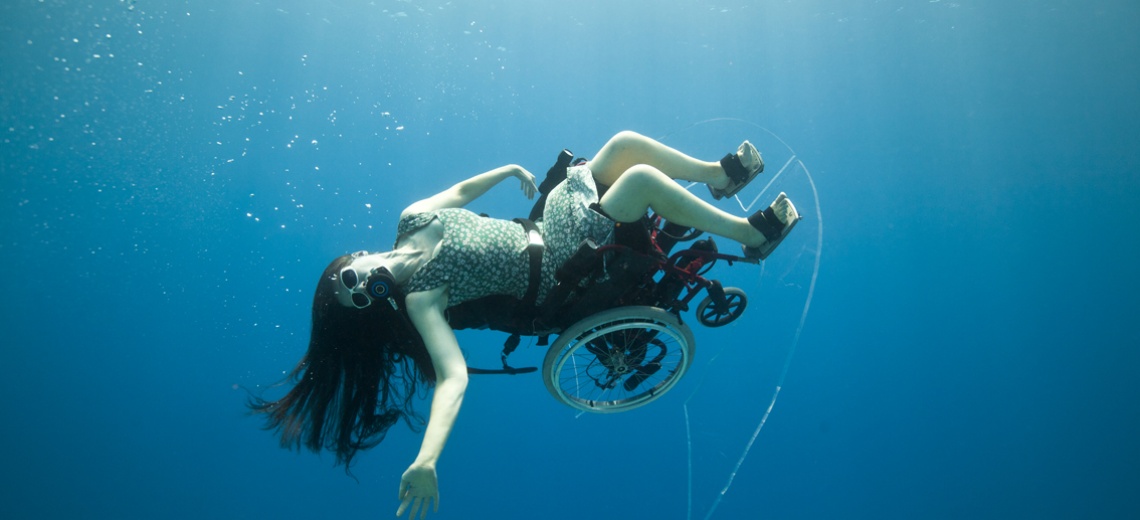 'Creating the Spectacle!' Sue in the Blue
Underwater photograph of Sue Austin with diving gear in a special wheelchair that allows her to move underwater
'Creating the Spectacle!' - Flying Free
© Photo by: www.wearefreewheeling.org.uk Photo: Norman Lomax
Underwater photograph of Sue Austin with diving gear in a special wheelchair that allows her to move underwater. She is doing a somersault
Sue Austin is a multimedia, performance and installation artist. Over an extended period of time her practice has operated as a vehicle to open up a thinking space around the materiality of the wheelchair. This is being used as a metaphor to raise questions about the value of diversity to society through raising the profile of 'difference'.
Rather than being didactic, however, a primary aim will be to create portals or multiple entrances into the resulting artwork (eg. through live art, associated online and multi-platform presentation, etc) so that it can find a way to ask questions but at the same time leave space for the audience to generate their own meanings. She aims to find dramatic and powerful ways to re-position disability and Disability Arts as the 'Hidden Secret'. She argues that this 'secret', if explored, valued and then shared, can act to heal the divisions created in the social psyche by cultural dichotomies that define the 'disabled' as 'other'.
Through the performative presentation of a diverse embodiment, the main focus for this work is about reconfiguring preconceptions through the use of dramatic and unexpected juxtapositions that act to surprise, open up thinking and then, through that reordering of associations, to create empowered and empowering narratives. This manifests in an artistic practice that makes use of "surreal juxtapositions and quirky re-presentations of disability equipment to facilitate new ways of seeing, being and knowing"
Contact details
Trish Wheatley
Producer
'Creating the Spectacle!' 360 Degrees
Duration: 7 minutes loop
Description: A 360º immersive video installation of the artist performing in her underwater wheelchair, filmed in the Red Sea, Egypt. Viewers can walk inside a tented structure to be fully surrounded by the imagery.


Extra information: The exhibition needs to be set up by a Freewheeling technician with the artist present to make final adjustments.

Minimum height room: 4.25m
People on road: 3
Freight: necessary
Freight details: Entire exhibition fits in a Ford transit / Renault master van.


'Creating the Spectacle!' Live Pool Performance
Duration: 30 minutes
Description: Live performance of the artist performing in her underwater wheelchair in a swimming pool with audiences watching underwater in Scuba gear, and a poolside audience watching from above and via a live projected video screen.
Extra information: Additional local dive team required to support underwater audience. Equipment for live link and projection to be provided separately.
People on road: Minimum 6
Freight: baggage
Freight details: n/a
'Creating the Spectacle!' Visual Arts Exhibition
Duration: N/A
Description: An exhibition of 9 large scale photographs of the artist performing in her underwater wheelchair, originally commissioned by the European Parliament for the UN International day of disabled people 2013. A number of video works are also available.
Extra information: A/V equipment must be provided for showing the video works. Video works are also available for exhibitions and films festivals as individual works.
People on road: 2
Freight: necessary
Freight details: Entire exhibition fits in a Ford transit / Renault master van.


Sue is available to deliver talks about her artistic practice, including the journey she went on with the artwork that led to an audience of over 200million people worldwide. Previous speaking engagements have included Bank of America Merril Lynch, the Mayo Clinic, NASA, TEDMED, TEDxWomen, Stanford University, Monterey Bay Aquarium, Queen Elizabeth Hall Southbank Centre, Edinburgh Napier University, Plymouth University, Salisbury Arts Centre, The Bowlby Centre, Schools and local business networking groups.
"Like nothing you've ever seen…. graceful, balletic and utterly beautiful" Mathew Cain (Culture Editor, Channel 4, 2012)
"It's shifting everyone on their axis in terms of their preconceptions of the most fundamental symbol of disability – the wheelchair" Charles Hazlewood (Conductor and founder of the British Paraorchestra, 2012)
"Like the fluidity of the Red Sea, Austin creates a multi-layered dramatic performance as well as compelling the passive onlooker to become an avid spectator." Obi Chiejina (Disability Arts Online, 2012)
Latest Video
'Creating the Spectacle!' Online - Part 1 - Finding Freedom.
Related artists from the same artform