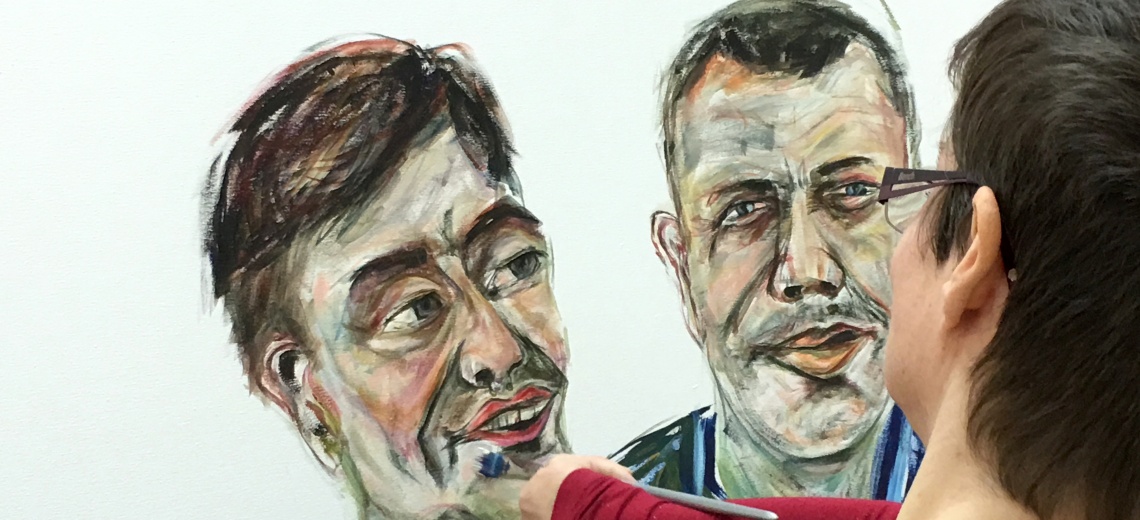 Summit Portrayed live portrait event, portraying Robert Softley and Nathan Gale at Project Ability, Glasgow
Tanya Raabe-Webber doing a live portrait painting of Robert Softley and Nathan Gale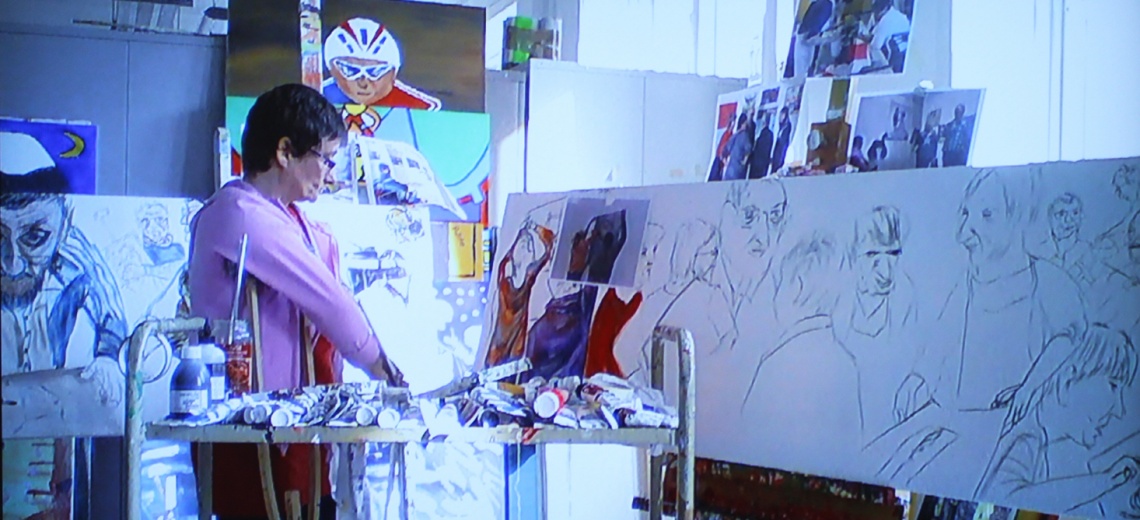 Summit Portrayed time lapse film of the making of the triptych on Exhibition at Project Ability, Glasgow
© Photo by: Project Ability
Tanya Raabe Webber in a studio stood by a trolley full of paints working on a large canvas
Summit Portrayed triptych on Exhibition at Project Ability, Glasgow
© Photo by: Project Ability
Tanya Raabe-Webber large canvas depicting other people painting
Tony Heaton Sculptor Founder of NDACA
© Photo by: Tanya Raabe-Webber
Oil portrait of Tony Heaton, a white man with glasses, smiling
Tanya Raabe-Webber is an acclaimed disabled artist challenging the notion of identity within contemporary portraiture, often creating portraits of high profile disabled people during live sittings in public art galleries and venues.
The winner of Ability Media International Award, Visual Arts in 2010 and DaDa International Festival, Visual Arts Award 2008, Tanya has also appeared on the BBC programme The Culture Show, undertaking a live televised portrait of the actor, musician and performance artist Mat Fraser and was recently shortlisted for The National Diversity Awards Lifetime Achievement.
Her recent collection Revealing Culture : HeadOn – Portraits of the Untold was delivered through a partnership between Tate Modern, Tate Liverpool and Wolverhampton Art Gallery, where live portrait sittings took place during a series of residencies in these venues, sitters including Tom Shakespeare Sociologist – Bioethicist, Baroness Jane Campbell of Surbiton, D.B.E, Active Crossbench Peer in the House of Lords and Sir Bert Massie CBE Former Chair of the Disability Rights Commission.
She has worked on many commissions including Architects Inside Out: Tate Modern and Art Matters: Tate Britain and most recently co-presented her collaborative research with Project Ability at the Contemporary Outsider Art: the global context conference in Melbourne Australia.
Contact details
Mandy Fowler
Producer/Curator
4 Ashford Ave
Pontesbury
Shropshire
England
UK
Portraits Untold
Duration: N/A
Description: Portraits Untold is an ambitious and unique project exploring and celebrating the diversity of our common humanity through a series of four live portrait sittings with high profile sitters in well-known venues taking place in summer and autumn 2017 across the UK.

The project will see acclaimed award winning disabled artist, Tanya Raabe-Webber undertake four live portrait sittings that fuse digital and tradition drawing and painting techniques in an interactive live environment, inviting physical and online audiences to join in. The sittings will see the artist in conversation with the sitters and in some cases collaborating, as they explore what it is to be human through the stories of the lives and the work of the sitters. The conversations will also explore how art and the artistic process is central to the representation, discussion and our thinking on cultural diversity and contemporary society.

PortraitsUntold is a project in the making. Live Portrait Events will be happening between July-Nov 2016 in partnership with National Portrait Gallery, The Big Draw, Birmingham Museum and Art Gallery, National Trust, Stoke City Football Club - www.portaitsUntold.co.uk
Extra information: A total of four sitters have been invited to be the subjects at the live events in well known and well loved venues across the country. Each sitting will take place in front of a live audience in these well known public venues, as well as being streamed live to online audiences. Both the physical and online audiences will be invited to participate in the event, join in the dialogue and explore diversity whilst also developing their own creative responses in the form of drawings, both on paper and through digital drawing apps on their smart phones and tablets.


People on road: 3
Freight: necessary
Freight details: Information to be confirmed
RevealingCulture:HeadOn and Who'S WhO
Duration: N/A
Description: RevelingCulture:HeadOn and Whos Who is a series of artworks and portraits that challenge the notion of identity, the nude and disability culture within contemporary portraiture. This work took place in Tate Modern, Tate Liverpool, Wolverhampton Art Gallery 2011-2012.
Extra information: This collection of portraits are of significant and high profile disabled people who have been instumental in the the making of the disability arts movement and disability culture. This is a piece of history in the making and the whole collection has been digitized as part of the NDACA - National Disability Arts Collection and Archive. There are 24 painted portraits framed on canvas
People on road: 2
Freight: necessary
Freight details: Information to be confirmed - There are 24 painted portraits framed on canvas. these would need to be crated for transport.
Summit Portrayed
Duration: N/A
Description: This exhibition of portraits represents the culmination of a project that saw the artist Tanya Raabe-Webber in residence with Project Ability, Glasgow during the 'International Summit for learning disability artists and their supported studios.

In 2015 Tanya was awarded a 'Grants For The Arts, Supported using public funding by the National Lottery through Arts Council England' to be our artist in residence in the lead up to, and as part of, the International Summit. Tanya was with us for five weeks, and over the three day summit she used her talent to 'document' the different personalities present at the event (the residency ran from February 23 to March 25, 2015, the International Summit from the 4 – 6 March).

During this time Tanya painted portraits of the artists, visitors and delegates; anyone at the summit who wanted to be painted! These portraits are full of character, action and inspiration. Tanya has captured the high spirits of the summit and so many of the friendly faces that made it such a great success.

This exhibition contains traditional painted portraits x15, digital line ipad drawings x4 and a tryptich painting of the summit event itsself plus a short time lapse video of the making of the tryptich.
Extra information: Whilst the exhibition of these works is on display at our Trongate 103 gallery, Tanya painted one more portrait for the exhibition - of married couple Robert Softley Gale and Nathan Gale- live in the gallery for the public to watch from start to finish. This is a first for Project Ability, and we were very excited about this special event. Tanya's friendly, relaxed approach to portraiture allows for conversation, questions and the opportunity for visitors to bring a sketch book and create their own portrait.

Similar to a court room sketch artist, Tanya's ability to portray an event is a strong element of her practice, and a unique quality that brings life to the work, giving her audience the opportunity to get to know her subjects. If you were at the Summit last March, you'll be sure to recognise a few faces in this exhibition!
People on road: 2
Freight: necessary
Freight details: to be confirmed by Project Ability, Glasgow who have the exhibition in storage


Tanya provides inovative workshops, residencies, commissions and talks that use portraiture to explore and challenge ideals around identity, diversity, disability culture and what it is that makes us human.
She shares her arts practice openly as part of her collaberative workshop process and works with people of all ages and abilities - 10-15 per workshop
Tanya also offers tailored commissioned projects, residencies including performance based designs and structures and attends live events as a digital reportage artist creating live drawings that encapsulate conferences and events.
Jude Kelly, Artistic Director of the Southbank Centre '…groundbreaking and really absolutely necessary'
Abid Hussain, Director, Diversity, Arts Council England 'Tanya's portraits – and the creative responses they inspire'

Evelyn Glennie, world renowned Deaf Solo Precusionist …'Tanya listens not only to the person she's portraying but also to the environment where she's painting'
Related artists from the same artform