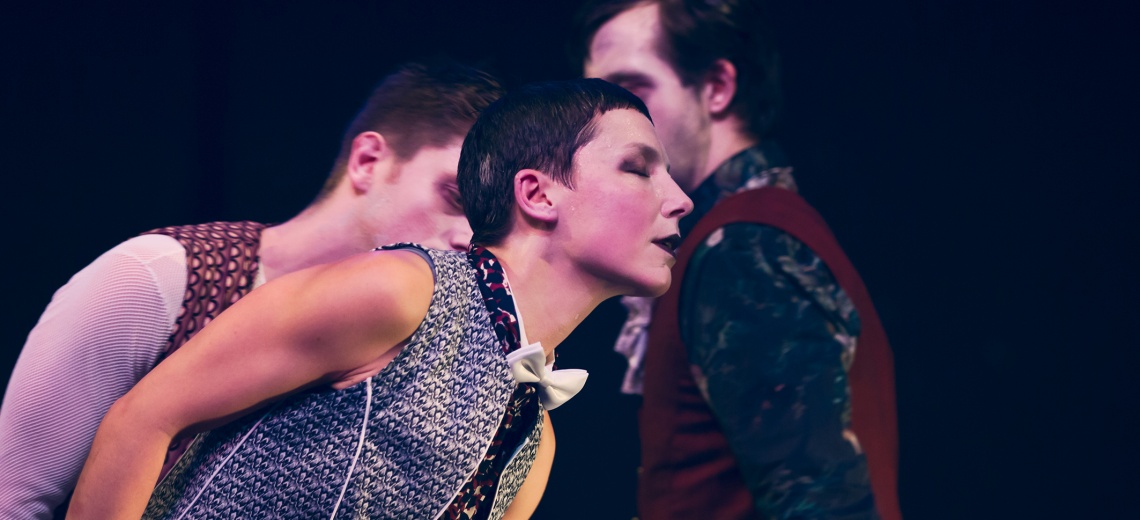 'SommerNacht' dancers: Corinna Mindt, Tim Gerhards and Oskar Spatz
Two men and one androgynous woman wearing waistcoats and bow ties in Sommernacht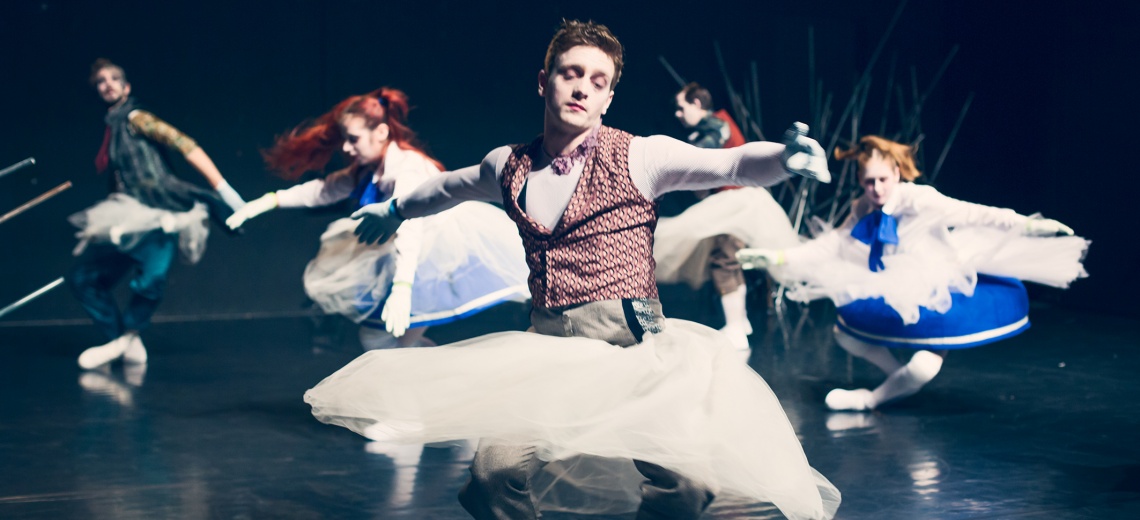 SommerNacht dancers
Summernacht by Tanzbar Bremen. Male and female dancers with floaty skirts spin around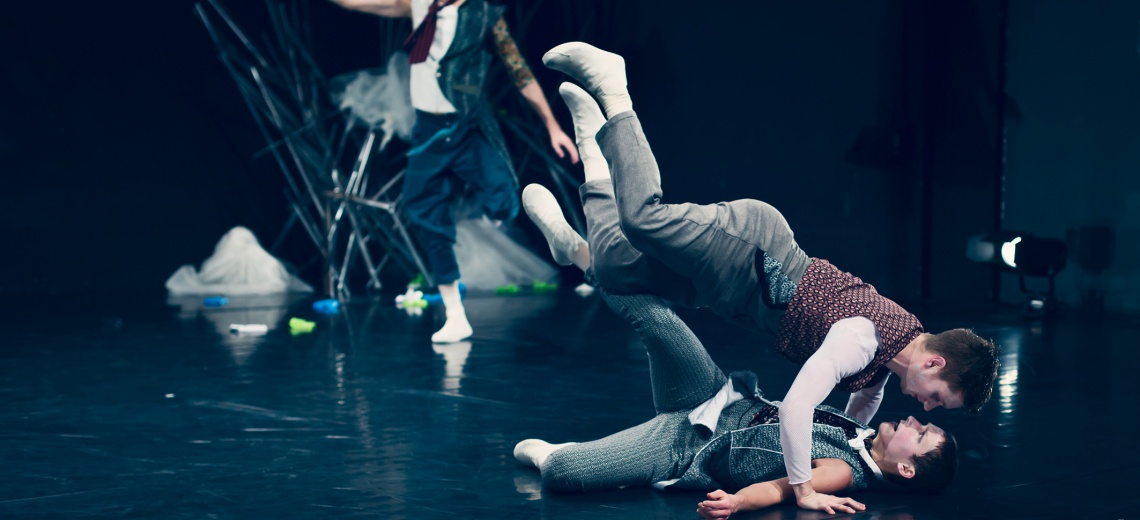 SommereNacht dancers: Corinna Mindt, Tim Gerhards and Christopher Basile
© Photo by: Daniela Buchholz
Female dancer on the ground and a male dancer holding himself off the ground with just his arms above her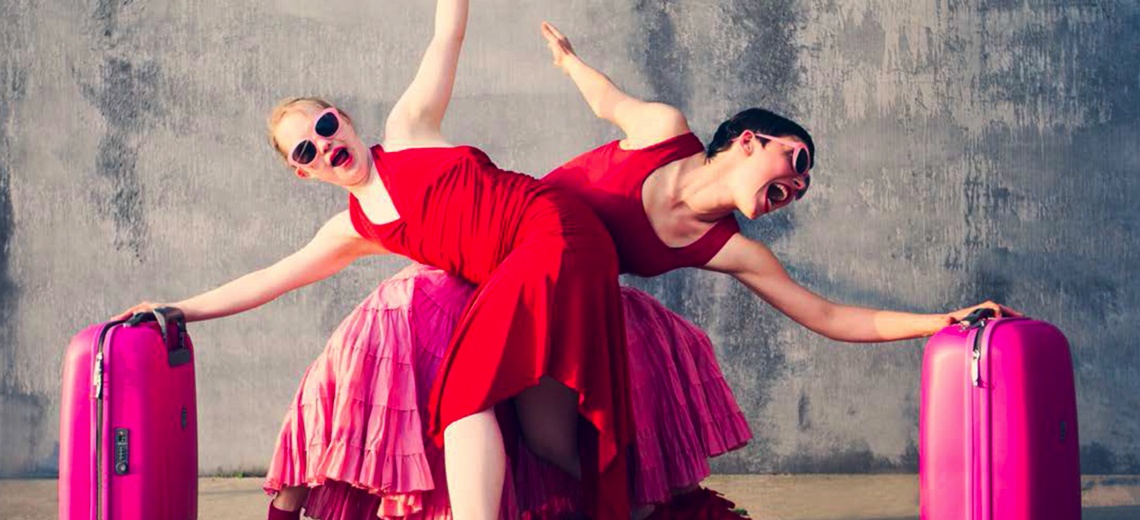 Rosa sieht Rot dancers: Neele buchholz and Corinna Mindt
© Photo by: Daniela Buchholz
Rosa sieht Rot, two dancers crossing over each other, both holding pink suitcases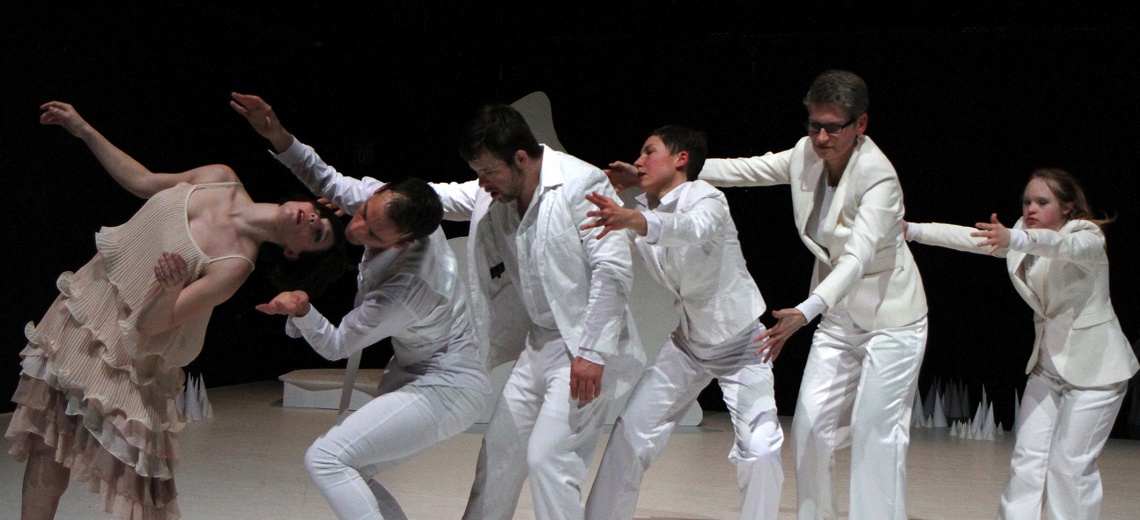 Hexen GmbH dancers: Ensemble
© Photo by: Daniela Buchholz
Hexen GmbH, 6 dancers standing in a line. 1 is dressed in a beige dress throwing her head back, the other five are in white suits
Tanzbar_Bremen regularly creates big scale contemporary dance productions as well as experimental works as a group of mixed-abled dancers, choreographers, creative artists and dance educators.
From the desire to excite a national and international audience Tanzbar_Bremen artists explore the feasibility of mixed-abled dance on every scale. Their high class performances together with their educational commitment within dance makes them one of the main players in Germany.
To overcome barriers and to thrive is at the core of Tanzbar_Bremen's work. Through an exchange of expertise between professional and non-professional dancers it aims to promote contemporary dance and creative arts on an inclusive base. The company's aim is to evoke the interest of the wider public with exciting, highly professional works that change the perception of 'normality' on many levels.
Contact details
Günther Grollitsch
Company manager
Buntentorsteinweg 168
28201 Bremen
Germany

Tel:+49-421-51429745
GemeinSchaft (triple bill)
Duration: 60 minutes
Description: GemeinSchaft is a triple bill about friendship. It consists of three parts: Ge(h)mein, a men's duet based on the novel Waiting for Godot by Samuel Beckett. Two guys exploring each other in search of an uncertain thing. Perhaps friendship? The second part, Hand in Hand is a duet about a brother and a sister and their way through life. The third part GemeinsamGemeinsein shows three women pestering each other. Although their bonds are very tight, they look for their individuality in the strangest ways. Each single part can be presented also on their own. Scale: Small-Medium Theatre Stage - (can also be played outdoors)
Extra information: Ge(h)mein, one part of the triple bill also contains parts of Samuel Becketts play Waiting for Godot. Those sequences can be performed in different translations and subtitled as necessary.

The evening was developed for the international festival Tanz Bremen 2015.
People on road: 5 to 7 dancers 1 technical staff 1 management staff
Freight: none
Freight details: n/a
Rosa sieht Rot (outdoor and indoor production)
Duration: 10 to 25 mins (can be performed three times a day)
Description: The travel bug, love, lust, courage, doubts, anxiety, confusion, curiosity and power boost the two women to go after their game of dance. Charmingly wild and demanding, they stroll about with their suitcases in hand, they establish themselves to hurl each other into life.
Extra information: Production credits

Choreographed by: Neele Buchholz and Corinna Mindt

Performed by: Neele Buchholz and Corinna Mindt

Scale: Small outdoor or indoor
People on road: 2 dancers, 1 Support staff
Freight: none
Freight details: n/a
SommerNacht (indoor production)
Duration: 60 minutes
Description: Feeding on her past glory, the fairy queen Titania summons her minions to celebrate her name. But present spirit hits the crowd and so the dance begins.

Inspired by William Shakespeare's comedy A Midsummer Night's Dream, the eight dancers evolve dynamic scenes, blurring the borders of dream and reality. They open up an intermediate realm, and show a world, which celebrates it's last big party. A danced vieww on the classic from another perspective.

Scale: Small-Medium Theatre Stage
Extra information: SommerNacht also contains parts of language and sign language. Those sequences can be performed in different translations and in case subtitles are necessary.

Supporters: Integrationsamt beim Amt für Versorgung und Integration Bremen (AVIB), Karin und Uwe Hollweg Stiftung
People on road: 8 dancers 2 management staff 2 technical staff 1 access officer
Freight: necessary
Freight details: Transportation of set with 3.5t Luton Van driven by our staff.


Tanzbar_Bremen passes on their expertise of collaboration with diverse groups in motion, in the form of a twin teaching programme. The tandems formed of disabled and non-disabled artists give best practice examples on how to dive into the world of mixed-abled team play through workshops and training. These are designed for students, teachers and institutions across society (commerce, education, politics, etc).
With publications, panels and research programmes, Tanzbar_Bremen further promotes the matter of inclusion.
"Inspired by the same-named dream of William Shakespeare, SommerNacht is a pointed ballet parody, a hilarious Versailles-satire enhanced by sublime baroque sound." 
– Henning Bleyl, TAZ 04.03.16
"SommerNacht is not only a very well done parody, but additionally unfolds profoundly the diverse levels of power – and doesn´t spare even the dancers."
– Maraike Bannasch, Kreiszeitung 08.03.16
Latest Video
Three pieces by Tanzbar_Bremen, 'Gemein', 'Hand in Hand' and 'Gemein.Sam'
Related artists from the same artform