The British Paraorchestra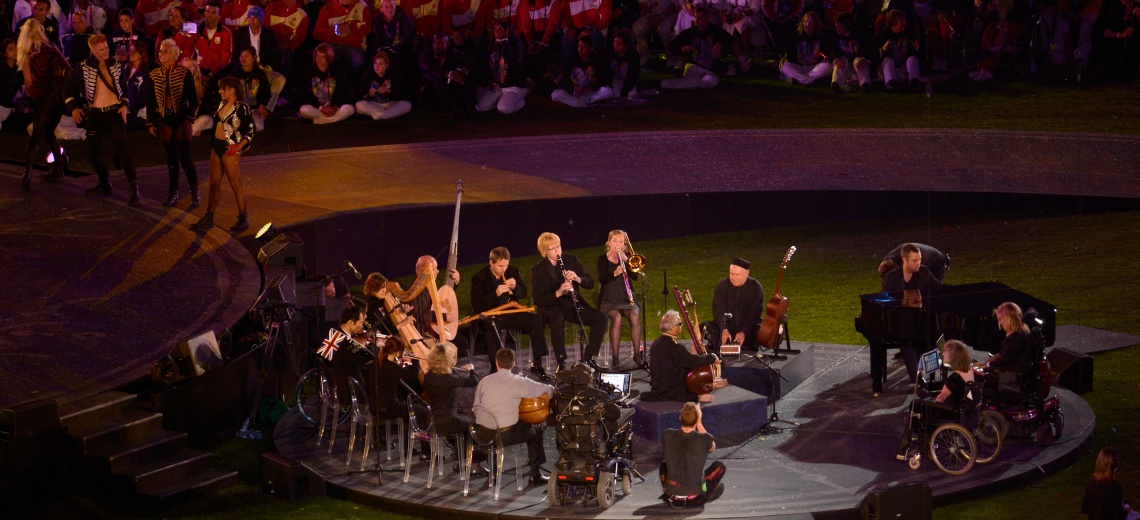 The British Paraorchestra at the 2012 Paralympics Closing Ceremony
The British Paraorchestra, in the centre of a huge stadium at the Paralympics closing ceremony
"Imagine a world where there is a place for every kind of impossible genius to flourish. For over 60 years the Paralympic movement has created opportunities for athletes with a disability to shine on the world stage. We want to open up those possibilities to gifted musicians with disability – hence the British Paraorchestra."
Charles Hazlewood
Aims and objectives:
to create a platform for the best and most able musicians with a disability to perform and excel at the highest level
to transform perceptions that physical limitation is a barrier to creative excellence through the universal language of music
to create new performance opportunities for the ensemble
to support funding for improved infrastructure, greater access to technology and recruitment opportunities for gifted disabled musicians in the mainstream
to influence a global movement for Paraorchestras.
Contact details
Sarah Hickson
Producer
The British Paraorchestra
25 Gerrard Street
London W1D 6JX
United Kingdom
Definitely Able
Duration: First half 45 minutes; interval 20 minutes; second half 40 minutes
Description: The repertoire consists of:

Time from the soundtrack of the film 'Inception' by Hans Zimmer
Concerto Grosso No. 12 in D minor 'La Follia' by Geminiani after Corelli
The Unanswered Question by Charles Ives
INTERVAL
Wichita Lineman (written by Jimmy Webb) - featuring Raevennan Husbandes
A House is Not a Home (written by Burt Bacharach & Hal David) - featuring Raevennan Husbandes
Greensleeves (traditional)
True Colors (written by Billy Steinberg & Tom Kelly)
The British Paraorchestra and the strings of the Qatar Philharmonic performed together in the "La Follia" and "The Unanswered Question".
People on road: 40 (20 musicians, plus carers / sighted guides, assistants, management & technical staff) Exact numbers to be supplied when an engagement is confirmed
Freight: necessary
Freight details: Please contact for detailed list.


Various
Duration: Varied
Description: Programmes can be adapted to different lengths, and to include other guest artists / different repertoire. Particular requirements can be discussed.

The above programme requires the involvement of a string ensemble from a local orchestra (10/8/6/4/3).
Freight: necessary
During an unprecedented opportunity, the members of the Paraorchestra were able to live and work together during a five-day period – rehearsing, giving workshops, interviews, visiting disabled young people at a specialist school, performing in the Souk and giving a concert in collaboration with the Qatar Philharmonic Orchestra at Katara Opera House. They are very keen to offer additional opportunities which will enable their musicians to reach their potential and test new creative and musical boundaries.
They can deliver:
additional workshops for adults and children
post performance discussions (assistive technology)
touch tours
improvisation based rehearsals as part of any residency.
'For me personally, I feel that I have benefited from being a part of this adventure in that I have grown musically by being part of, and working with such an eclectic group of great musicians. The memories and influences will endure.'
Paul Holzherr, guitarist in the Paraorchestra
'I have never been offered an experience which allowed me to flourish as a person and musician, breaking all perceived limitations previously set by myself and others. I cannot get over the opportunities offered to us, and consider it a privilege that will never be beaten! To play with musicians who really engage with the music and each other, to make friends and travel on this amazing adventure has left me feeling hugely humbled, and musically charged!'
Amelia Rose Hamilton, pianist in the Paraorchestra
'Charles Hazlewood is an internationally renowned conductor who has, over the past six years alone, conducted over 50 orchestral world premieres in some of the world's most prestigious venues. To this end, he creates a pioneering orchestra made up entirely of disabled musicians at the top of their game.'
Channel 4 on 'The Great British Paraorchestra' July 2012
Related artists from the same artform