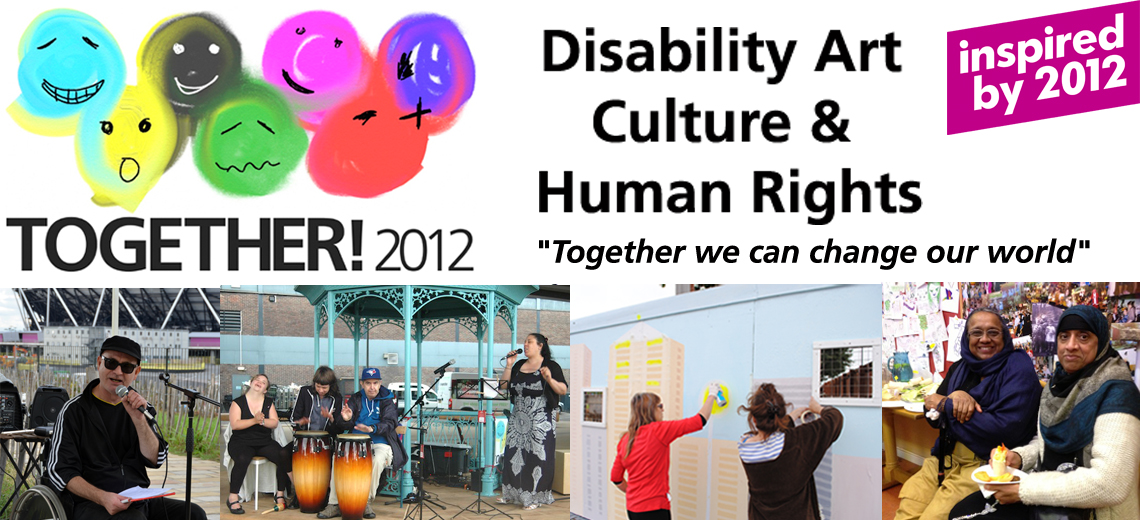 Together! 2012 banner
Together 2012 flyer showing a range of activities and performances including musical performance, painting workshop and two people sitting smiling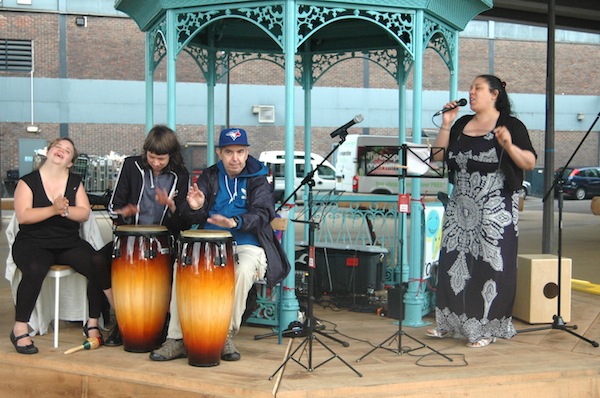 Together! 2012 Participants
© Photo by: © Together! 2012 CIC
4 disabled musicians perform on a band stand, 1 singer, 2 playing bongo drums, 1 sitting and clapping
Together! 2012 CIC was established as an organization in its own right in March 2013, with the support of the UK Disabled People's Council (UKDPC). The directors are all locally based disabled artists with a wide range of national and international experience between them.
Together! 2012 CIC organises free year-round arts activities for and with disabled people, together with an annual free Disability Arts festival in Disability History Month (November-December). It is a Social Model of Disability organisation, and is inclusive of all disabled people including people with learning difficulties, people with mental health difficulties, people with physical and sensory impairments and people with long-term health conditions.
Together! 2012 is developing new ways of working with disabled people and with disabled artists, and is at the cutting edge of Disability Arts development in the UK. It holds Community of Health status from the NHS for "outstanding services in improving the health and wellbeing of local people", and is licensed by the Cabinet Office to use the 'Inspired by 2012' mark on our marketing and other materials.
Prioritising emerging artists within their programming, together with established artists who are developing new areas of their practice, their artistic policy reflects Newham's culturally diverse population.
Contact details
Dr Ju Gosling aka ju90
Artistic Director
Together! 2012 CIC
90A Tudor Road
London E6 1DR
United Kingdom
Disability Film programme
Duration: n/a
Description: Together! 2012 CIC produces an annual three-day international disability film festival in December, and curates shorter programmes of disability films for other cultural organisations.

Bespoke programme of films can be curated as required, with the overall length and content to be agreed with the commissioning body. Filmmakers can be international or UK-based.
Extra information: n/a
People on road: n/a
Freight: none
Freight details: n/a
Spoken word programme
Duration: n/a
Description: Together! 2012 CIC can programme spoken word and poetry events by UK disabled artists to meet the requirements of event organisers. They can also advise on themes and accompanying activities, and on accessibility, as required.
Extra information: n/a
People on road: n/a
Freight: baggage
Freight details: n/a
Visual Arts exhibition
Duration: n/a
Description: Together! 2012 CIC can curate and programme bespoke Visual Arts exhibitions featuring UK and international disabled artists as desired.

They can advise on suitable themes and accompanying events, and source artists, workshop leaders and speakers.

They can also assist with accompanying publications, and advise on how to make the exhibitions most widely accessible.
Extra information: n/a
People on road: 2
Freight: necessary
Freight details: TBC
Together! 2012 CIC can deliver workshops about Disability Arts and provide speakers for conferences and other events. These will be of particular interest to audiences from the arts and disability fields, but also to audiences from health and social care backgrounds and to everyone involved in the use of arts within regeneration.
They can also provide a bespoke consultancy service, including Disability Equality Training, access consultancy, and advice and support with setting up new Disability Arts organisations.
'Together! 2012 is helping to deliver our vision of using the power of the 2012 Games to boost disabled people's participation in arts and culture. I am proud that, with the help of partners such as Together! 2012 and the UK Disabled People's Council, we will be able to create a lasting and meaningful cultural Paralympic legacy in East London.'
Lord Sebastian Coe, the Prime Minister's Olympic and Paralympic Legacy Ambassador
Latest Video
Together! 2012 tells the story of how disabled artists in the main London 2012 Host Borough of Newham have created a free year-round programme of disabled-led arts activities, events and exhibitions as part of the Paralympic cultural Legacy.
Related artists from the same artform