Viktoria Modesta at Madrid, Centro Dramático Nacional
Viktoria Modesta in a futuristic leotard outfit. She is singing on stage with two male dancers behind her. Her prosthetic leg is illuminated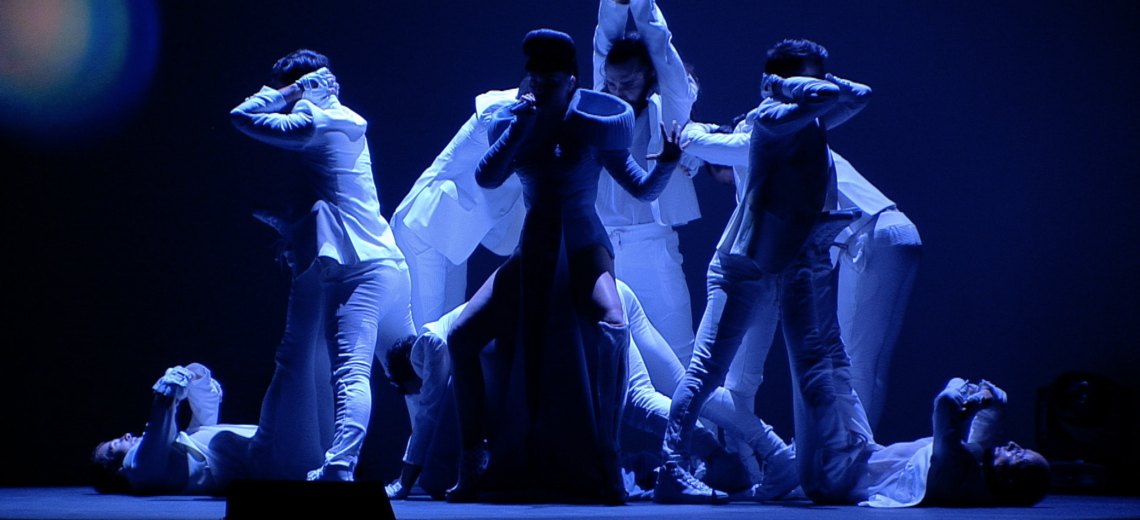 Viktoria Modesta at Abylimpics, Bordeaux, France.
Viktoria Modesta performing on stage, she is wearing an outfit with huge shoulder pads. behind her 7 dancers dressed all in white make a human pyramid style shape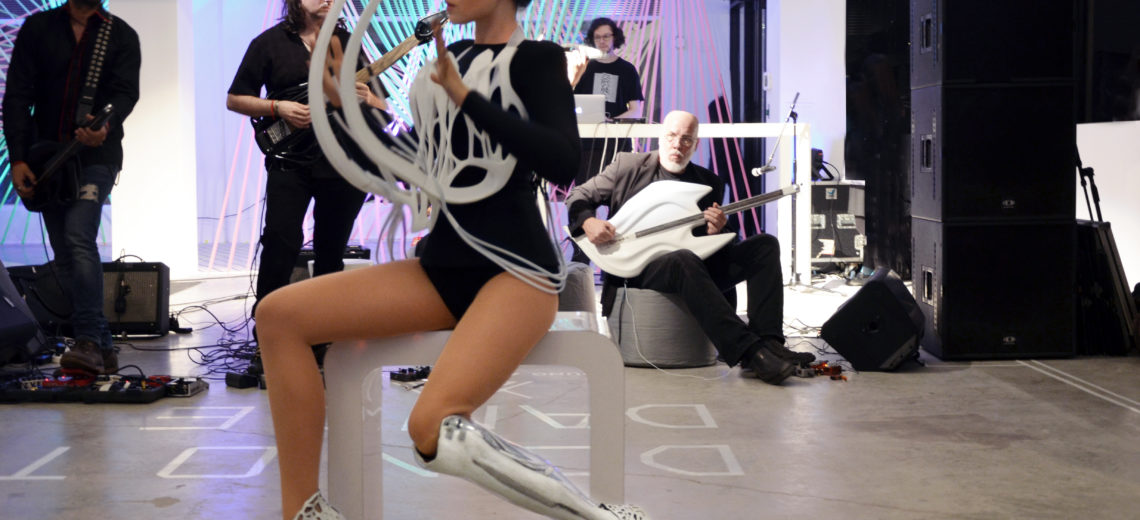 Viktoria Modesta: Sonifica Miami Art Basel (Elastica Building)
Viktoria Modesta sits on a chair wearing a £D printed breastplate which extends from her body, like bones. Her prosthetic leg also resembles bones
Viktoria Modesta is a bionic pop artist, creative director and futurist. Describing her work as post-human and post-disability, she bridges performance art, music and fashion with technology, science and medicine. She first gave us a fresh and glamorous perspective of disability in a cultural content when she performed as the Snow Queen during the closing ceremony of Paralympics 2012 wearing a diamond encrusted prosthetic. Following that, she starred in and oversaw the creative direction of a massively successful viral video 'Prototype' for the Channel4 #BornRisky campaign. Viktoria's futuristic approach on "the body as art concept" got her selected as a Director's Fellow at MIT Media Lab which led her to collaborate on a more academic level with artists working with technology and science, architects and multiple cultural institutions worldwide.
Aside from performance related work, Viktoria is also currently working on a prosthetics/fashion business, and advising global brands on futurism, fashion, technology, and redesigning the human body.
Contact details
Ben Price
Agent
BP Tours
20a Swaby Road
London
SW18 3RA
Sonifica
Duration: 30 mins
Description: The innovational intelligentsia of Dutch FashionTech Designer Anouk Wipprecht and multi-media performer and bionic pop artist, Viktoria Modesta is showcased in their latest project, Sonifica 'Instrumenting' the body. In conjunction with Miami based MONAD Studio, (Eric Goldemberg + Veronica Zalcberg) and prosthetics innovator LIM innovations, this quartet created a hybrid idealogy around 3D printed interactive instrumentations focussed on the taxonomy of Art, Technology and Architecture. Not conforming to normative instruments, it resulted in a series of tech-infused 3D printed artefacts meant to question existent sonic structures. Created to explore new realms of interfacing with sounds, engendering new forms of expression for Viktoria.
Extra information: The very core of the project is to create an allowance for a mutating and mutual engaging creative endeavour, whereby an experience is generated collectively and the very nature of the relations evolves and unfolds through the performance. Pushing the analog-digital limits of design and technology hands-on and iterative in both AD, 3D and physical manufacturing of these ideas. The prototypes have been created at Autodesk's Pier 9 Workhop, San Francisco USA.
People on road: 8 people
Freight: necessary
Freight details: 3D printed instruments are extremely delicate and require appropriate transport
Viktoria Modesta live
Duration: 45 mins
Description: Viktoria Modesta performs live tracks from her back catalogue, including the viral 'Prototype'. Her performance is captivating, with the sites and sounds you would expect from a futurist on stage.
Extra information: Performance includes dancers and visuals with high-tech lighting.
People on road: Depending on the length and size of the performance, but in general around 6 people.
Freight: baggage
Freight details: Excess baggage needed for Viktoria's prosthetic legs.
Viktoria Modesta has experience as a speaker on topics including Human 2.0, Female Activism, Technologically advanced culture, Post Disability. She also touches on the following:
She also touches on the following:
Body Augmentation ( broad )
Simbiosis - intersection of technology + science and pop culture ( bringing scifi into real life )
Future Identity ( more conceptual and philosophical )
Future of performance art and music
Tech fashion
Space culture
The Modern Artist - entrepreneurial future
Tech fashion in performance
Evolution of Prosthesis / Tech + Human Evolution
Disability culture, fashion
The future of Prosthetic and medical industry
Disability lifestyle
"The World's First Amputee Pop Star Is Here, And She's Incredible"
– Forbes Magazine
"The creative universe of Viktoria Modesta lies on four pillars —fashion, technology, modern notions of identity and science— that hold and enrich together. The relationships between technology, science, body architectures and new paradigms regarding the identity through the body are intertwined subtly."
– Clot Mag
"All eyes are certainly on Viktoria Modesta"
– MTV
"Modesta is more of a futurist, concerned with what might enhance life than what's been taken away."
– Toronto Star
"Modesta's prosthetic—whether its form is encrusted with Swarvoski crystals, light-up, or a literal spike—is one of her biggest assets. The Latvian-born, UK-based pop star-in-the-making set the internet ablaze with the video for her song 'Prototype,'"
– Elle Magazine
"Viktoria Modesta is a bionic woman and she is taking the music industry by storm"
– Futurism Magazine.
"Viktoria Modesta gorgeously struts her bionic-looking leg. Being the first widely-known leg amputee pop star, she is a true inspiration to many"
– Bored Panda.
Latest Video
Viktoria Modesta Prototype

Channel 4 introduces Viktoria Modesta, the world's first amputee pop artist.
Created by 4creative, directed by Saam Farahmand.
Related artists from the same artform