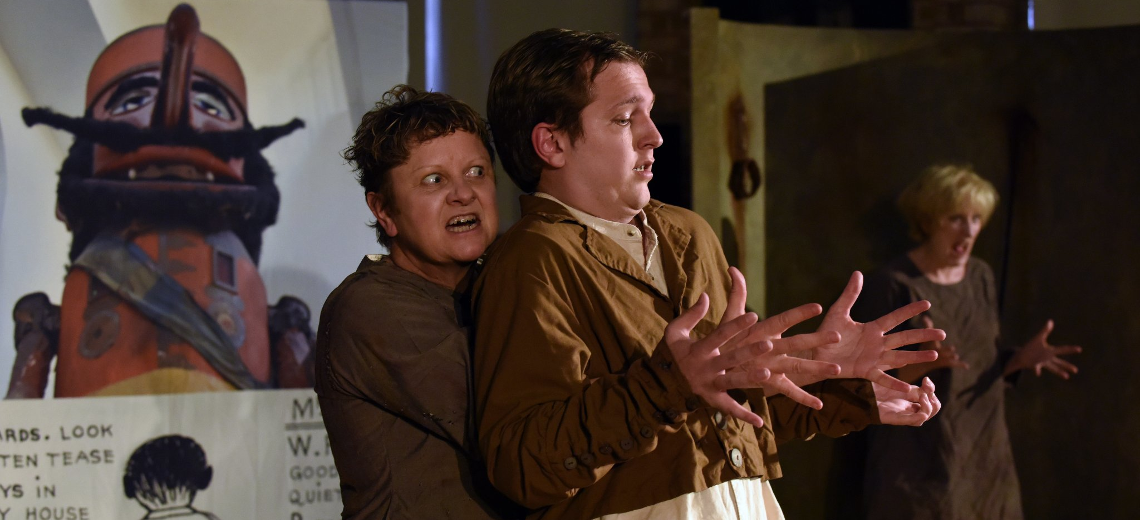 Hold the Hearse!
Two performers, one standing behind the other, putting their hands underneath their armpits, a BSL interpreter can be seen in the background
Blue Pen
© Photo by: Caglar Kimyoncu Copyright Vital Xposure
Film still from Blue Pen, it shows a woman with short blonde hair sitting against the backdrop of a brick wall painted white
Let Me Stay
© Photo by: Andrea Abril
Photograph from Vital Xposure's Let Me Stay, it show's Julie McNamara holding a flowery dress up against her body, another maile performer dressed all in black gives her a thumbs up
Let Me Stay
© Photo by: Andrea Abril
Photograph of Vital Xposure's Let Me Stay. Julie McNamara sits in front of a huge projected image of a man and woman, possibly her parents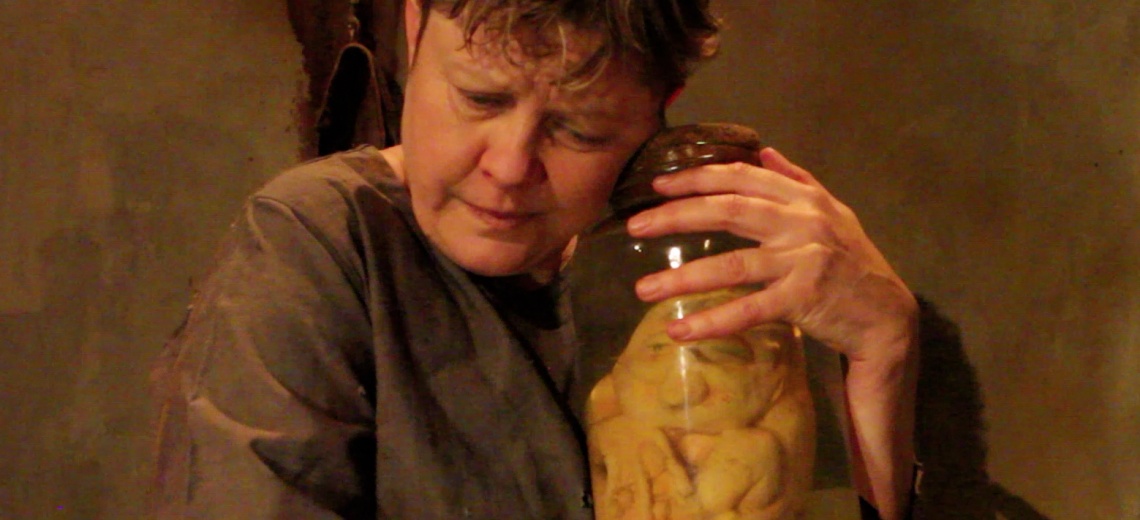 Hold the Hearse!
© Photo by: Zeynep Dagli
Image from hold the Hearse, Julie McNamara is hugging a jar filled with water and something that resembles either a vital organ, or a fetus
Vital Xposure is a bold, dynamic production company operating under the creative leadership of disabled artist Julie McNamara. The company sets out to promote hidden voices with extraordinary stories to tell.
With a programme of professional performances, original plays, mentoring and development opportunities, the company creates inclusive experiences for artists and audiences alike.
Their theatre productions lift the lid on vital social issues, raising awareness and uncovering new voices in the arts. They offer:
professional opportunities – Vital Xposure collaborates with a wide range of professional disabled artists all on a fee paying basis
professional development – trainee placement with building based and touring experience offered plus tailor-made training courses to suit the individual
mentoring – matching trainees with appropriate paid mentors who are highly skilled within the creative industries.
Contact details
Emilia Teglia
Administrator
Vital Xposure
Empire 2
Hackney Empire Theatre
291 Mare Street
London E8 1EJ
United Kingdom
Hold the Hearse!
Duration: 30 min
Description: Walter Riddle and Mad Mary are on the run. Desperate to evade Hunter's henchmen – they hide amongst the collections in the old Museum. If you've a penchant for grime, gruesome grave robberies and grisly murder ballads, this extraordinary tale is all yours!

Julie McNamara has been examining the collections both hidden and on display to record what becomes of the bad, the mad and the plain unruly in our midst. Touring museums in June, this interactive piece is a great celebration of defiantly different humans.
Extra information: Hold the Hearse! was commissioned as part of Exceptional & Extraordinary: Unruly bodies and minds in the medical museum

Cast and creatives

Written by Julie McNamara

Performed by Julie McNamara and Eden Webber
Assistant Director – Emilia Teglia
Volunteer Dramaturg – Donna Marie Wade
Producer for Vital Xposure – Chas de Swiet
Tour Manager – Ali Pottinger

Volunteer Director and Dramaturg – Terry Galloway

Exceptional & Extraordinary is an RCMG-initiated project led by Richard Sandell and Jocelyn Dodd from the University of Leicester

Producer – Steve Mannix
People on road: 5
Freight details: n/a
Let Me Stay
Duration: 50 minutes plus Q & A
Description: A tender and unique exploration of the impact of Alzheimer's on family relations. Julie McNamara has recorded her mother's songs and stories, filmed and photographed her in all her glory, over many years. The result is a compelling piece of theatre, an extraordinary love letter straight from the heart welded with a wicked underlying humour.

Too often the messages attached to a diagnosis of dementia arouse fear and dread. Let Me Stay offers an entirely new take on living well with dementia. Shirley McNamara, Queen of the Mersey is having the time of her life!

This piece of new writing, engages wide ranging audiences from local communities, schools and colleges to those in the mental health and elder care and advocacy sectors.


Extra information: Extra information
The set by Libby Watson is designed to adapt to theatre and non-theatre venues and intimate spaces of up to 300 audience members.
People on road: 5
Freight: necessary
Freight details: n/a
The Disappearance of Dorothy Lawrence
Duration: 60 min
Description: It's 1915. England is at war. The Suffragette movement is gaining strength.

Dorothy Lawrence, a young journalist with aspirations to become a war correspondent, takes to her bicycle to join the frontline in France. What happens next rocks the powers that be and shakes her life apart.

Dorothy Lawrence was never seen in public again.

Vital Xposure investigates the ways society deals with women who step out of line, back in 1915 or today, a hundred years on.

A cast of four with subtitling, filmed BSL narrative and audio-visual elements leads the audience back in time to explore themes of inequality and power that still resonate today.
Extra information: Directed by Paulette Randall
Written by Julie McNamara

Cast: Penelope Freeman, Suni La, Gareth Turkington, Simon Balcon, with Matthew Gurney and Becky Allen

Design by Libby Watson
Light design by Crin Claxton
Visuals by Caglar Kimyoncu

Supported by Arts Council England
People on road: 6
Freight: necessary
Freight details: n/a
Artistic Director Julie McNamara offers residencies with companies creating new work from oral histories and personal testimonies.
'Saw Hold the Hearse! and it's brilliant provocative political work. I recommend everyone to see it. Resonated with my work on deaths of learning disability/mental health patients & attempts by state institutions to dismiss them as inevitable/ natural causes & evade scrutiny of treatment and care & their system failings.'
– Deborah Coles on Hold the Hearse! 2016
'Impressive and entertaining work, which is full of heart and wonderfully realized'
– Adrian Pulle, International Theatre Reviews, on The Disappearance of Dorothy Lawrence 2015
'Courageous work from a clever writer and first-rate performer. Magnificently sung, presented with integrity and honesty. It grabs us by the heart.'
-Lexie Matheson, Theatrereview NZ, on Let Me Stay 2014
'An Excellent show. Beautiful, clever writing with subtle landing of the stories….harrowing at times. I am still thinking about it.'
– Charlotte Jones, Independent Theatre Council, on The Knitting Circle 2013
Latest Video
Let Me Stay Promo 2014

The trailer of Let Me Stay, Vital Xposure's 2014 production dealing with the impact of Alzheimer's on family relations.
Related artists from the same artform