October 31, 2022
Beyond Signs is a two-year project (2020-2022) intending to improve the social integration of deaf people through artistic cooperation, by involving them actively in the performing arts sector, from the creation to the staging, collaborating and touring in the EU partner countries and meeting different mixed audiences. The project activities enhance the skills of native signer artists, cultural operators and sign language interpreters, while audiences learn about the potential of theatre made by deaf artists. The Artistic Direction of the project is led by a team of deaf/native signer artists: Rita Mazza and Diana Anselmo (Italy), Angel Naumovski (Croatia) and Tony Weaver (Portugal). Beyond Signs is conceived by Association Fattoria Vittadini (Italy), with two partner organisations, DLAN (Croatia) and Vo'arte (Portgual). The project is co-funded by the Creative Europe Programme of the European Union.
Project overview
Performances
A call for deaf/native signer artists was released in early 2021 and 6 deaf artists were selected to be part of the production of a new theatre opera. The creative process started later than expected and the artists worked remotely for months due to the pandemic. Starting in October 2021 live residencies took place, in which the whole Beyond Signs artistic team attempted to define new expressive codes and languages that can be fully understood by deaf and hearing people, signers and non-signers.
The final production turned into a triple-bill show in Visual Vernacular, Sign Poetry, dance and Sign Languages, performed by a deaf-curated international cast of deaf performers, representing a unique panoramic view of Deaf art forms and aesthetics. It consists of three short performances conceived by the three national artistic teams that can be successfully performed as a unique event/full-length evening. The three performances had a first sharing in Milan in June 2022 and debuted in Lisbon during InArt Festival in July 2022.
Information about each of the performances:
You must be Deaf to understand
Concept and direction: Diana Anselmo (Italy)
Performers: Daniel Bongioanni (Italy), Nikita Lymar (Russia/Italy)
The duo by the Italian team is inspired by the poem of the same name composed by Willard J. Madsen in 1971. A wonderful poem becomes a wonderful piece in Sign poetry and visual sign.
Tour 2022: Milan, June 22; Lisbon, July 20; Piateda, September 18; Milan September 25; Sweden, November 26 (venues to be confirmed).
Sad Clown
Concept and direction: Angel Naumovski (Croatia)
Performers: Lino Ujcic Matessa (Croatia), Mingsheng Pi (Taiwan/Croatia)
The duo conceived by the Croatian team is inspired by the popular imagination of the clown figure, in particular the sad clown, to revisit the common clichés.
Tour 2022: Milan, June 22; Lisbon, July 20; Pula, September 24; Zagreb, Upset Art Festival, November 12-13
Way to now
Concept and direction: Tony Weaver (Portugal)
Performers: Ivan Flores (Spain/Portugal), Marta Sales (Portugal)
The piece created by the Portuguese team uses the language of dance and bodytheatre to lead the audience into a dreamlike travel.
Tour 2022: Milan, June 22; Lisbon, July 20
Training
Parallel to the artistic outcomes, the training aspect of Beyond Signs promotes national and transnational masterclasses involving native signer artists and cultural operators, through a 'learning and practice' approach. The same approach is applied to the classes for deaf and hearing sign language interpreters, in order to offer them a specialisation in interpreting for the stage and immediately experience the skills acquired by testing themselves in an international context. Deaf artists Ramesh Meyyappan (Singapore/Scotland), Bogdan Lukovič (Ukraine), artist and Sign Language interpreter Juli Ak Klintberg (Sweden), linguist Dorijana Kavčić (Croatia), psychologist Mauro Mottinelli (Italy) and other experts have been involved as mentors and teachers for the masterclasses.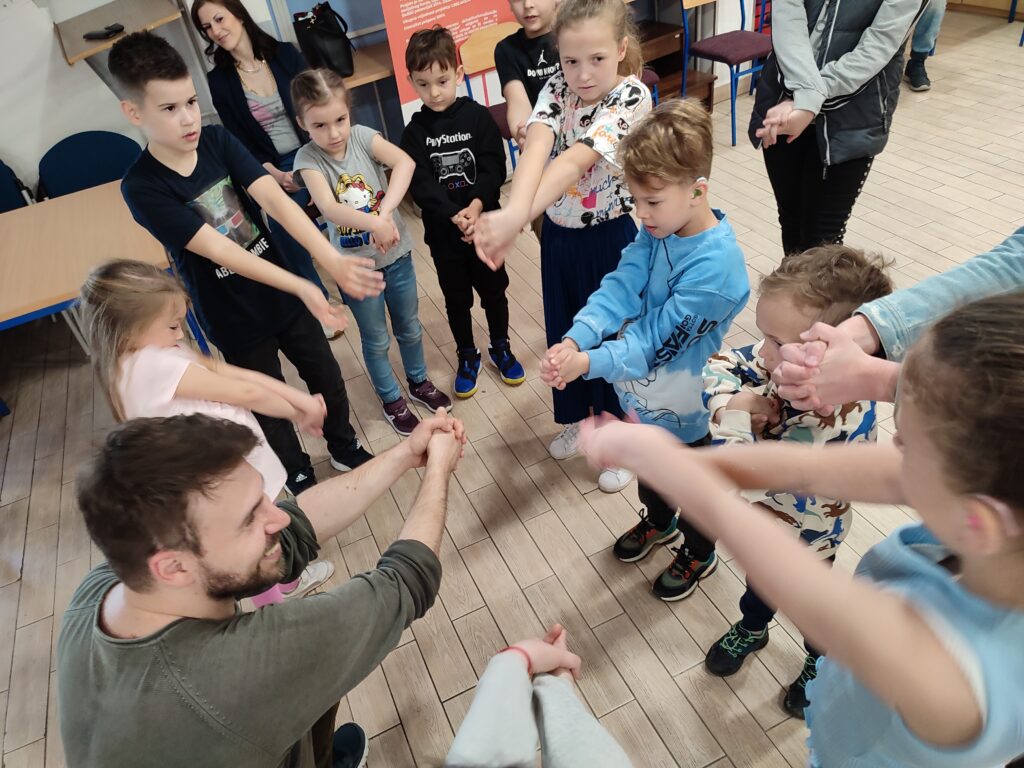 Audience Development
Beyond Signs also includes activities involving the public, especially children, youngsters and students, through cooperation with schools and awareness activities. Participants came into contact with sign languages and their expressive and artistic forms, while being sensitised to deaf culture and its demands.
Partners
Fattoria Vittadini (Italy) [lead partner]
Fattoria Vittadini was established in Milan in 2009, by 11 graduate dancers from the Paolo Grassi School of Performing Arts. Alongside the artistic production activity, the association works on projects aimed at offering accessible culture to disabled people, with a focus on deaf and signing people. Since 2018, Fattoria Vittadini has been organizing Festival del Silenzio, an international festival of performing arts twice awarded with the Medal by the President of Italian Republic, with a focus on Sign Languages and signing culture, supporting LIS – Italian Sign Language and its legislative recognition. In 2019 the company co-organised the IETM Satellite Meeting on the theme of accessibility to art and culture, and the residency project theWorkRoom_LIS for deaf/signing artists. In November 2019 Fattoria Vittadini, with the co-operation of Paragon Music Glasgow and Cascina Biblioteca Milan and the support of British Council, started S.I.I.A.T.E.- Scotland Italy Inclusive Artists Training Exchange aimed at creating a mixed professional dance company with differently abled performers led by Chiara Bersani and Alex Ross McCabe.
DLAN (Croatia)
The association 'Theater, Audiovisual Arts and Culture of The Deaf – DLAN' was founded on October 18th 2001 by members of the Deaf community in Zagreb with an aim to promote theatre, music, audiovisual arts and culture of the Deaf in Croatia and abroad. One of the association's main aims is to enable greater access to artistic and cultural activities for people with hearing related disabilities and to promote the acceptance of the Deaf community as a cultural and linguistic minority in accordance with the recommendations of the European Parliament and the UN. DLAN works on developing Deaf society's creativity and self-esteem and on supporting their participation in events around the world. Its main mission is to strengthen the visibility of Deaf art and culture, and to foster the acknowledgement of Sign Language as one of its most prominent features. By encouraging a higher level of their participation in public life and with their active involvement in cultural and social activities, the association aids the development of the general cultural, artistic and civil society in the EU and beyond. By promoting and preserving the cultural heritage of Croatian Sign Language, the Deaf identity and Deaf art, with the support of its local and international partners, the association continually succeeds in reaffirming the vitality and creativity of Croatian and European Deaf culture.
Vo'arte was born of the desire to produce, disclose and enhance contemporary creation, based on the merging vindication of artistic expressions, developing national and international projects that support the interchange and trans-disciplinary creation. Vo'arte is an innovative project that promotes creative dialogue and cultural decentralizing, with a view to strengthening relations between communities and cultures, as well as enlarging and developing new audiences. Carrying on 22 years of artistic, pedagogical and social activities, Vo'arte believes the value of artistic culture and keeps on creating new performances, festivals, exhibitions, installations, films, seminars and program proposals combining both mainstream artists and emerging creators. Vo'arte has been distinguished with several awards within cultural access, intellectual accessibility and in the work of inclusion through artistic practices.