June 30, 2018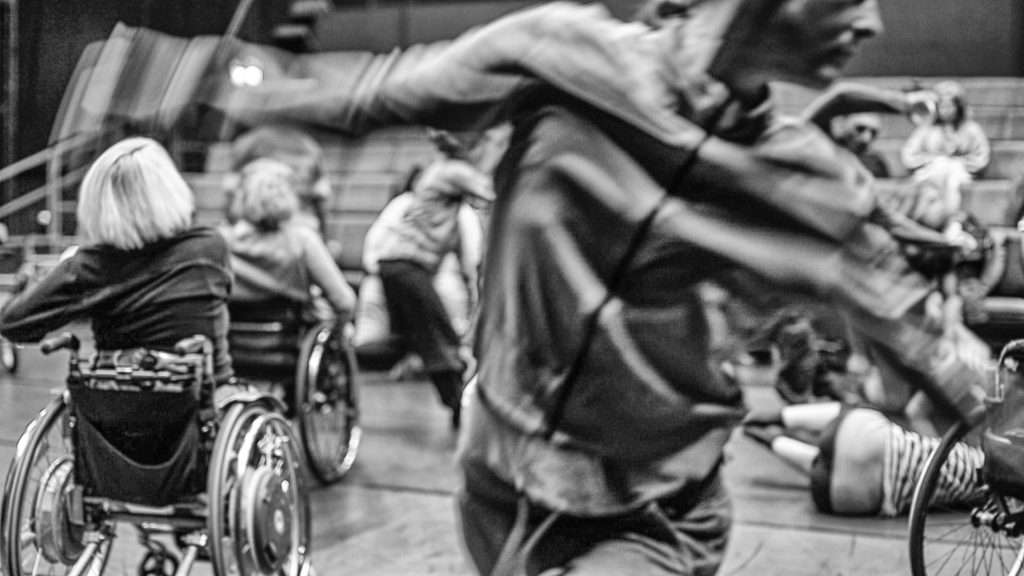 Co-funded by the Creative Europe Programme of the European Union, Moving Beyond Inclusion was a partnership programme running from July 2016 to June 2018, which brought together six inclusive dance companies and presenters from across Europe:
Candoco Dance Company (UK)
Croatian Institute for Movement and Dance / HIPP (Croatia)
Oriente Occidente (Italy)
Producentbyrån / Danskompaniet Spinn (Sweden)
tanzfähig (Germany)
BewegGrund (Switzerland)
All partners work in the mainstream dance world and are also widely recognised for the importance and quality of their inclusive practice.
Project overview
There are many great inclusive projects and initiatives around the world promoting positive change within the creative sector. But training and employment opportunities for disabled artists still remain limited. As a result the quality of the work can be inconsistent, and presenters have a tendency to see work by and with disabled people as 'fringe work' promoted for reasons of 'political correctness' rather than for artistic integrity. Moving Beyond Inclusion brings together Europe's leading proponents of inclusive dance practice to address this with a programme of activity that enables people in dance to exchange skills, resources and knowledge.
The project delivered three core strands of work:
Skills development for creative individuals and administrative teams
The creation of excellent new work for international performance
Comprehensive consideration of building audiences and changing perceptions
Project aims:
Increase the international talent pool and mobility of disabled artists
Increase employment for disabled dance artists
Increase capacity of dance organisations to create and disseminate inclusive work
Innovate in audience development to communicate more widely the thrill of inclusive work
Create a genuine step change in number and quality of accessible performances
Showcase the best of inclusive practice
Partners
Formed in 1991, Candoco Dance Company is a leading example of what dance can be. A company of disabled and non-disabled dancers, it works with world-class choreographers to create cutting-edge original live work that pushes the boundaries of the art form and how it is presented.
Candoco's work is driven by the understanding that diversity is exciting, and dance is richer when different bodies and perspectives are part of its creation. Delivering top-quality commissions, extensive national and international performances, wide-reaching learning, bespoke training and advocacy, Candoco raises the level of debate on dance and disability by showcasing the vast creative potential of inclusive practice.
Croatian Institute for Movement and Dance / HRVATSKI INSTITUT ZA POKRET I PLES (HIPP)
HIPP supports the independent contemporary dance scene in Croatia and Eastern Europe. Experienced in forging partnerships for international cultural exchange and collaboration the organisation ensures an increasing presence of Croatian dance makers internationally, specifically supporting disabled artists and the inclusive dance ensemble IMRC who form part of this project.
HIPP's work is multi-layered and delivers residencies and professional development, production and presentation, promotion, audience development, learning and information dissemination.
Oriente Occidente Dance Festival
Oriente was founded in 1981 to actively strengthen the role of contemporary dance in Italy. As one of the leading European dance festivals Oriente hosts artist residencies, seminars, lectures, workshops and performances, which encourage exchange between cultures, genres and languages of contemporary dance. Oriente hosts leading artists' and companies' premieres from all over the world, at the cutting edge of the form. The programme is of the highest quality to promote development, availability and diversity of dance for audiences and mass media.
Producentbyrån/ Danskompaniet Spinn
Spinn started in 2010 as the first and only inclusive dance company working professionally in the Nordic countries. The company is leading the regional discussion on access and inclusion, generating exciting dialogue with many creative, educational and public institutions across the country with a view to inspiring a process of change. More than 17,000 people have seen Spinn or participated in the company's activities, which include mentoring Nordic dance artists and delivering youth dance activities.
tanzfähig Wohlfarter Richarz GbR
tanzfähig was founded in 2007 as an initiative to develop more physical diversity in contemporary dance. It is artistically and educationally oriented, and aims to provide access to contemporary dance for all people. It is nationally and internationally well-connected and appreciated for its concept. In the last few years tanzfähig's approach was successfully applied to several productions, regular dance trainings and numerous workshops. Dachverband Tanz, the umbrella organisation for dance in Germany, and university partner Hochschulübergreifendes Zentrum Tanz support the initiative's delivery.
Third Country / Associated Partner: BewegGrund
For 17 years BewegGrund has been one of the leading integrated dance projects in Switzerland and Europe. As pioneer in the field BewegGrund is developing constantly and looking for collaborations and partners for exchange. Producing and touring professional dance work with disabled and non-disabled dancers, organising and delivering workshops and courses as well as the biannual Community Arts Festival, BewegGrund stands for equal rights, self-determination, equal opportunities and integration.