Exchange between European artists is at the heart of Europe Beyond Access:
to support artistic innovation;
to counter geographic and artistic isolation of disabled artists;
to build transnational professional relationships.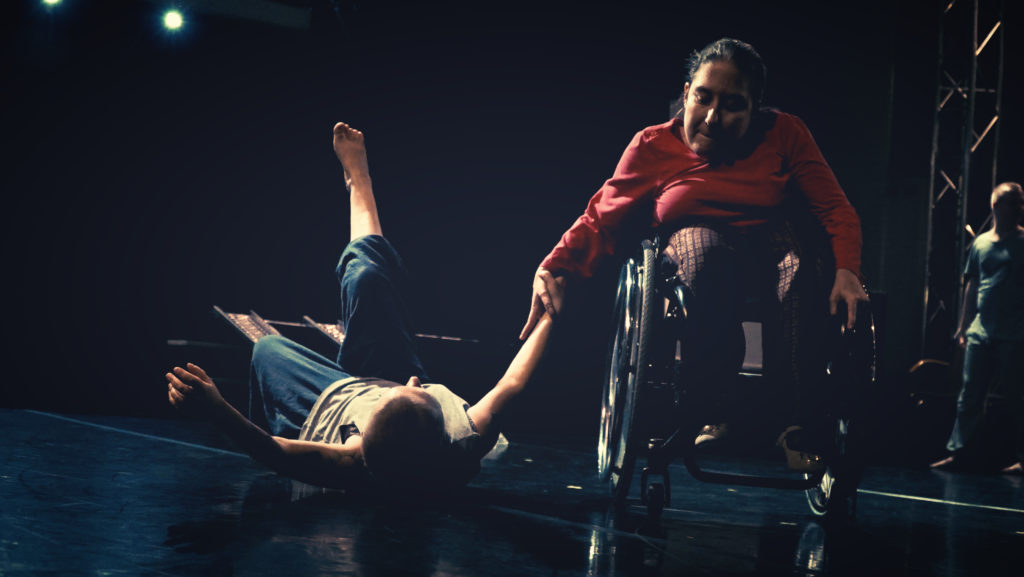 5 Artistic Laboratories
The laboratories are the true experimental heart of Europe Beyond Access. These week-long processes of artistic experimentation and professional exchange bring together artists from each of the project partner countries. The artistic experimentation is led by senior disabled artists: sharing methodologies, asking questions, provoking debate.
The topics explored in the laboratories reveal some of the key questions being asked by a unique generation of European disabled performing artists.
#1. Hamburg, DE: "Dance, Politics, Disability and the Body"
#2. Malmö, SWE: "Unexpected Bodies in Unexpected Places"
#3. Den Haag, NL: "Other artists, other bodies"
#4. Rovereto, IT: "Social Relationships and the body"
#5: Athens, GR: "Disabled Leadership in Dance"
12 Solo Residencies: Skills transfer from mid-career to early-career disabled artists
A total of twelve 14-day residencies by a solo artist will be hosted during the project by six of the project partners: British Council; Onassis Cultural Centre; Holland Dance Festival; Per.Art; Skånes Dansteater; and Oriente Occidente. Each Solo Residency will see a leading overseas disabled artist invited by a project partner to undertake a two-week process with a group of local disabled artists. The invited artist can come from any country, and have been selected according to the skills and experience they will bring to the local sector.
8 Group Residencies: Enabling trans-national artistic collaboration between peers
A total of eight group residencies will be hosted by five of the project partners: Onassis Cultural Centre; Holland Dance Festival; Kampnagel; Per.Art; and Oriente Occidente. The group residencies last 6 days and see a company or group of overseas artists invited to work with local peer artists – collaborating and developing relationships.
Digital Exchange programme
The Digital Exchange is a private Facebook Group for Europe Beyond Access artists to exchange ideas, continue cross-border collaborations, attend online artist talks and workshops, take part in discussions, benefit from peer feedback, and discover opportunities happening outside of their native countries. This Group has an active subscriber base of 200 artists across Europe.
The publicly available material from the digital exchange programme is available below: