Vinterresa (Winter Journey) is a new dance solo about the power of memories and our past by choreographer Carl Knif for Swedish dancer Madeleine Månsson. The
https://www.youtube.com/watch?v=Wj5PSMDIook Laila was born in the refugee camps of Tindouf, where, at seven months of age, she contracted poliomyelitis. At the age of eight, she was
Artistic Practice
Dance
Spain
Jestem Artysta (I am an artist) is a campaign commissioned by the British Council in collaboration with six professional Polish disabled artists. The campaign took over billboards,
How have disabled artists across Europe experienced the pandemic? How have artist networks, collaborations, perspectives and ambitions changed since 2020 when Covid-19 began to circulate
Personal insight
Dance
Germany
Greece
Italy
Poland
Dalibor Šandor is a Serbian learning-disabled performer and director who works with Europe Beyond Access partner Per.Art, an independent inclusive performing arts organisation based in
Artistic Practice
Dance
Serbia
Europe Beyond Access supports the dissemination of Al. Di. Qua.'s video manifesto, as part of the project's role advocating for change in the cultural sector.Al.
Access for Audiences
Dance
Italy
'Dramaturgy is a concept which cannot be defined just in one way'.  https://youtu.be/HteoOQHWdAw Led by choreographer Gaia Clotilde Chernetich and dramaturg Giuseppe Dagostino, the fourth Europe Beyond
International Exchange
Dance
Greece
Italy
Poland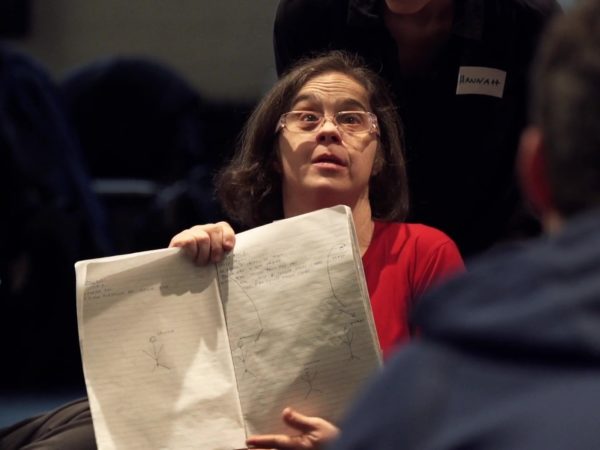 Find out how learning disabled leaders in theatre and dance are challenging perceptions of the creative potential of disabled artists and breaking the boundaries in
Artistic Practice
Dance
Germany
Serbia
UK
Discover how a generation of disabled dancers, choreographers and interdisciplinary artists are creating social change through the work that they make. https://youtu.be/OpeK6lPyNuI?list=PLdiB3YQ6fPnk5oUHsVP9L_V6WtWUztJ7- Artists involved in Europe Beyond
Artistic Practice
Dance
Australia
Poland
Portugal
Sweden
UK
USA
Natalija Vladisavljević is a Serbian writer, choreographer and performer supported by Per.Art, one of the core Europe Beyond Access partners. https://youtu.be/C-kwgvp10Rc In this video, Natalija gives us
Artistic Practice
Dance
Serbia