Search
Europe Beyond Access founding partner, Skånes Dansteater, invites you to join an artist talk with dancers and choreographers Dan Daw, Claire Cunningham and Madeleine Månsson,
Skånes Dansteater, Europe Beyond Access partner based in Malmö (Sweden), presents 'DansFunk 3.0', the third and largest edition of its inclusive performing arts festival. Amongst a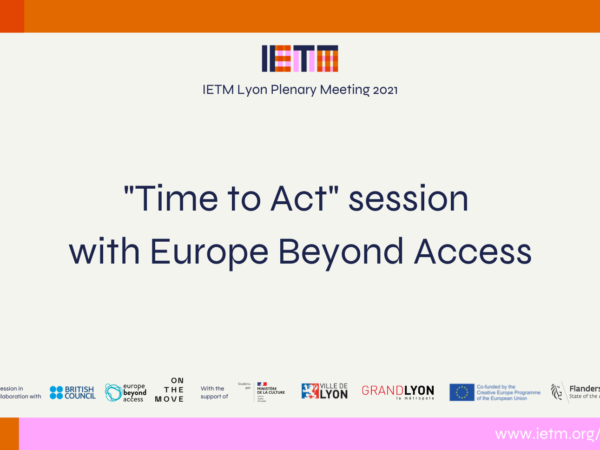 IETM (International network for contemporary performing arts) are organising their 40th anniversary Plenary Meeting in Lyon and online on 21-24 October 2021. As part of
Symposia/conferences
France
Kampnagel presents WELT OHNE UNS (WORLD WITHOUT US) – a collaboration between SKART/Masters of the universe and Meine Damen und Herren. This new production brings
The Oriente Occidente Dance Festival presents the Italian premiere of Mixed Doubles, four duets with disabled and non-disabled dancers created by Faizah Grootens, Venetsiana Kalampaliki,
Oriente Occidente Dance Festival (Italy) presents the world premiere of Moby Dick, Chiara Bersani's new creation for Swedish integrated Danskompaniet Spinn, directed by Veera Suvalo Grimberg.
Natalija Vladisavljević is a writer, choreographer, and performer active in Per.Art, our Europe Beyond Access partner in Novi Sad. She will be presenting her production
Europe Beyond Access' partner British Council and Narodowy Instytut Muzyki i Tańca / National Institute of Music and Dance are running a series of workshops
Artistic Practice
Dance
Poland
https://www.youtube.com/watch?v=b-ceQEuhgZU 6 September 2019 at Oriente Occidente Dance Festival Stopgap Dance Company is a British company who make exhilarating dance productions with disabled and non-disabled artists. In
https://www.youtube.com/watch?v=pLfFbFuUGnE 8-10 October 2020 at Kampnagel Perel is a queer, disabled interdisciplinary artist who lives between New York and Berlin. Playing the role of an American late
Festivals
Live Art
Germany