Date: June 25, 2021 - June 26, 2021
Location: Serbia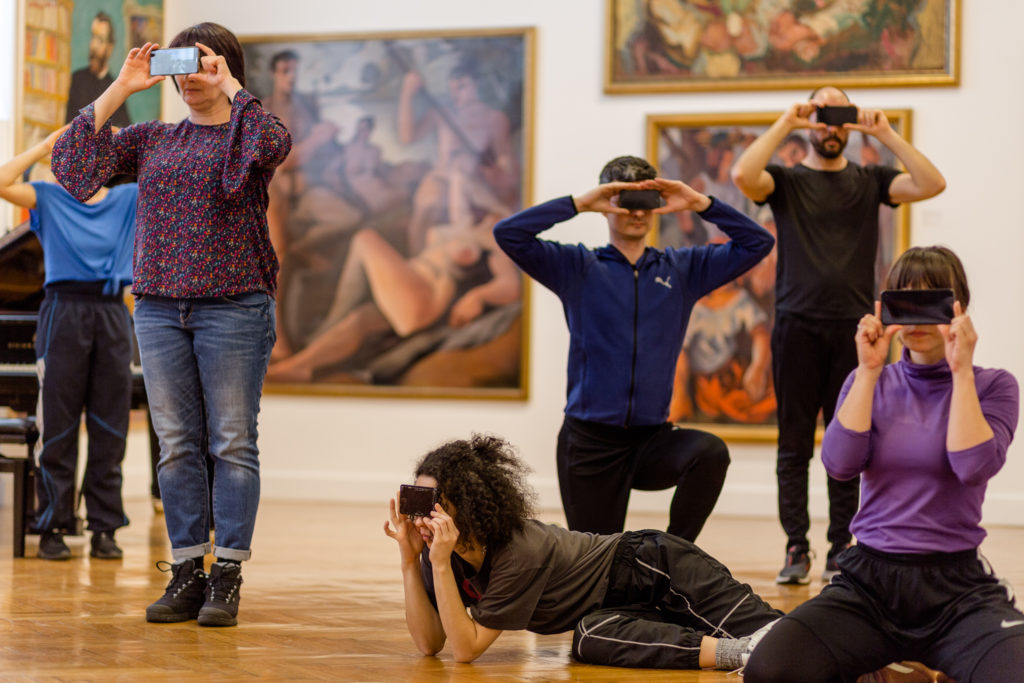 Premiere: "Dance in the 21st Century" is by Natalija Vladisavljević, a choreographer and performer with our partner in Serbia, Per.Art.
The sections spoken in Serbian will be captioned in English and German.
There are no flashing or flickering lights in the performance, no visual patterns with contrasting colours in the livestream, and no startling noises.
The video below shows Natalija talking about how creative process and how she approached making this new commission.
Words from the choreographer:
"I'm thinking about a new performance. I wrote many scores. This time it will be a contemporary dance on the big stage. Every choreographer thinks it's something spectacular.
I would like us all to cooperate in making this performance, which means that we will be agreeing with each other on rehearsals. We will gradually work one score at a time. But everyone can also be independent, which means that they can work without me, so they can show me later. And sometimes I will give dance instructions.
We will work on improvisation and on various topics. There is dance and music improvisation.
Improvisation is also about us when we show our attitude towards dancers. This is what we have been doing together for a very long time, what we are doing for improvisation is body language with enhanced teamwork.
I am interested in everything related to dance. Both classical and contemporary dance. There is contemporary dance without music, and there is contemporary dance without dance. Saša, Olivera, Alexandre and I are colleagues and collaborators. We will put it all together in the director's way. I remember when Saša asked me how would I name my new performance, I said: Dance in the 21st Century.
To cut a long story short, we live in the 21st century, and that's when we will have our performance. One century is a hundred years old."
Credits
Idea, choreographic scores and music scores: Natalija Vladisavljević
Proposal for collaborative artistic direction: Natalija Vladisavljević
Artistic direction: Natalija Vladisavljević, Olivera Kovačević Crnjanski, Alexandre Achour and Saša Asentić
Dance and artistic collaboraton: Jelena Stefanoska, Frosina Dimovska, Dunja Crnjanski, Jelena Alempijević, Željka Jakovljević, Ina Madžar
Music improvisation: Dunja Crnjanski
Idea for costume and stage design: Natalija Vladisavljević
Production management: Nataša Murge Savić
Performance: Natalija Vladisavljević, Jelena Stefanoska, Frosina Dimovska, Dunja Crnjanski, Jelena Alempijević, Željka Jakovljević, Ina Madžar, Olivera Kovačević Crnjanski, Alexandre Achour, Saša Asentić
Production: Per.Art
Coproduktion: Hellerau – European Center for Arts (Dresden), Kampnagel (Hamburg), Künstlerhaus Mousonturm (Frankfurt), and Münchner Kammerspiele (Munich)
Partner: Gallery of Matica srpska
Supported by: Europe Beyond Access co-funded by the Creative Europe programme of the European Commission, Grad Novi Sad and Erste banka