Date: February 25, 2021 - March 7, 2021
Location: Germany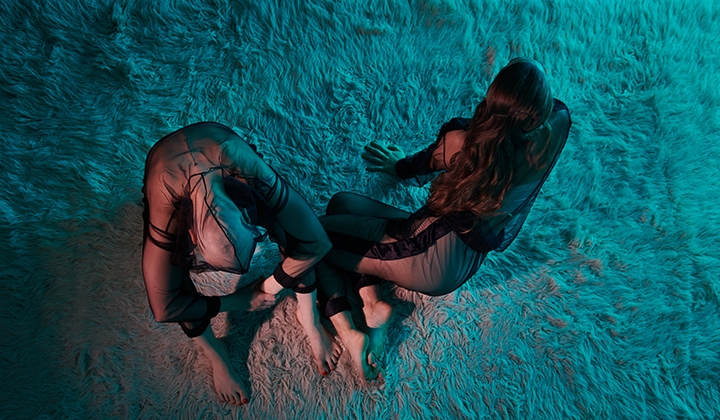 Commissioned by Kampnagel, Europe Beyond Access partner in Germany. This performance will be available via Kampnagel's YouTube and Facebook, plus Europe Beyond Access' Facebook.
A stage space bathed in green-blue light. One body rests its arms on their knees, holding their left wrist with the right hand, head hanging and looking down. A second body lies lasciviously on the right side, looking towards the top right corner. A third body, on the monitor, bends slightly to the right, one hand on their chest, the other slowly circling the wrist. A fourth body stands in the centre of the room. Synchronously, they open their arms to the sides. A smile slowly appears on their faces. Their mouths widen into large holes. The singing of a choir resounds.
In ROSE LA ROSE the choreographer duo Rykena/Jüngst together with the performers Amelia Cavallo and Tian Rotteveel dive into the obscure and erotic world of show culture and spectacle. They reveal their subversive potentials and pay homage to the in-between, the time before and after revelation, before and after seduction, before and after climax. The multidisciplinary team opens up imaginative spaces in which clichéd notions of erotic bodies are questioned and rewritten.
Through the artistic use of audio description by audiodescriber Ursina Tossi, which translates visual content into language, the sighted and non-sighted performers intertwine visual and auditory spaces of perception. In a parallel analogue-digital working process between Amelia Cavallo in London and the other performers in Hamburg, they interrogate the (in)visible through the (un)spoken and deliberately create gaps in perception in which the non-visible is made audible and vice versa. The visual and auditory surfaces combine through the voices and bodies of the performers to form a structure of interwoven narratives and interpretations of hybrid eroticism. Bodies and voices disappear, distort, direct, question, and challenge.
Free of charge
In German and English
From 27 February, there will be English and German subtitles
With audio description
Video premiere on 25 Feb + Video on demand until 7 Mar
Following the video premiere on Thursday 25 Feb, there will be an online audience talk at 8pm, in which you can actively participate via Zoom, or as a viewer via YouTube. More information on the post-show talk here.
About the artists
RYKENA/JÜNGST
Carolin Jüngst & Lisa Rykena have been working as an artistic duo between the cities of Munich and Hamburg since 2016. In their dance productions they roam through strip clubs, 1920s vaudeville theaters, Ovid's Metamorphoses or queer comic conventions and let mermaids, she hulks, expressive arias, velvet stages and marble down jackets collide. Their work engages queerfeminist, intersectional, and ableist body discourses and the transformation of normative categorization of bodies. For this purpose, they draw on classical, mythological as well as pop-cultural materials and create new figures, hybrid forms and grotesque embodiments with the aim of dissolving stereotypical, clichéd and heteronormative (gender) attributions: www.rykenajuengst.tumblr.com
---
In the media
Read an article in the German newspaper Hamburger Abendblatt
Credits
Choreography, Performance, Artistic Direction: Carolin Jüngst / Lisa Rykena
Dramaturgie: Matthias Quabbe
Co-choreography, Performance: Amelia Lander-Cavallo, Tian Rotteveel
Access Work: Al Lander-Cavallo
Artistic Audio Description: Ursina Tossi
Audio Description Feedback: Nicole Meyer, Torsten Wolfsdorff
Sound: Konstantin Bessonov
Stage: Lea Kissing
Kostüme: Hanna Scherwinski
Lights: Ricarda Schnoor
Film concept & Editing: Martin Prinoth
Translation and Subtitling: Emma Stenger
Artistic production, press: Stückliesel (Pam Goroncy & Jessica Buchholz)
Production assistant: Sina Rundel
Photography: Jonas Fischer
---
ROSE LA ROSE is a production by Carolin Jüngst in coproduction with Kampnagel Hamburg and HochX Munich.
This production is funded by: Hamburg Ministry of Culture and Media, Munich Department of Arts, Fonds Darstellende Künste with funds from the Federal Government Commissioner for Culture and the Media, Claussen Simon Foundation, Europe Beyond Access / Creative Europe Programme of the European Union
With the kind support of: Huckepack Umzüge.