Disability Arts International shares a small selection of some of the most interesting disabled-led and inclusive work coming up over the next six months from across Europe.
(COVID-19 update: all performances subject to changes and re-scheduling dependent on national advice and regulations).
MEDEA, DIE Theatre Hora
18-23 February, Fabriktheater Rote Fabrik, (Zürich, Switzerland)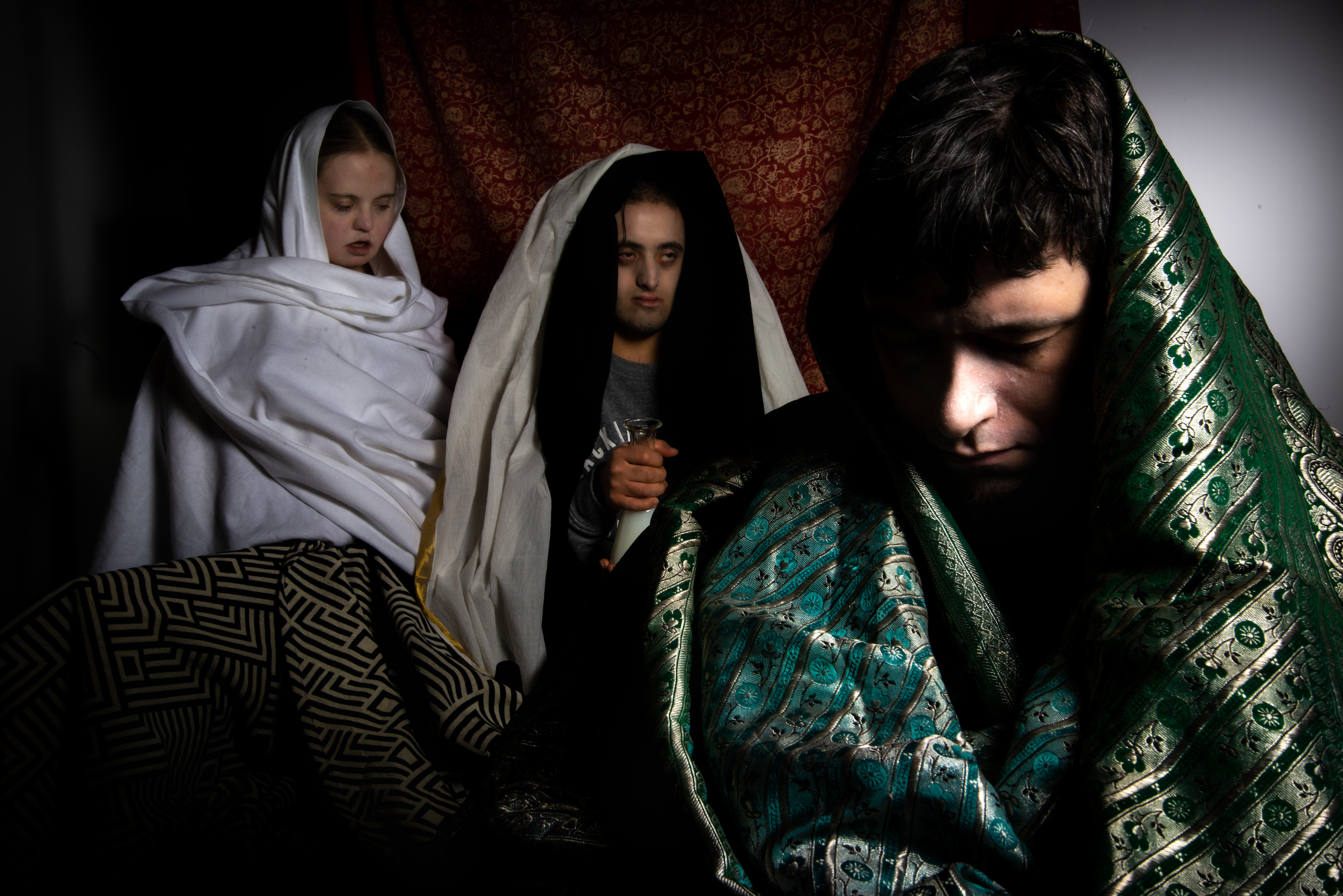 Medea is a symbol of resistance. It represents the anger of the oppressed and has magical powers that cause fear and horror or cause confusion. Three directors, Katharina Cromme, Leonie Graf and Phil Hayes, deal with different aspects of the ancient myth in three episodes. From the prehistory in Kolchis to the events in Corinth to the time when Medea in Athens will claim her right to stay. The spectators cross the different landscapes like in a triptych. The eighteen players in the Theater Hora ensemble form a choir. As representatives of a democratic community, they argue for the ideals of unconditional hospitality.
---
Dancing is my Revolution #2, Self-Mistake / ORG.IA
23 February, Mercado Forno do Tijolo, (Lisbon, Portugal)
A unique experimental space of resistance and praise for artistic innovation in Portugal, Diana Niepce premieres DUETO FRÁGIL alongside three performances from other artists. The duet exposes the non-normative body to explore fragility and strength in the context of identity politics and how relationships are constructed between us and others, norm and society. The performance notes read, "I don't know what to say. Because every time I open my mouth, it is as if I undress in front of you for the first time. Like when the mask falls and your body confesses to mine. I think of anatomy, as if I were falling, reconstructing the broken pieces of the body, with the exception of love. Dance like a snake that sheds its skin, like a storm in the brain, my hand is looking for you, you give me your hand, walk, let's let the child in us out and then kill her. There is nothing here. I look for you, because the body is only in the eyes of the other and will never recover from the pain."
---
The Spider's House, Roderick Ford
27 February – 7 March, Project Arts Centre, (Dublin, Ireland)
A nightmare from a disordered mind. In this haunted love story Roderick Ford explores the limits of our compassion and the heart's darkness. Set in a zone at the margins of the monstrous and the human this gothic romance asks what relationships are permissible and who should be denied love. The production is the result of Roderick Ford winning Arts & Disability Ireland's REALISE production award.
---
Oliver Twist, Ramps on the Moon
28 February – 6 June, UK tour (Leeds Playhouse; New Wolsey Ipswich; Nottingham Playhouse; Birmingham Repertory Theatre; Crucible Theatre, Sheffield; Theatre Royal Stratford East, London)
A Leeds Playhouse production in co-production with Ramps on the Moon. Born into poverty and misfortune, Oliver Twist escapes the workhouse for a life of adventure where he joins Artful Dodger, Fagin and their mischievous gang of pickpockets. But the enjoyment is short-lived as he falls under the influence of the vicious Bill Sykes. This bold, brutal and beautiful new version of Oliver Twist sends you on a dark adventure through the twisted streets of London. Adapted by award-winning playwright Bryony Lavery, every performance of Oliver Twist will feature the use of integrated creative sign language, audio description and captioning. Oliver Twist is in association with Ramps On The Moon. Now in its fourth year, this pioneering initiative from seven major UK theatre companies is committed to putting D/deaf and disabled artists and audiences at the centre of their work.
---
The Beauty Parade, Kaite O'Reilly
5 – 14 March, Wales Millenium Centre, (Cardiff, UK)
It's the 1940s, deep in wartime, men are fighting on the front line and women don't engage in armed combat; they keep the fires burning, the factories going, and the children fed at home. Or so we were told… Pioneering theatre maker Kaite O'Reilly collaborates with composer Rebecca Applin and performer/visual language expert Sophie Stone to expose one of the most unique operations of the Second World War; whereby ordinary women were plucked from obscurity and parachuted behind enemy lines. These falling women, spiralling through the dark became saboteurs and silent killers. Sent to spy, to eavesdrop, to encourage the spilling of secrets. The project's code name? The Beauty Parade.
---
I Am the City, Meine Damen Und Herren
11-14 March, Kampnagel, (Hamburg, Germany)
Barner 16 and alsterarbeit gGmbH premiere I am the city, with Dennis Seidel, a performance in which the city's youth are transformed into machines. Ambitious staging explores the tension between individual and communal space, as the piece asks what happens when urban resources are divided and collective compromises are required.
---
All of Us, Francesca Martinez
18 March – 16 May, National Theatre (London, UK)
A new play about what defines us. Jess has a job she loves, great friends and a sharp sense of humour. So, when the life she has worked hard to build is threatened, she decides to take a stand. This powerful and timely drama explores life, love and the struggle to survive for those who don't fit in during a time of austerity. Writer and comedian Francesca Martinez leads an ensemble cast in her debut play, directed by Ian Rickson (Translations).
---
Dance in the 21st Century (working title) from Natalija Vladisavljević & Per.Art
19 – 20 March, Novi Sad Theatre, (Serbia)
A new commission led by Natalija Vladisavljević, the exuberant performer of Witch Dance – Dis_Sylphide part one, in collaboration with Per.Art's members. Natalija has been devising a series of choreographic scores which are then interpreted by the group to form a new performance.
I was once. Now I am, Cie BewegGrund, Danza Mobile & tanzbar_bremen
27 March – 10 May, European Tour (Dampfzentrale, Bern, Switzerland; Schwankhalle, Bremen, Germany; Franz. K, Reutlingen, Germany; Teatro Alameda, Seville, Spain)
Three dance pieces about remembering, specially developed for the NO LIMITS Festival Berlin in a collaboration of three inclusive dance companies from Switzerland, Spain and Germany. Personal careers, experiences, snippets of memory become part of one's own physicality, condense into moving images, trigger associations. Because "memories are buzzing in everybody's mind" (Neele Buchholz) – but what exactly does it do to us or does it let us do it?
---
Superspektakl, Teatr 21
2 – 3 April, Universal Theatre, (Warsaw, Poland)
Teatr 21 and Teatr Powszechny turn their attention to superheroes: who can become a superhero and what needs, fantasies, and aspirations of modern society do they respond to? Superspektakl takes place in narrative context where violence and aggression create a collective sense of fear. Integration schools are closed and the word "WON!" is painted on restaurant windows that employ autistic people. The constant pursuit of unifying everything means that all other differences are secretly eliminated. Our last hope – "Super Theater"?
---
Crossing the Line Festival, various
20 – 23 May, various venues across Galway, (Ireland)
A Pan-European theatre festival featuring the best work from learning disabled artists. Produced by Blue Teapot Theatre Company as part of the European Capital of Culture 2020. Performances by Teatr 21 (Poland), Blue Teapot Theatre (Ireland), Theater Babel (Netherlands), Compagnie de L'Oiseau Mouche (France), Hijinx Theatre (UK), & Mind The Gap (UK).
---
The Dan Daw Show, Dan Daw
21 May – 23 June UK Tour (Deda, Derby; Sadler's Wells, London; The Lowry, Manchester; Warwick Arts Centre, Warwick)
A peep into the shiny and sweaty push-pull of living with shame while bursting with pride. Joined by performer Christopher Owen (Joe Moran, Scottish Dance Theatre), and in collaboration with theatre director Mark Maughan (The Claim, Petrification), Dan Daw explores care, intimacy and resilience, and what it means to let go and reclaim yourself.
---
Precarious Moves, Michael Turinsky
21 – 23 May, Tanzquartier Wien, (Vienna, Austria)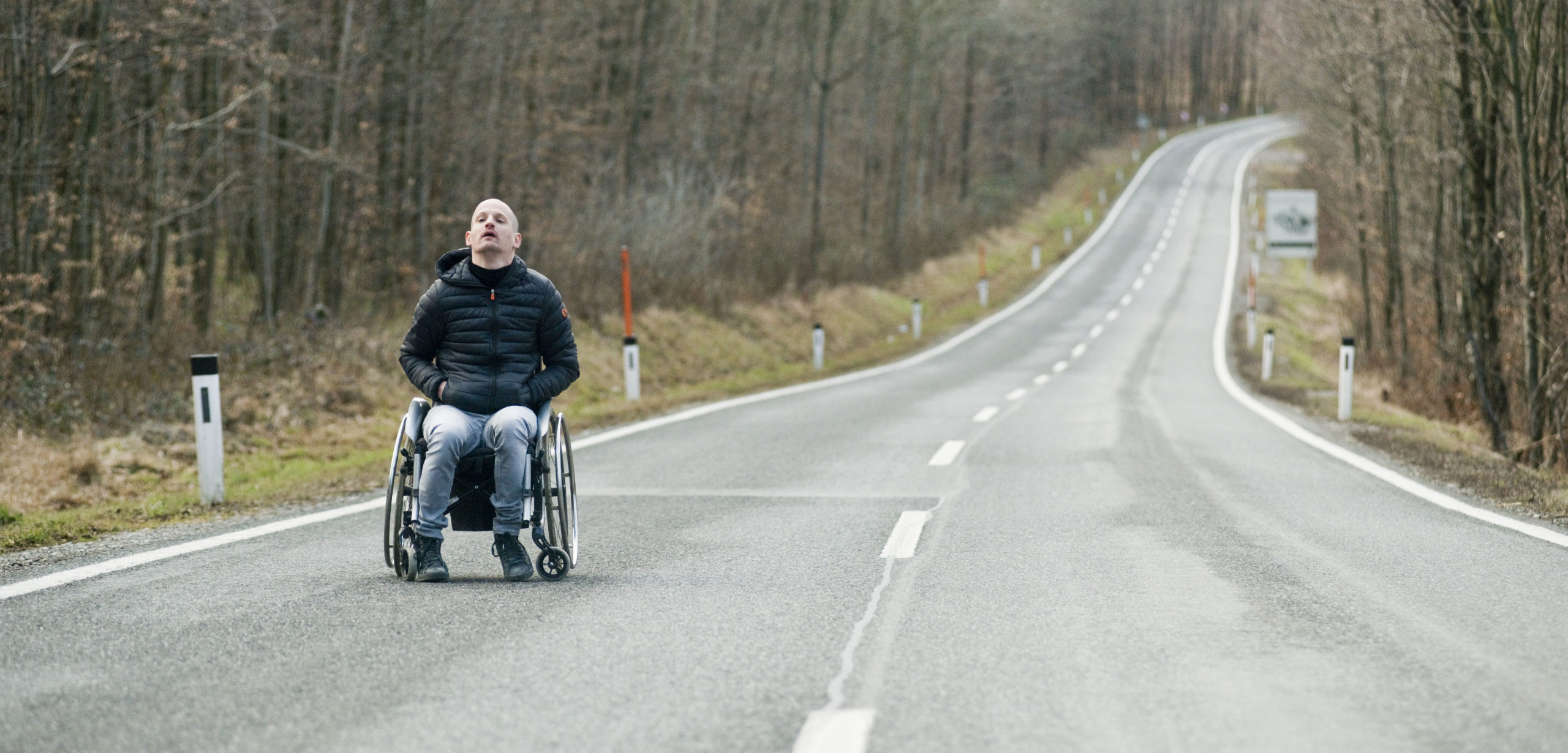 How does a body set itself in motion where the relationship between the body and what surrounds it appears to be a fundamentally precarious, vulnerable relationship, a relationship that is all too easily thrown off balance and in which we sometimes encounter many a visible or invisible boundary? In Precarious Moves, Michael Turinsky continues his investigation of resistive choreographic gestures by designing choreo-political aesthetics. Including the experience of disability in its singularity, Turinsky once again ties in with the concept of Crip Time, in a (re)desire against the dictates of fitting disabled or any other body into the systemic regimes of the existing hegemonic mobility and mobilization cultures. Oscillating between the organic and the organized, Precarious Moves unfolds as a sometimes bright and sometimes dark exploration of the strange loop that connects the body with the sensual world through which it moves; as a searching movement in which the untamed gesture finds its choreographic milieu and at the same time opens our sensitivity beyond this limited choreographic milieu.
---
Mixed Doubles, various
16 July, Kalamata International Dance Festival (Greece)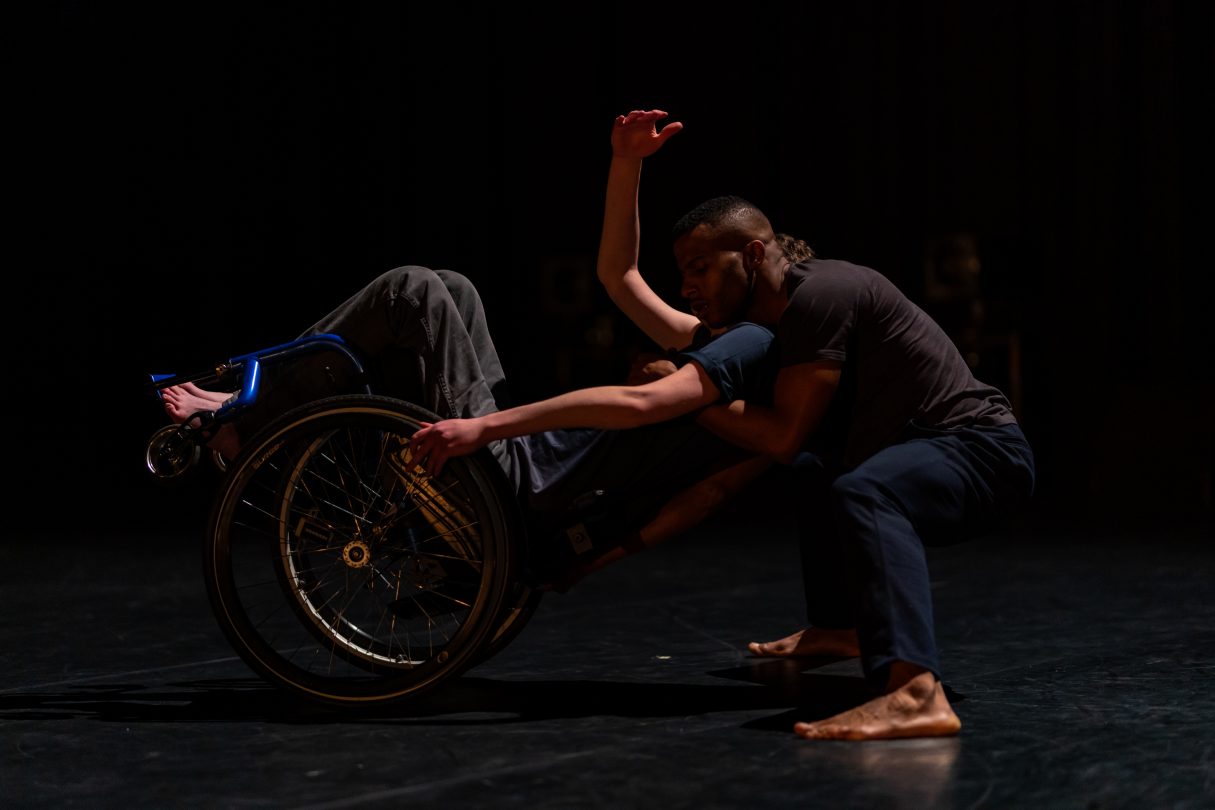 An evening of four new inclusive dance duets commissioned by Skånes Dansteater, Onassis STEGI, Oriente Occidente and Holland Dance Festival as part of Europe Beyond Access. After premiering at Holland Dance Festival in February, this will be the next time to see all four duets in action followed by tour dates in Italy (September) and Sweden (November). Read about the creative ideas behind the duets here.