Interview To Meet in Contemporary Dance, with choreographer and performer Natalija Vladisavljević, originally published in the online magazine Portal o invalidnosti, organizacije Iz kruga – Vojvodina. Translation to English by Frosina Dimovska.
Natalija Vladisavljević is a writer, choreographer, and performer active in Per.Art, the Europe Beyond Access partner in Novi Sad working in the field of performing arts and inclusion in culture. Natalija has Down's Syndrome. She started writing poetry in her childhood and so far has published two books: This is how it makes sense to live like this and Sun upon a train carriage. Several of Per.Art's shows are based on her poetic texts (As if life had a beginning and an end, Beautiful dreams have hope); the first act of Dis_Sylphide – Hexentanz reconstruction is based on her libretto and choreographic ideas. Per.Art also produced her choreographic work Dance in the 21st Century. At the moment, Natalija is writing choreographic scores for a new performance titled Composition for the dance of the future.
For Portal on Disability, with the support of Olivera Kovačević Crnjanski, (choreographer, dance pedagogue, and one of Per.Art's founders), Natalija reveals parts of her choreographic processes, her understanding of, perspective and views on art, and the intertwining of writing and dancing. In addition, she recommends her favourite shows and invites us to meet her in contemporary dance.
Tell us the five most important things about yourself.
NV: I'm smart, affectionate, I have many friends, I'm a writer, and choreographer/dancer.
What makes an essential part of your day?
Each morning when I wake up, I drink water, I take my medicine and vitamins, then I have coffee and breakfast, and I'm ready for work. I write, draw, and enjoy myself. I spend time with my little nephew Dušan, take walks, and help my aunt with chores. I also enjoy watching TV series. Since the start of the pandemic, I have been working on different projects using my phone and the internet which is something my brother helps me with. Olivera Kovačević Crnjanski and I did a workshop with artists from Kamerspiele in Munich. Saša Asentić (artistic director of Per.Art) invited and connected us with them. Olivera was typing, and I was dictating over the phone.
I was coming up with choreographic scores for all of them, and then we sent them the scores. Then they created choreographies and sent them to us via the internet so we could see them. Now I'm working with the pianist Dunja Crnjanski – she is creating music based on my graphic scores. However, in general, we in Per.Art all work together on making materials for my new show.
Out of all the places you have been to so far, which one was the most exciting and why?
NV: Can I choose three? Munich, Tehran, and Japan! In Munich, we performed Dis_Sylphide (a co-production of Per.Art, Kampnagel, and MIKUB). I even saw an announcement on the computer. We performed on a very big stage, which was Saša's proposal, and many people came to see us and support our success in Dys_Sylphide. I was quite pleased. After our performance, we went to see other shows from the festival which was inspiring because I got to see some other dancers on stage. It was very exciting. Since they spoke in other languages, my colleague Frosina Dimovska served as a translator for me. I always find inspiration in watching other people's work. In Tehran, it was very exciting when I ended up in total darkness in the middle of the show. Come to think of it, I was laughing in the end and I was happy how we managed our performance: myself, Saša, Frosina, Dunja, Olivera, and performers from Tehran. I kept a straight face until the end. It was exciting when Saša asked me at the end: What happened, where did the lights go? I started laughing. I told him that Mary Wigman also danced in the dark. That's what first came to mind at that moment. In fact, it was probably just a blown fuse but we managed very well. After the show had finished, we took photos together to remember the experience. We went to see other disabled performers who work in the theatre group Arseh with Miad Nohehan and Leila Jalalian. I often look at photos from Tehran. When we celebrated Per.Art's 20th anniversary, Miad and Leila came to visit us in Novi Sad. In Japan, we ate Japanese food, took wonderful walks, and saw all kinds of things. All of it was very exciting. After the show, I spoke in the name of the entire Per.Art group, and our colleague Marko Bašica started singing in Japanese! That was amazing and very funny. Marko knew all the original lyrics in Japanese and nobody could believe their ears. The hotel was great. I shared a room with Sneža Bulatović and Jelena Stefanoska. The three of us were together and the others were in single rooms. It was me who arranged for the three of us to be together.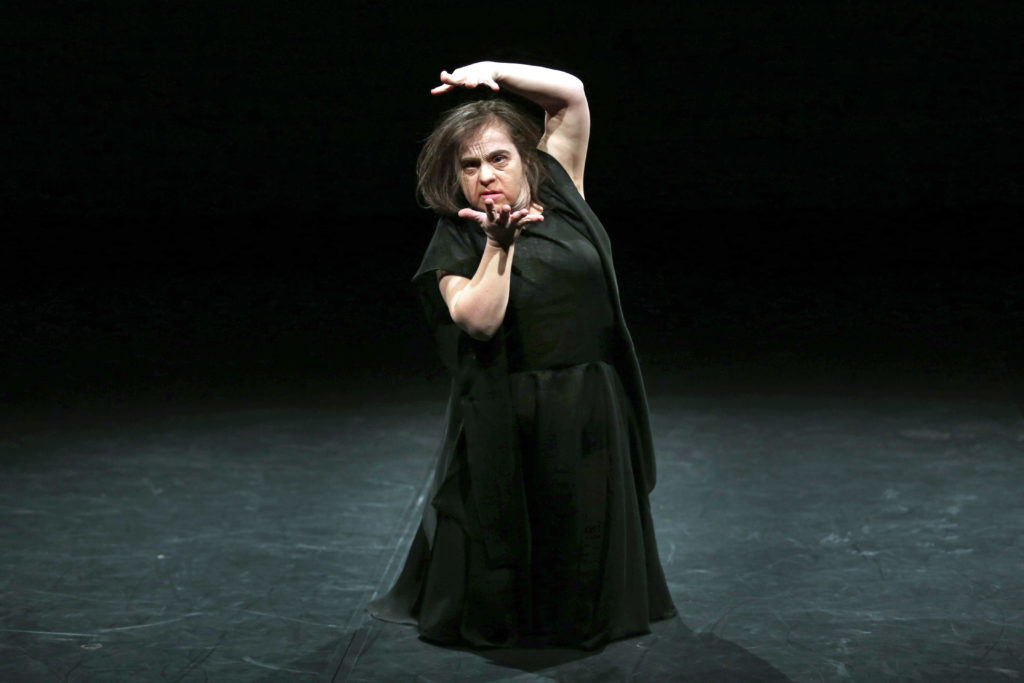 Do you remember the first book or story that made you cry?
NV: I do! The first book my mum ever read to me was The Short Poems of Zmaj (Zmajeva pevanija). She read something from the book that made me sad and I would start crying. I can't remember exactly what it was.
What kind of music makes you happy?
NV: For example Swan Lake, Giselle, and Romeo and Juliet. That's ballet music, that's what I like. It's classical music. When I read the name Pyotr Ilyich Tchaikovsky on my computer, I know it's him who wrote Swan Lake. I listen to music and enjoy it. I also like reading the choreographer's notes, but we do it my way. Right now, I'm working on Swan Lake through contemporary dance. They did it in classical ballet.
If you could go back and relive a day from your past, which day would you choose?
NV: It would be this one day with my brother. The workers were bringing in coal that I had to put in four buckets. After finishing school for the day, my brother took the buckets I filled to the cellar for later, to keep our house warm. I remember that day, and I could go back to it. The weather was so nice. I really liked helping my brother. I would also go back to a day when the three of us walked through the city, Jelena, Sneža, and me. We were in Novi Sad, sitting in a café in the city center. We ordered coffee and talked. For now, while the coronavirus is still around, I have to stay in Kovin, I don't really go out anywhere.
If you were to use a pseudonym, how would you sign your books?
NV: Hmm, I'd sign them as Nana. That's how my family calls me. Now, however, I'd sign them as Natalija Vladisavljević, choreographer. Lately, I have started writing for dance quite a lot. My new book would be titled Choreographic score, and I'd sign it as choreographer Natalija Vladisavljević.
What would you ask your 90-year-old self?
NV: Now that I'm 49, I'm inspired by the work I do on my new performance. I question myself often and come up with ideas, and I write down everything concerning the performance directly into my notebook. I can't remember what I was thinking about when I was 20, and at 90 I'd be really old. Now, I'm happy, and if I were to be 90, I wouldn't carry a cane. That I know for sure. Still, I can't imagine myself being 90 years old.
What does being an artist mean to you?
NV: For example, an artist likes to paint and draw, just as I do. These are all works of art, I learned that from my brother, he also paints. I could say that I'm an artist. I work in the fields of dance, choreography, and writing. I love music. As an artist, I first think of an idea, and then I write about it, like a project. It requires inspiration, thought, and talent. I should be happy with what I do. I need to believe in myself. When I imagine a work of art, I envision everything; that's how an artist thinks. They get inspired and then write about it, constructing a scene. When you work, there needs to be a contract where everything is written down: who is working and how. So, as well as the choreographers, the dancers are also working.
When was the first time you ever wrote a poem and who did you read it to? Can you remember the feeling of it?
NV: I think it was to my mum. Now, when I don't have my mum or dad, my brother is here. I read everything to him. That was a very long time ago. I was very happy when I started writing.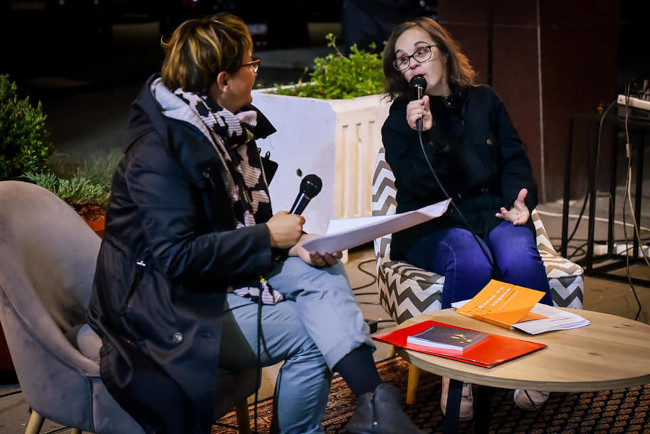 Is a poem something you create in a moment, or as a result of long-term research, contemplation, torn-out pages, and new beginnings?
NV: I write things down directly into my notebook but when I make a mistake, I tear the page out and write it all over again. First, I make a draft, because that's what I do as a choreographer. I usually research on my computer the topics I write about. Sometimes, there's something I find in the newspaper, and then I cut it out and glue it in my notebook, or I find a text to copy. Other times, I find a title I like and then write what comes to mind; the title inspires me. I used to write poems. There are some funny poems from the past; love poems, poems I wrote about my mum. I wrote them all by hand. Sometimes mum used to help me, but she would always say that I needed to become independent. That's how I wrote love stories and plays about love. Those were my first sources of inspiration, back when my parents were alive.
You say dancing inspires you to write. How does this creative process take place? Can you explain the connections between dancing and writing?
NV: These are all segments of choreographing. First, I think about the kind of dance I want to do, then I write that down. That's how I write as a choreographer. Afterward, I create choreographic elements and movements through body language improvisation. We all think about it on our own, through our bodies. Sometimes I write scores for dancers, or they write something for me that I then reconstruct and write about how I imagine it. I write dance instructions for them. I like just writing it all down so they can start working on their own, and later, I watch them in rehearsals and tell them what they can change, or I commend them.
What has changed in your life since the publishing of your book This is how it makes sense to live like this?
NV: My first book was printed in a great number of copies, it must have been about one thousand, and they're all gone. I signed a copy for everyone, I wrote my name and gave them all away. I can't remember the year I published my second book, Sun upon a train carriage. Milena Bogavac worked on a review for my second book. She presented it to the audience. This took place in the Gallery of Matica srpska, I remember it very well. So many people were there, I was overwhelmed. Everyone wanted to have my book – I simply couldn't have hoped that so many people would come! My heart was filled with joy, I was the happiest writer. Afterward, we did many shows with Per.Art, and right now we're making a performance based on my stories, on my scores, that is. I also gave an interview for Igor Burić and Pokretnica, it was published in Dnevnik.
Olivera Kovačević Crnjanski: How come you thought of that interview? Why do you find interviews important?
NV: When someone asks you some questions, you answer them and highlight the important things. It's quite important that there's an interview out before the performance of a new show – that way the audience can hear what it's about, and then they can all come and see it. Although I became popular, I still work a lot. I've changed myself in order to become popular. Everyone's always looking to communicate with me, and as a choreographer, I have to show the audience how it all looks. Popularity is when there's a lot of people who are interested in our show. If I'm that popular and connected to what I'm doing, all of that influences me, but also them, the audience.
If someone were to make oil on canvas inspired by your book, Sun on the train carriage, what would we see in that painting? What would be the dominant color?
NV: I think of yellow, yellow like the sun. I'd paint a brown train going through the fields. You can see sunflowers from afar; the sun is high in the sky, shining on the train. Inside the train, there's me and my mum.
Which one is more difficult: to write a text or to come up with a suitable title? How did you choose the titles for your books?
NV: It's not hard for me to write. I often write the whole text first, and then I put a title. There's always a first draft, on a separate paper, and then I write the text down directly into my notebook. I always study the topic I'm writing about, to be correct. Saša and I came up with the titles for the books. First, Saša asked me to write a short story, then to illustrate what I wrote, then we pondered over it and came up with that title, Sun upon a train carriage.
How would you counsel someone working on their first book?
NV: First, I'd tell them to think about it some more, to remember what was it that they wanted, and to write from their head. If it's something you like, keep it; if not, throw it out – sort it out. It is important to have an idea and to think about what you could do with it. You can get inspired and be totally relaxed. Don't think about anything else, just focus on your writing.
Drawing is also part of my composition. As soon as you write something, draw it! Take a pencil and remember: right, I'm gonna draw it and reconstruct the text. The drawing could go into the book, but not necessarily. You could also frame it and hang it in your room.
In your opinion, what is it that prevents many people from expressing their creativity?
NV: I believe that everyone has their talent. But some people lack opportunities. For some reason, some are not able to show their talent. Still, you can't just start doing art all of a sudden. I think some people don't have enough strength for such things. You need experience as well as talent to present yourself as an artist. People who lack strength need more space for their talent, as well as support, to present themselves.
How do you recall the first time you joined Per.Art?
NV: That was a long time ago, back in Gagarinova. My mum brought me there. I remember that Saša was with us. It was crowded, the team kept changing, but we are still friends. I see many of them in the audience. We would spend time together, dance, listen to music, we would work with volunteers… I remember Bread Tales (a performance made at the Chamber Theatre of Music Ogledalo). We performed it at SPENS (Sports and Business Center Vojvodina). Rajko Reljić, Majda Krešević, myself, Goran Gostojić, Kristina Berenji, Mladen Malić, Jelena Stefanoska… We performed dances with bread. What is it that you can do with bread? That was the topic of the performance. It's all I can remember, it was a very long time ago. I was very young, I can't remember how old I was then.
Why is it important for you to be a part of this organization?
NV: It's important to me to be surrounded by my friends from Per.Art. Everyone's supporting me. It's also important because of everything I do in Per.Art.
Which part of the process of creating a theatre show do you find the most difficult?
N.V: Nothing's too difficult for me. Dancing isn't difficult, neither is making choreographies. I do get tired sometimes when I am working or writing but all of that is a part of the choreographer's talent, and in the end, I'm always happy about working with everyone.
After the show, when the audience has left, what do you stay with?
NV: I'm satisfied because the audience had the strength to see us and applaud. Sometimes I get sad and I start crying. I guess that's because I'm happy. I feel the excitement – as if everything depends on me, and that also makes me cry. But being happy is much better, I say to myself because when the audience is on their feet, they should see me the way I am now – strong. When we hold hands in the end and do the bows, that's when we show our success! That's a distinctive aspect of our work in Per.Art.
What are the five theatre shows everyone should see?
N.V: My new performance, Dance in 21st Century. I would also recommend some ballets: Lady of the Camelias, Swan Lake, Romeo and Juliet, Giselle – which will be performed by our Jelena Stefanoska. There's also some good theatre shows like Radovan the 3rd. I remember seeing it with my mum. It was performed by the late Zoran Radmilović, it was really funny. I also remember Fragments and Pop It Up, by the New Dance Forum.
What does contemporary theatre lack?
N.V: A stage. We can't perform now because of the coronavirus. We miss the audience, we miss rehearsals and finally meeting each other. That's what I miss the most: to meet in contemporary dance.
What will be the next topic of a poem or a scene that you are about to write?
N.V: I started writing a new scene, a choreographic score for my new performance, and I'm thinking about where we will perform it. It's called A Composition for the Dance of the Future.
Is there anything else that I didn't ask and that it's important to say?
NV: Come and see us!