Glasgow-based disabled artist, Sandra Alland, examines disability arts in her birthplace, the settler-occupied Indigenous territories in the north of Turtle Island – known more widely as Canada.
*Note: After English and French place-names, I list in parentheses: Indigenous place-names; names of First Nations territories occupied by the city/province; and/or numbers/names of relevant treaties with Canada. I am a white ex-settler and not an expert. In many places, there are multi-nation and multi-language histories, treaties are contested, and/or land is unceded. I encourage further learning, especially on the #LandBack movement, and the failures of Canada's "Reconciliation" project.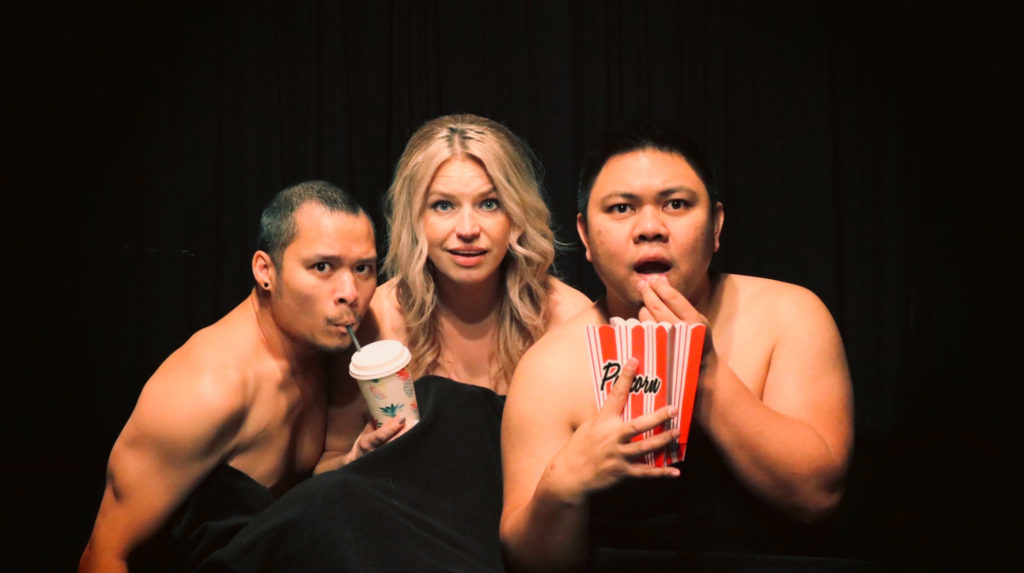 Deaf, disability and Mad arts have a rich history in the north of Turtle Island / Canada. Yet state support has been absent until recently, combined with a worrying trend of leadership by non-disabled white charities and artists. Disabled-led collectives persist regardless, and increasing commitment to disability justice brings a much-needed infusion of hope. More companies are forefronting radical artists who are BIPOC (Black, Indigenous, people of colour), 2SLGBTQIA+ (Two Spirit, lesbian, gay, bisexual, transgender, queer, intersex, asexual/agender and more), women, and/or working-/benefits-class.
Political Context
Canadian universities, galleries, theatres and transportation remain largely inaccessible in terms of physical, monetary, language and mental health barriers. But the 2019 Accessible Canada Act was a huge milestone for lawmaking in this area, and additionally included commitment to addressing wage and unemployment gaps. There is specific work to do in terms of benefits; for example, COVID-19 monthly emergency funds for non-disabled Canadians were almost twice Ontario's usual disability payment ($2,000 vs $1,169).
Disabled people have shown concern about the proposed Bill C-7 amendment to Canada's assisted suicide law, which facilitates Medical Assistance in Dying (MAiD) for non-dying people with disabilities, including those with "mental illness". Like many countries, Canada has also seen disproportionate deaths of disabled and elderly people during the pandemic, and can refuse visas and immigration based on disability and illness.
Canada was formed from British and French settler colonialism, which continues to impact the health and wellbeing of specific communities. While the overall percentage of Canadians with disabilities was 22% in 2017, 32% of First Nations, Métis and Inuit were disabled – and this statistic excludes people living on reserves. In 2019, a national inquiry revealed high levels of mental ill-health and "staggering rates of violence against Indigenous women, girls and 2SLGBTQQIA people". Black and Indigenous people with poor mental health are also overrepresented in prisons and deaths by police.
In response to these issues, artists from movements like Idle No More and Black Lives Matter are creating powerful work on disability and health.
Funding Landscape
Funding for Deaf, disabled, Mad, neurodivergent and sick artists has increased this past decade, but is regionally and culturally uneven across a large landmass. The rejection of multiply-marginalized and collectivist artists is an ongoing risk, with most grant applications rewarding artworks that reflect non-disabled, middle-class and white/settler goals of individualism and "professionalism". It's also concerning that many disabled arts organisations are filling gaps in support for housing, grocery money, and mobility equipment.
Yet recent changes show promise. Canada Council for the Arts now has a supplementary grant, Access Support, that covers access costs for award recipients who "self-identify as Deaf, having disabilities or living with mental illness". There's a Disability Arts Officer, and information in English, French, ASL (American Sign Language) and LSQ (Langue des signes québécoise / Quebecois Sign Language). Artists can also request Application Assistance for help with forms. Notably, Canada Council just funded a three-year and multi-artist project by gay and Jewish disabled writer Kenny Fries.
With its Deaf and Disability Arts Projects, Ontario Arts Council offers up to $10,000 for creation, production or professional development by individuals and organisations. Arts Nova-Scotia/Nouvelle-Écosse created its Arts Equity Funding Initiative to address barriers faced by Indigenous and "culturally diverse" artists, and those "who are deaf, have disabilities or are living with mental illness." While British Columbia Arts Council and other provincial/city arts councils have no earmarked funds, Manitoba and Toronto are among those that provide grant top-ups similar to those of Canada Council.
Selected Companies and Organisations
Arts Organisations
The Deaf, Disability & Mad Arts Alliance of Canada (DDMAAC) is part of Stage Left Productions, whose work includes the new "QueerCrip" show, Closet Freaks. Based in Calgary (Moh'kins'tsis; Treaty 7, Métis Nation of Alberta Region 3), DDMAAC's advocacy and services forefront disability justice, "non-normalizing disability theatre", and the impact of trauma and colonization. Leadership is rotational, and centres Deaf, disabled and Mad artists who are also Indigenous, Two Spirit, Black, trans, queer and/or of colour.
Positioned as "Canada's oldest and largest multidisciplinary disability arts organization", National accessArts Centre (NaAC, previously Indefinite Arts) is currently constructing a stunning new building in Moh'kins'tsis. NaAC has launched their expansive 2021-22 programme of national and international training, creation opportunities and exhibitions.
Listen to Dis' Community Arts Organisation hosts workshops, a music ensemble and performances in Regina (oskana kā-asastēki). As the first and only disabled-led disability arts organisation in Saskatchewan (Treaties 2,4,5,6,8,10), they hope to create "a sustainable and inclusive cross-ability arts community".

Winnipeg (Treaty 1) is home to disabled-led Arts AccessAbility Network Manitoba (AANM), a broad arts organisation dedicated to "the full inclusion of artists and audiences with disabilities". Their work includes calls for submissions, professional development, artist profiles, exhibitions and performances.
The Canadian Cultural Society of the Deaf, who produced the "first feature Signed musical", has boasted an art gallery, archives and multimedia productions in its gorgeous DEAF CULTURE CENTRE since 2006 in Toronto (territory of the Mississaugas of the Credit, the Anishinaabe, the Haudenosaunee and the Huron-Wendat). They also publish The Deaf Arts Handbook Series, and organise The Defty Awards for Excellence in the Arts.
Also based in Toronto (Tkaronto/Taranton), disabled-led Creative Users Projects supports artists and arts organisations to remove barriers. They manage national event, organisation, and accessible venue listings online. Network Connector, their "Deaf, Mad and Disability Arts network", acts as a database to "mobilize social justice" and connect disabled artists and arts workers with opportunities.
On unceded Algonquin Anishinaabe territory in Ottawa, SPiLL.Propagation is an artist's centre for multi-disciplinary creation and production in sign language, founded in 2009. Spill is currently the only Deaf theatre group that operates in LSQ, ASL, French and English.
Though currently inactive, Société culturelle québécoise des Sourds (Cultural Society for Deaf People) in Montreal (unceded Kanien'kehá:ka territory) promotes Deaf culture in LSQ and French, and produced the event "Expo-Sourd".
Festivals
On the less-populated east coast, Halifax (K'jipuktuk) is nonetheless home to two disability arts festivals. Founded in 2014, disabled-led The Bluenose Ability Arts and Film Festival (BAAFF) is expanding from a film festival into visual and performing arts events, workshops and podcasts. And Art of Disability Festival, programmed by people with disabilities, is an annual multidisciplinary festival produced by Independent Living Nova Scotia.
Far to the west in Edmonton (Amiskwaciy Waskahikan) is SOUND OFF: A Deaf Theatre Festival. Part of the Chinook Series Festival, SOUND OFF hosts its fifth annual event this April, with five days of affordable, accessible and cutting-edge ASL performances programmed by Deaf theatre artist Chris Dodd.
The Spark Disability Art Festival claims the title of "Calgary's largest and oldest pan-disability visual arts festival". Besides mounting exhibitions for the past ten years, Spark's team of volunteers just introduced the remarkably supportive Solo Artist exhibition series for emerging artists.
Visual and Multimedia Arts Companies
In Vancouver (unceded Coast Salish territories), disabled-led Kickstart Disability Arts and Culture administrates an artist directory and development grants/mentorships, as well as accessible workshops, performances, and paid art exhibitions for emerging artists. They also address the urgent issue of disabled housing and studios, by helping source accessible and affordable live/work spaces.

Black Triangle Arts Collective (BTAC) is an international curatorial collective, formed by queer neurodivergent Acadian artist Elizabeth Sweeney (Ottawa) and Black, trans, Mad and disabled artist Syrus Marcus Ware (Toronto). They "present exhibitions, spark dialogue, and develop curatorial practice from intersectional and disability-informed perspectives." In 2020, BTAC welcomed Tarik Elmoutawakil (Brighton), and created Existence is Resistance, a stellar six-month online residency for Black Deaf, Mad and disabled artists in Turtle Island and England.
Tangled Arts + Disability was initially established in 2003 as 'Abilities Arts Festival' producing an annual festival for nine years. They opened their gallery doors in Toronto (Dish With One Spoon treaty territory) in 2016. Tangled programme exhibitions, artist talks and podcasts, award the Won Lee $1000 Fellowship, and co-host the annual Cripping The Arts symposium with British Council, Creative Users Projects, Ryerson University and Harbourfront. Tangled is a partner on Re•Vision Centre's Bodies In Translation Art and Activism Directory of "fat, aging, disability, Deaf and mad art through a decolonizing lens".
Organiser of Rendezvous with Madness Festival and Being Scene annual group exhibition, Workman Arts is a long-running mental health and addiction arts project. Though historically led by CAMH, Ontario's psychiatric teaching hospital, they are now their own charity, and hire people with lived experience to produce works throughout Tkaronto.
Dish With One Spoon treaty territory is also the base for projects like queer-founded The Secret Handshake, a peer-led poetry, visual art and Schizophrenia-support collective. And Red Dress Productions, the brainchild of queer artists Anna Camilleri and Tristan Whiston, has a 15-year history of performances and public mosaics. Current projects include Inkling, which highlights disability and collaborative art-making, and Countdown, a series of outdoor monuments in public spaces to honour survivors and "count down to a world without gender-based violence".
Smaller and remote locations have less happening. But St. John, New Brunswick (Wolastoqiyik) hosts one of very few organisations supporting learning-disabled artists: Creative Connections, a non-disabled Christian enterprise that facilitates visual art shows and sales.
In the north, Dawson City (Tr'ondek Hwech'in territory) queer graphic artist Kimberly Edgar had a recent disability-focused residency in Whitehorse (traditional territory of the Kwanlin Dün First Nation and the Ta'an Kwäch'än Council). But in 2019-20, Canada Council reported that zero funding went to Deaf and Disability Arts projects in the Yukon Territory (Umbrella Final Agreement), Northwest Territories (Treaties 8 and 11), and Nunavut (Nunavut Land Claims Agreement).
Funding for Indigenous-run disability companies seems equally scarce, though inventive solo artists are making waves. Two examples are Six Nations "Urban Iroquois" curator and photographer Jeff Thomas, and queer and Two Spirit Mi'kmaq First Nations artist/curator Amanda Amour-Lynx, who centres the healing of trauma in her work.
Theatre and Dance Companies
Realwheels Theatre is a multidisciplinary company founded in 2003 by disabled wheelchair-user James Sanders. Upcoming in Vancouver are its Accessible Acting Academy and Tune In, a mash-up of monologues, rap, spoken word and choral pieces rooted in disability experiences.
Gimp Nation, a multi-voice poetic monologue written by Andrew Vallance, and presented by Realwheels Theatre and Kickstart Disability Arts. Recorded via Zoom by Realwheels' disabled artists in Vancouver (unceded Coast Salish territory). Content notes: strong language; mentions of ableism and violence.
Also on Squamish, Tsleil-Waututh and Musqueam territories is All Bodies Dance, a community-engaged and mixed-ability dance company. All Bodies "explores the choreographic possibilities of wheelchairs, crutches and canes, and celebrates diverse ways of moving and perceiving".
At their venue in Calgary (territory of the Blackfoot Confederacy) Inside Out Theatre provides touch tours and relaxed performances, as well as access advice called Good Host. They co-lead ASL theatre sessions with Tkaronto's Deaf Spectrum, and are developing an exciting ASL opera by queer Deaf artist Landon Krentz with re:Naissance Opera. COVID-19 also sparked Artistic Basic Income: two $6000 lottery grants for disabled, Deaf or Mad artists – with one reserved for a BIPOC applicant.
Over in Winnipeg is 100 Decibels, a trio whose members hail from Filipino and Polish backgrounds. They've been performing their unique brand of Deaf physical comedy for eight years.
Also on Treaty 1 territory, disabled-led Sick + Twisted Theatre organises performances and free workshops in songwriting, rap, playwriting and stand-up – with ASL and live audio description. Their team of mostly disabled and/or gender-nonconforming audio describers, VIEW (Vocal Image Ensemble Winnipeg), provides services throughout the city. This year marks a new web series, "Crip Tips TV", and their fourth yearly Crip Cabaret, "Cripplepalooza" – an extravaganza of Deaf, disabled, Mad and sick performers.
French-language dance company, Corpuscule Danse, was founded in 2000 in Montreal (Tiohtiá:ke), by current co-Artistic Director and wheelchair-dancer France Geoffroy. The mixed-ability company produces research, performances, conferences, and workshops on inclusive practice.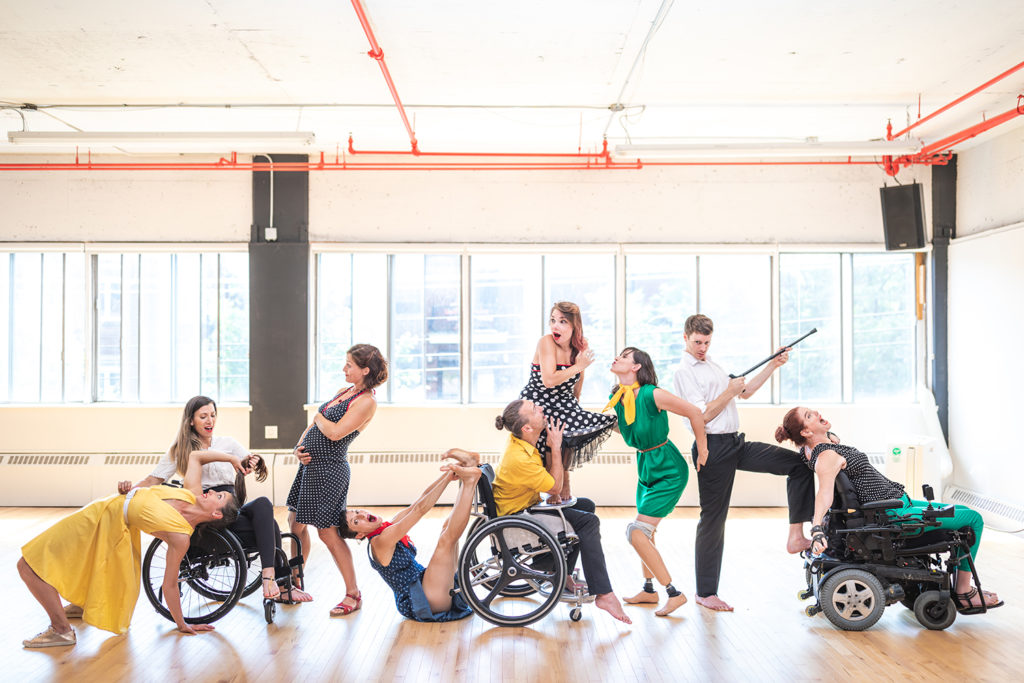 Montreal's multidisciplinary and trilingual Joe Jack Et John combines visual art, dance and spoken word, offering relaxed performances and integrated LSQ interpreting. Focusing on social issues, this abled-led/mixed-ability company supports "people with an intellectual disability or from diverse cultural backgrounds".
Cyborg Circus Project is a trans- and disability-led performance and social service organisation for LGBTQ youth in Tkaronto. They run the unique Mobility Equipment Lending Library, and recently funded grants for disabled BIPOC in partnership with Black CAP (Black Coalition for AIDS Prevention).
Paul David Power started Power Productions in Newfoundland (Ktaqmkuk) in 2016. He authored a 2017 report to Canada Council when community discussions around his play Crippled uncovered a dire lack of access in the Atlantic/eastern region. The St. John's-based company creates theatre projects, professional development opportunities, and community collaborations.

Thoughts on the Future
Disability arts are flourishing in the north of Turtle Island. But Canada needs to improve support for Deaf, disabled, Mad, neurodivergent and sick leadership, especially by Indigenous, Black, regional, learning-disabled, trans and other multiply-marginalised artists.
As disabled academic Eliza Chandler writes in her introduction to Cripping the Arts in Canada (2019), "Disability arts are political. Disability arts are vital to the disabled people's movement."
Thankfully, a growing number of innovative companies are addressing the intersections of ableism with colonialism – while also making dazzling work.