Tate Modern's Curator of Public programmes, Marcus Dickey Horley explains how thinking around access informed the design of the new Switch House building, shares details of some of the organisation's regular accessible tours and talks about bringing French artist, Philip Parreno's current commission, Anywhen to the Turbine Hall.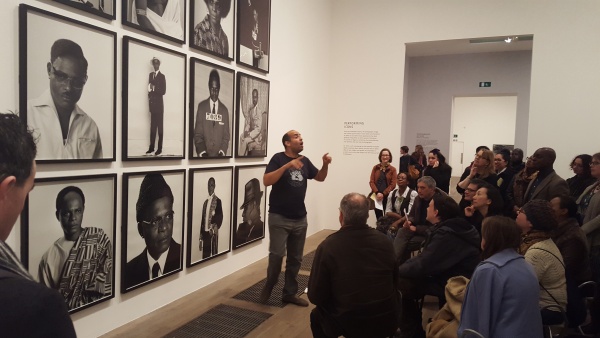 Tate Modern has gone through considerable change recently; in June 2016 the new Switch House building opened, increasing the interior space by 60% and provoking questions about what the museum of the future should be.
Accessibility has been an important part of the gallery's transformation. It is hoped that the original and new buildings have combined to give a more complex but still manageable choice of paths through the architecture.
The architects of the new Tate Modern Switch House, Herzog and de Meuron, were supported in this project by a second architectural practice, David Bonnett Associates, who specialise in delivering projects that are Equalities Act compliant. David himself also sits on Tate's Access Advisory Group so he was very aware of what the expectations would be around access in the new building.
At ten floors in height, there is almost inevitably the need to be able to use lifts to access the higher levels, although staircases are of course a major feature of the interior design. It is worth pointing out that at really busy times of the week the lifts can be really full and crowded, but there are members of staff available in nearby gallery spaces who will be happy to assist anybody who would like help getting a space in the lifts.
The Switch House galleries contain mainly sculpture and 3D work, and the artworks are situated with plenty of floor space around them. There are benches on all concourses and in most of the galleries, and wall captions are in legible fonts. There are also, dotted among the collection displays, occasional works which are marked Please Interact, giving everybody the opportunity to handle those particular works.
Tate's Public Programmes team offers a range of opportunities to take part in activities that make the collection more accessible. On the first Friday evening of every month, Tate Modern hosts tours delivered in British Sign Language which is itself delivered by a Deaf guide. The tours are open to anybody who has an interest in BSL including students and trainee interpreters.
We also offer Touch Tours for visually impaired visitors in which we can handle original sculptures from the collection displays. These tours can also be adapted for visitors who are DeafBlind, too. The intention of these events is to enable everybody to access the Tate collection equally, and in fact on a Touch Tour participants get even more access to the collection displays than the general public because of the touching opportunity.
The Turbine Hall sits at the very centre of this new layout, and the current Hyundai commission, Anywhen by Philip Parreno, draws on sensory stimulation and engagement to explore and interrogate the architecture of the Turbine Hall space. It is an installation with several complex components that unite in a series of ever-variable situations and sequences to generate a presentation that constantly changes.
There are certain key elements; flying projection screens that ascend and descend in the high void of the Turbine Hall. Hundreds of very high-spec speakers hanging from wires that broadcast not only soundtrack but also pick up on digital radio station signals, weaving these diverse broadcasts into sequences of sonic collage. Spotlights on tracks move slowly around the hall casting constantly moving shadows on the high grey walls. Thick carpets line the floors, encouraging people to lie down looking up, enjoying informal commonality with each other. The timings and activities of the sequences are controlled and influenced by micro-organisms in chemistry bottles, and you can visit the lab at the far eastern end of the hall.
The Turbine Hall itself has always been enjoyed as an accessible space, with flat level access over hundreds of square metres, a ramp which gives step free access to the Turbine Hall floor and a lift designated and reserved for disabled visitors linking levels 0 and 1. The installation is made up of both visual and sonic components so there is opportunity for visitors with sensory impairments still to be able to access significant parts of the whole sensory experience.
Tate Modern's accessible car park for disabled visitors is located next to the South Entrance, which leads directly to the Turbine Hall. On level 0 we have a Changing Places facility, incorporating height adjustable changing bench and full room coverage hoist which will be of interest to any visitors who would appreciate this level of access.
If you have any enquiries or would like more advice on making a visit please visit Tate's website or contact our Information Office:
information@tate.org.uk
Timelapse video of Philip Parreno's Anywhen below, courtesy of Tate. We regret that there is no audio description for this film, which was not commissioned by Disability Arts International.