The dust may have settled on Unlimited 2016 but the sparkle hasn't waned. More than 50 performances, exhibitions, talks, workshops and happenings took place across two of the UK's most prestigious arts venues, catapulting this year's Unlimited Festivals beyond its own heady heights. It saw an artist lift off from 20,000 helium balloons, a glitzy musical spectacular about assisted suicide, a dystopian universe of giant mechanical leviathans and ground-breaking international collaborations galore. Disability Arts Online's Joe Turnbull shares his highlights.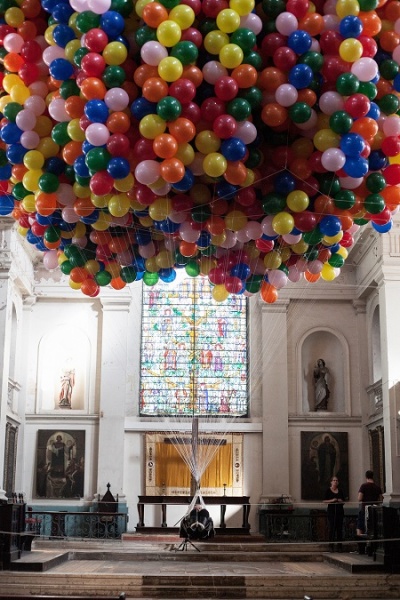 Since 2012, Unlimited (administered by Shape and Artsadmin) is becoming ever more global in its approach, commissioning some of the most exciting UK talent to make work worthy of showcase on any a shore and fostering dialogue with disabled artists as far flung as Japan. Picking highlights from such a wide assortment of riches is no easy task, but in the spirit of Unlimited, we're not ones to shirk a challenge. Here are seven of our favourites from across the two festivals at Southbank Centre and Tramway.
1. Noëmi Lakmaier – Cherophobia
Cherophobia may be a fear of happiness but Noëmi Lakmaier is certainly not afraid to take risks. This non-stop 48-hour durational live art piece saw her float from tens of thousands of helium balloons inside the somewhat faded grandeur of Shoreditch Church in East London. In doing so, Lakmaier was seemingly attempting the impossible. Whilst she was only airborne for a few magical hours, Cherophobia provided the grandest of spectacles whilst raising important and troubling questions around agency, control and objectification.
2. Liz Carr – Assisted Suicide the Musical
Actress, activist and comedian Liz Carr's Assisted Suicide the Musical has been the talk of the town since it was announced it would headline Southbank Centre's Unlimited Festival. It certainly did not disappoint. Billed as a 'TED-talk with show tunes' this glittering extravaganza was much more than that. It's one of the most original pieces of theatre I've seen in years, which holds a mirror up to a disabling society that devalues the lives of those it deems undeserving. Not to mention being endlessly entertaining and riotously funny. Click here to read a review of the show on Exeunt.
3. NCA Small Theatre – Hiraeth
Hiraeth was the result of a collaboration between the UK's Candoco Dance Company, and Armenia's first integrated company, NCA Small Theatre. Hiraeth is a Welsh word describing homesickness for a homeland that you've never actually visited. This haunting and majestically choreographed dance piece is a fable for the modern age, speaking to themes of displacement, migration and statelessness. This is raw emotion in movement. Listen to a British Council podcast on the production below:
4. Jack Dean – Grandad and the Machine
Jack Dean's 'steampunk fairytale for grownups' transported us to a dystopian parallel universe where the British Empire is out of control and a giant robot is wreaking havoc. For a two-man show with basic props that was no mean feat. But Dean's luscious lyrical lament for a society obsessed with consumerism is a piece of poetic beauty which exemplifies the best in old-fashioned storytelling. Click here to read a review of the show on Disability Arts Online.5. Baluji Shrivastav and Takashi Kikuchi
5. Baluji Shrivastav and Takashi Kikuchi
Baluji Shrivastrav is among the most versatile musicians in the UK given the breadth of cross-genre collaborations he has afforded his phenomenal talent on sitar and tabla. In combination with fellow Inner Vision Orchestra member, viola-player and percussionist Takashi Kikuchi the duo delighted Unlimited audiences with a recital loosely based on autumnal themes – a case of East meets East while gently flirting with the West. With warm-hearted magnitude the pair entertained with improvisations on tunes moving from Bach and Bourree to classic English, American, Indian and Japanese melodies.
6. Namo Ato – Japanese Outsider Art
This exhibition brought together works by three artists from Atelier Corners, an organisation that works with learning-disabled artists in Osaka Japan and was brought to the UK in collaboration with Pallant House Gallery, Outside In, Unlimited (administered by Shape and Artsadmin) and the British Council. It was replete with vibrant, enlightening work that embraced alternative perspectives. Koji Nishioka's pen-and-ink reimaginings of musical scores have a satisfying calligraphic quality, whilst Yasuyuki Ueno's drawings recast the beauty of Vogue magazine in his own image. But it was the late Makoto Okawa's 'makoot' woollen doll-like figures with their brilliant colours and larger-than-life presence that really stole the show.
With such a wide array of talent on show and the ever-improving outlook of the Unlimited commissioning programme, it seems things will only get better. Roll on 2018.
Shape and Artsadmin are accepting expressions of interest from disabled artists and companies for the next Unlimited commissioning round. This includes a new international strand for disabled artists and companies that support disabled-led work across all artforms and who are based in England or Wales, seeking to collaborate with disabled artists/companies based outside of the UK. Apply before the deadline on 7 November.