On returning from the Inclusive Creativity produced by Share Music Ian Ritchie reflects on the role of adaptive music technologies, telling the stories of Clarence Adoo's Headspace, Nigel Osborne's Skoog and advocating for a change in the approach of the classical music profession to extend its range in thinking about new instrumentation in terms of teaching, practice and in composition.
The recent Inclusive Creativity symposium in Sweden drew together an international gathering of people, representing either themselves as individual practitioners or their cultural/ educational institutions, who are variously committed to musical innovation and accessibility. The main concern for all of us continues to be the enablement of people with disabilities to participate fully in the creation and performance of music. The means may be instrumental or technological: the end is artistic and social. Inclusive creativity is the essence of this human purpose.
The symposium was the latest in a progressive sequence of such meetings with a widening field of shared and compatible interests drawn together in a collegiate spirit by two pioneering and committed lead institutions: Share Music in Sweden and the University of Ulster in Northern Ireland.
The agenda was addressed from three perspectives: i) the development of new technologies, ii) composition and performance for inclusive ensembles and iii) training and validation. I was invited to make my presentation in the context of the second of these overlapping areas, mainly because it most clearly reflects my personal experience and professional practice in music as a 'curator'.
Alongside the indisputable social imperatives, the case for diversity and inclusion, which I have long been advocating, can be strongly argued in purely creative terms: the advancement of music as an art-form through composition and performance in 'inclusive ensembles'. This demands both the development of new instruments or assistive technologies and the opening up of training pathways for musicians with disabilities or special needs in order to realise their full potential for participation.
Over the past two decades my work, primarily as a festival director, has become intertwined with and partly defined by my involvement in two separate projects for inventing and making new instruments to enable people with limited mobility to make music.
The first of these has involved the fine musician and former trumpeter, Clarence Adoo, whom I first met twenty years ago while working as an advisor to the Royal Northern Sinfonia, (his orchestra), soon after he was paralysed in a road accident while returning from a concert.
Clarence was determined to continue making music and, with help from a charity called Carnyx & Co, which I set up with the trombonist John Kenny, and with support from some of his other musical colleagues, new instruments have been designed and built by the scientist-composer Rolf Gehlhaar for him to play.
The first of these is called HeadSpace, which made its public debut ten years after his accident when Clarence first returned to a professional platform: he played it with his specially formed ensemble of brass-playing colleagues – HeadSpace Ensemble – in a brand new work which I commissioned from John Kenny during the closing concert of the 2005 St Magnus Festival in Orkney of which I was the director at the time.
He appeared also in my 2012 City of London Festival, for which Nigel Osborne and other composers were commissioned to write new music for Clarence and his HeadSpace Ensemble, as part of our wider exploration of the aesthetic and creative opportunities that come from inclusive music-making. Clarence is a featured artist in my Setúbal Music Festival, Portugal, (from 26th-29th May 2016), during which his brand new instrument, HiNote, will be heard for the very first time.
I was recently hired by the National Endowment of Science Technology and the Arts to supervise the development of another new musical instrument. At its heart was an extended action research programme, involving young people in special education, their teachers, workshop leaders and teams of scientists from Edinburgh University, masterminded by Nigel Osborne.
The eventual outcome was the Skoog, which has now been produced commercially and continues to be developed. It was really important for the ground-breaking new software to belong to an instrument that looked and felt lovely, no mere computer with lots of wires sticking out, but something which a young musician might be as proud to take out of its case as if it were a precious violin or a golden flute. For the musical observer-listener, what you see is part of what you hear and the Skoog is a beautiful object to be learned, mastered and appreciated.
One of many positive aspects of the Inclusive Creativity symposium has been the opportunity to see and hear fresh developments of new instruments and technologies internationally since the last such conference in Derry in 2013. As the potential grows, it becomes increasingly important for this research, development and practice to be carried onwards and outwards, beyond the laboratories, schools and other institutions, where so much excellent work has been done mostly behind closed doors, into the public realm and onto major platforms. But, notwithstanding some positive exceptions, progress is still slow and we are left with a long-term challenge.
The creation of new instruments in response to individuals' special needs not only involves more people in music making but also offers an extended palate for composers to use and audiences to enjoy. Classical music has suffered from restricted development since the 19th century because its composers – without which no music gets written, of course – have been sidelined rather than leading the way and opening up new frontiers as they had done from the beginning.
The demand for developing new instruments was historically and again in the future can be a creative one, required by the art of music itself. And herein in lies my argument of the creative case for inclusion and diversity: new instrumental technologies, in the hands of musicians of all physical abilities, can provide the cutting edge and point to the future of music itself.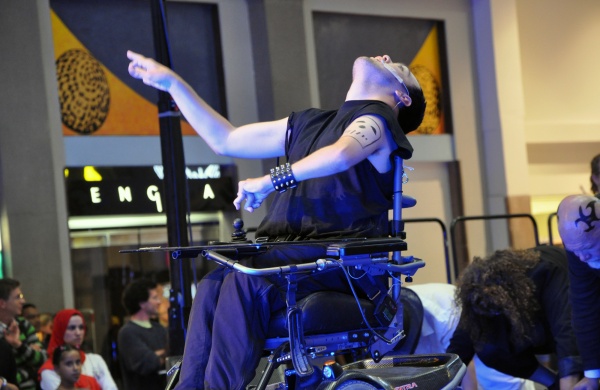 It follows that integrated musical productions, such as the brilliant Dawn at Galamanta produced by Share Music Sweden a few years ago, which I had the privilege to revive in 2012 as the central performance of the City of London Festval's 50th anniversary, the new Acoustronic ensemble's international collaborations emerging from the University of Ulster or the Setúbal Music Festival's annual programmes of socially inclusive music-making (please click on this link to read Ian Ritchie's blog), should challenge and make demands on the conservatoires and other music training institutions to extend their range of teaching.
However, this cannot change until the profession as a whole is prepared to change and groups, such as symphony orchestras, are ready to extend their instrumental palettes with the help of composers and the inclusion of a new cohort of performers. Just as calls upon the expertise of a professional musician like Clarence Adoo to ply his trade in public remain infrequent, so the pathways needed for skilled children – with disabilities, perhaps, but now equipped with special instruments – to pass through advanced training and into the music profession are completely blocked. The jobs are not yet there because the creative imperatives that should generate the demand remain on the margins.
But Inclusive Creativity, with its growing influence and range of overlapping interests, offers encouragement, hope and a sense of direction for the future. There are positive tales already told and more to follow…