Vici Wreford-Sinnott is a disabled theatre director, playwright and equality strategist. She is Artistic Director of Little Cog, a disabled-led theatre company, and is Creative Lead and Co-Founder of Cultural Shift, a three-year disabled-led arts programme at ARC Stockton. Wreford-Sinnott was one of a cohort of UK-based disabled artists and producers awarded bursaries by the British Council to attend the latest IETM (International network for contemporary performing arts) event in Brussels, November 2017. Here, she reflects on the experience and how it has influenced her ongoing practice.
I work as a playwright and theatre director predominantly to promote the cultural equality of disabled people. The work I make is usually from a social/cultural model, pan- disability perspective. I trained in theatre directing at the University of Kent many years ago, and have a strong body of work in both the Republic of Ireland and the UK. Current ambitions for my work include more national touring, being a representative within disability arts on national platforms, and to begin international networking, with the ultimate aim of international collaborations and touring.
In honesty, despite how long I've worked in the arts, I really didn't know where to begin with international networking – there isn't a 'how to' or a 'who to' manual as such, but I've seen a number of disabled peers making a real success of their international connections over the years. And also, I still find myself asking, 'where do I actually fit?'
When I saw the British Council had created some bursaries for disabled artists to attend the IETM gathering in Brussels in November 2017, it sounded like the perfect opportunity – with an emphasis on the word 'informal' in the title – to make a first move and explore some possibilities. I was delighted to be among a cohort of other disabled artists from the UK as we navigated our first IETM meeting together.
There were to be over five hundred delegates, so a very large meeting, and everyone kept saying in advance, that it's almost impossible to describe what to expect, and that it might take attending a few times to 'get the hang of it'. So I wasn't at all sure what to expect but set myself the challenge of exchanging at least half a dozen business cards – it's all about the networking, which I must admit to finding difficult at the best of times. I think it's a great concept, but I have always found that making direct contact with people about specific areas of work is most productive. However, I also acknowledge that this potentially limits wider opportunities. And of course, it is great to hear what other artists are doing.
One of the main interests for me was actually the overall theme of this particular meeting – 'Can We Talk – Art in the Age of Populism'. I was excited to hear speakers talk about the careful crafting of populist rhetoric leading to nationalism, and the marginalising or elimination of critical voices – most often found in artists working to bring about social change. And I wasn't disappointed – the first keynote speech from Eric Corijn, (Emeritus Professor, Urban Analysis, Free University of Brussels), was broad reaching in its discussion of dominant media and politics, the position of the populist demagogue purporting to represent 'the people', and ideas of nationality as citizenship and therefore the exclusion of anyone regarded as 'other', all with the urban/city in mind.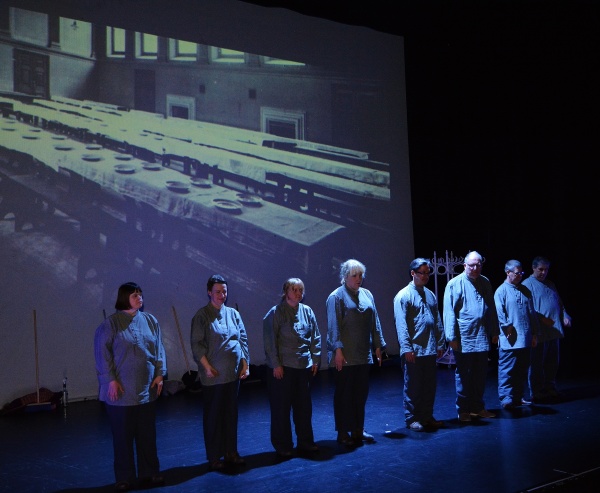 This is all fascinating to me and my practice – my work seeks to challenge dominant thinking and the ongoing and historical representation of disabled people as low status in UK/world culture. Just how is dominant culture representing those of us who fall outside it – and why? Deep and complicated thinking. I was interested to see how political artists present themselves and their work, and become part of the social change agenda around the world. I want to further ensure that disabled people are afforded the same platforms as people from other disadvantaged groups.
By far the most thought-provoking event I attended was Pluralist Populist Poetics by Eleanor Bauer, Artistic Director of GOODMOVE. How can the arts help us imagine a better future and make sense of the actuality we currently inhabit? She talked about cognitive bias and dissonance, about pluralism of thought, and who is curated to speak. She made a clarion call to all decision makers in the arts to challenge themselves to look at who is given space culturally, and ensure that the status quo is not simply reproduced.
Networking was really interesting – to get everyone started there was an organised 'speed-networking' session at the very beginning of the event. It wasn't brilliantly accessible – the noise level was enormous, tricky for learning disabled people or people with mental health problems, very difficult for anyone with physical impairments – but lots of us gave it a go. It was a bit nerve-wracking – where do I start, do I mention the 'disability' word, how do I tackle peoples' pre-conceptions? It was a mixed experience with a couple of recommendations of other artists to talk to, but I'm glad I did it as it gave me a view into what artists and programmers are looking for in the experience. I would note that it was mainly artists who took part.
Unlike some of my peers, I didn't come along with a specific aim of finding international partners, promoters, collaborators or funders on this occasion, as I don't have a specific project at that stage at the moment – two plays in development – but maybe at a later date. It was mainly to experience the occasion, do a bit of a reconnaissance on what might be possible in the future, and to really be able to apply the thinking and analysis from speakers to my practice. It has impacted on my practice enormously and also on my confidence about a place for my work internationally. I feel more readied for an international perspective in my work and have made a couple of international connections since attending IETM Brussels.
Disability access is late coming to IETM but it is clear that efforts are being made. Although not every venue was fully accessible, we were given a list of access contacts for a number of venues. And it was great to see that Jo Verrent from Unlimited was included in the workshop programme looking at access and disability, and Ramesh Meyyappan, based in Glasgow, was talking about using a visual language to communicate both internationally and locally. It would be great to see this expanded to both artistic and analytical fields in future meetings, and that papers are invited from disabled practitioners. I don't think there are clear pathways for disabled artists to make international connections yet, but I do feel part of a cohort of Unlimited and British Council pioneers examining possibilities and reflecting on what might work in a range of contexts for future international networking. It would be wonderful to meet with successful international disabled artists as advisors/mentors to support a whole range of disabled practitioners, perhaps those who have attended IETM to date, going on to the next level.