ImPArt is a two-year collaboration between Un-Label (Germany), NCA.Small Theatre (Armenia), Synergy of Music Theatre (Greece) and Oriente Occidente (Italy), co-funded by the Creative Europe Programme of the European Union. The project included the creation of three new productions, each exploring the aesthetics of access, which are set for international touring. Some of the artists and directors involved share their experiences of the process.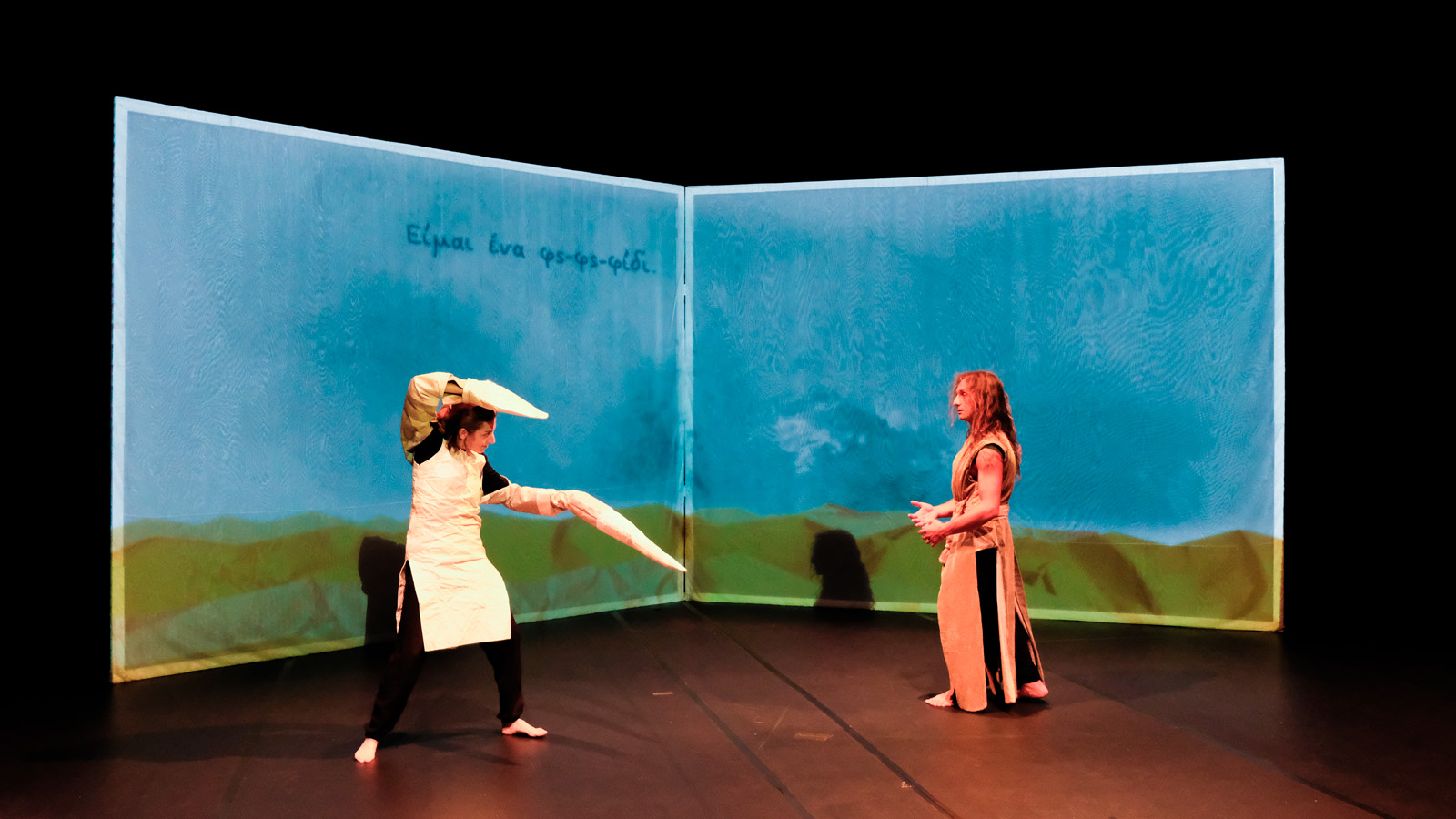 The core aim of ImPArt is to explore the aesthetics of access – how accessibility elements can feed into the artistic outcomes of work in an integrated fashion. ImPArt has included workshops, creative residencies, masterclasses, international symposia, international summits and international labs across Europe to cascade learning from the extensive research carried out in this area. But a key driving force of ImPArt has been the creation of new work, Re: construction, Gravity (and other attractions) and The Little Prince – three flexible small-scale productions, which have accessibility creatively integrated from the beginning of the devising process.
In fact, the idea of making performing arts more accessible using accessibility tools as an artistic approach is an extremely interesting way of creation and a good reason and opportunity for artists to look for modern artistic solutions. Your imagination is widely charged with new ideas and perspectives when you create artistic content in this direction.

– Vahan Badalyan, Artistic Director of Armenian partners, NCA.Small Theatre
The Little Prince
The Little Prince is based on the novella by Antoine de Saint-Exupéry, using a mixture of spoken word, dance and visuals and performed by an integrated cast of disabled and non-disabled performers. It premiered at the Greek National Opera on 8 September 2019. Vahan Badalyan, Artistic Director of NCA.Small Theatre directed the show, and is particularly proud of the multi-layered access which it offers:
Live performance was enriched by multiple artistic tools to make it fully accessible. Vibrating benches for the audience were provided to experience the music in an alternative way, subtitles in different languages were fully integrated into the visuals and set design, various scents and smells created an associative relationship between the scenes and emotions and memories. A touch tour in a dark room was provided for everyone to experience and feel all the fabrics and materials the props and costumes were made of.
The experience of being involved in the creation of The Little Prince as well as engaging with the wider project has been transformative for Badalyan and his company, as he reflects:
It was a great opportunity for our company to gain new international experience and it has opened up interesting new artistic perspectives in our work. Most importantly, ImPArt has given us the knowledge and experience to make our own artistic production more accessible and available to a wider Armenian audience.
Gravity (and other attractions)
Gravity (and other attractions) is a dance duet performed by one hearing and one deaf performer. A poetic English audio description, which is artistically integrated into the performance, builds the creative base of this piece. The descriptive language is the inspiration, the verbal translation and the spoken text of the performance. This innovative approach integrates descriptive language into the play without specifically targeting a visually impaired audience. The script was written by Belgian writer Max Greyson as part of an artistic research project at the Royal Conservatoire of Antwerp on developing artistically integrated audio description. Gravity also features other languages and art forms, such as international sign language and visual vernacular. Touch tours are also available. Greyson reflects on the process:
It has been one of the most challenging and fulfilling projects I have ever collaborated on, as it aims to incorporate tools for inclusion and accessibility in an artistic way. Our working methods are inclusive, international and interdisciplinary and therefore raise many questions and require creative solutions that challenge the very core of theatre-making. In general, there was an open creative dialogue, which means all of the artists involved, including me, created the dramaturgy in a collaborative way. I have learned that the added value of an international context is immeasurable. There is a continuous creative flow that arises from the different languages that are being spoken and signed. The exchange of cultural perspectives is inherent to the European identity, with such a diversity of languages within such a small space. Personally, I've learned also to find balance between the ambiguous nature of poetry and the idea of accessibility of text, which at first presented itself as unbridgeable paradox, but is now much more a creative exploration of meaning, rhythm and sound.
Re: construction
Re: construction is a performative multimedia installation which uses videos, language, soundscapes, performative fragments and interactions to create a scenery that invites visitors to project their very own narratives. Munich-based disabled performer, Lucy Alena Wilke who features in Re: construction explains the unusual approach to access in the show:
In Re: construction, we're really playing with this notion of 'accessibility' and using humour to explore the limits of accessibility. In fact, we turn things on their head and make things deliberately inaccessible for certain non-disabled people, for example having statements written only in braille, or videos in different sign-languages which aren't interpreted for a hearing audiences. My personal opinion is you simply can't make everything accessible to everyone, but instead you can have many layers in which different things happen. Re: construction is accessible for everybody, just not all at the same time.
Reflecting on the process of working with ImPArt, Alena Wilke expands:
ImPArt is unique, certainly in Germany, I think it's one of the most professional performing arts companies involving disabled artists. Working in an accessible environment like this, where I'm not the only disabled performer (which I usually am) means the whole process feels very relaxed. They really think about how to make everything accessible for you as an artist. And all of the artists involved are of an extremely high standard.
All three productions which play as part of Sommerblut Festival, Cologne, in May 2020 and are available for international touring.