Lizzie Banks, producer of Carousel's biennial Oska Bright Film Festival, reflects on her team's recent trip to Clermont-Ferrand, Europe's leading short film showcase and festival.
If we flashback to 2004 when Oska Bright first launched, film-making by learning disabled artists was barely a thing. We held a day screening 29 shorts, mainly films resulting from workshops we'd run in day centres, schools and colleges around Brighton. The response was encouraging; a genuine interest in this new film genre and an audience hungry for something real.
Now in its seventh edition, Oska Bright runs over three days, shows 100+ films from around the world and welcomes 3,000 or so people. Last festival Andrea Arnold OBE, multi-award winning film director, was amongst the great and good handing out the awards.
The festival is programmed, managed and delivered by a team of learning disabled film enthusiasts. Over the years, they have refined their knowledge and specialisms to the extent that we now have a learning disabled Festival Director, Becky Bruzas, and a Programme Manager, Matthew Hellett, both of whom travelled to France with myself and Carousel's David Parker.
The British Council's invitation to join the UK contingent at Clermont-Ferrand was timely and welcome. As Becky says "It's great to be recognised as a key event in the UK film calendar, not just within the disability arts sector. It's something we've been working towards for years with the partner organisations that support our work such as the BFI, Film Hub South East and Arts Council England."
Most people attending Clermont-Ferrand are there to hunt for films for their festivals. There are also agencies, such as Film London, whose aim is to sell films to other festivals or distributors. Oska Bright sits somewhere in the middle, promoting a festival with unique content to other festivals. We feel that Oska Bright has the potential to develop either as a distributor of learning disability film internationally, or an agency to represent the work on behalf of makers. Having Oska Bright films hosted on the British Council UK Short Portal is the beginning of this journey.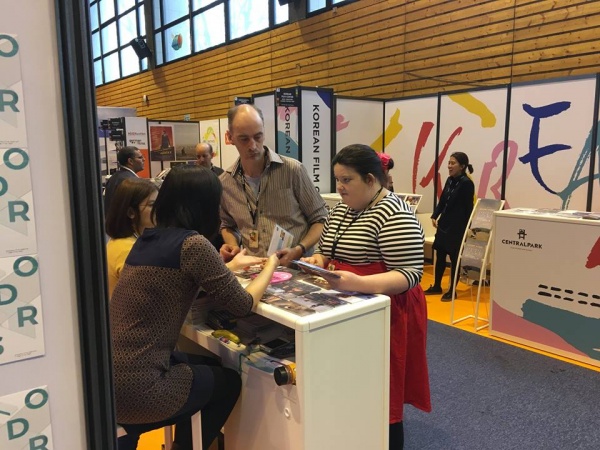 Travelling to overseas events always takes careful planning, and with Oska Bright this effort needs to be doubled. We have to ensure that the mode of transport is accessible and comfortable for our colleagues and that medical issues are considered. As a team, everyone needs to be properly briefed on the activities within the schedule. The work takes place in fast moving, highly populated spaces that can seem bewildering even to very sociable people. We have to plan in advance to position ourselves to be able to see, hear and network most effectively. The social side of any conference or festival is not always easy for learning disabled people, so we have to prepare our methods of approach and our priorities.
Becky, however, has no such trouble. "I loved meeting everyone in the market-place. We have a unique selling point and are one of a kind. People are sometimes a bit surprised to hear what we do but they really engaged with us. There were the language barriers to get over, and the screenings being so busy we couldn't get to see all we wanted, but that's the nature of the event and a tribute to its success. Of the films we saw, we are hoping to bring an Italian film, Mattia sa Volare, to Oska Bright in November."
The industry as a whole is moving forward on the representation and inclusion of learning disabled people in film. Features such as Sons and Mothers by Christopher Houghton and Louise Pascale and My Feral Heart directed by Jane Gull are helping to change attitudes. We know from the films being entered into Oska Bright that there is more ambition in the sector, but Clermont Ferrand did show up some stark differences between the European film industry and that of the UK, as Becky found out.
"Matthew and I canvassed everyone in the market-place asking them what their diversity strategy was, or how they planned to involve disabled people in their work. Less than one in four had even given it a thought – they seemed really non-political. Diversity is so part of the mind-set in the UK that this seemed really strange to me."
We were all hugely encouraged by the appetite for short film in France. The cinemas were heaving, with long, rather chaotic queues for screenings. We need some of that here – and our films there, of course.
But we need to raise our game if we want to match the imagination and audacity of learning disability production within dance or theatre internationally. Think what Australia's Back to Back Theatre is sending out into the world – where is film's equivalent? There is a rumble of dissent about how diversity is represented at The Oscars too. I can't wait for the day when a truly wild, cinematic masterpiece gets made with or by learning disabled artists at the helm. Come on, Wes Anderson, work with us. We're ready.
Carousel is a learning disability led arts organisation working in film, music, digital art and artist development. Oska Bright Film Festival takes place on 15, 16 and 17 November 2017 at The Old Market in Brighton and Hove. Films made by or featuring learning disabled people can be entered at no cost; the deadline is 30 April. A day of action, Disability Visible, for film industry personnel, takes place in November, at a London venue tbc. See Carousel's website for more information.