Since 2016, the Małopolska Empathetic Culture project has strived to increase the presence of disabled people in the cultural life and institutions found within the Polish region of Małopolska. Managed and led by the Małopolska Culture Institute in Krakow (MIK), the goal of the project has been to encourage disabled people and (currently) 23 non-government organisations and institutions to plan, advise and assess ways in which they can improve access for both disabled audiences and artists. Paul Fisher Cockburn spoke with MIK's Tomasz Włodarski to check on progress, future plans and what best-practice they are able to share.
Put the project name 'Małopolska Kultura wrażliwa' into Google Translate, and the system will come up with 'Małopolska Sensitive Culture'. However, that's not the translation Tomasz Włodarski, of the Polish cultural think-tank Małopolska Institute of Culture in Krakow, prefers.
"We consciously use the word 'empathetic' because [it] is more the meaning of the Polish word. We're conscious about other people's emotions, feelings and needs."
Putting an understanding of individual people's needs lies at the heart of what Tomasz describes as "one of the first systemic solutions in Poland applied to accessibility and diversity". Launched in 2016, the Małopolska Empathetic Culture project was genuinely breaking new ground in coming up with practical solutions, not least because – at the time – there was no national disability-specific legislation in Poland.
"We were kind of relying to the United Nations' Convention of the Rights of People with Disabilities, some European Union legislation, and also some Polish constitutional law, but it was not put into one space with clear obligations from the public authorities or institutions."
In 2018, two pieces of disability-related legislation were introduced, touching on supporting people with specific needs and legislation regarding digital accessibility. Some, though not all, aspects of these included ideas put forward by disabled people through the project. "Now we are a little bit better prepared with the introduction of this legislation than other public institutions," Tomasz adds.
In a sense this is unusual: the desire to improve access has, on this occasion, been initiated by Małopolska's cultural sector. "They've noticed that cultural institutions such as museums, music halls and galleries are not well prepared to satisfy the needs of disabled people; there were some cases when the whole [management] team were reluctant to provide services for disabled people because they didn't know how to do it.
"What we did, straight away, was invite non-government organisations into the project and ask what we should do, how we should prepare, and we came up with the programme for the project together," says Tomasz. "After a few years, we have some methodology on how accessibility should be introduced into the public institution: we tried to be quite flexible, so we evaluated projects at least twice a year, so we could actually make changes. We kind of tried to be empathetic, understanding that the human being is the centre of the activity."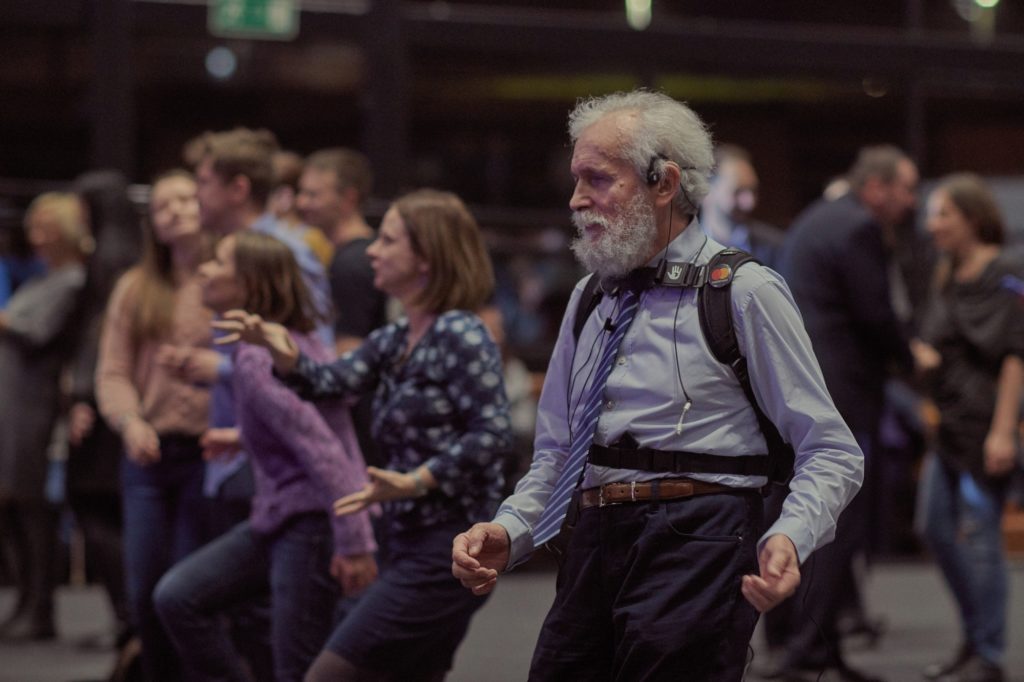 Tomasz points out that part of the challenge is that, in general, disabled people really struggle to be a part of the public space in Poland. "It's changed, even in the last five years, and maybe it's easier in Warsaw, Krakow, etc, but we work with cultural institutions in smaller towns and really small villages where the perception of disabled people is obviously different.
"We want to achieve change. Obviously, we are aware it cannot be done in three years; it cannot be done in five. We expect some changes maybe in 10 years' time." One thing they have learned is the need to embed good practice across an organisation. "We know it is important to have our empathetic workshop not only with the people working directly at the service but also with management, otherwise the importance of the changes is not passed on."
Given the scale of the challenges, the project has divided activities into four strands: visual impairments; D/deaf and hard of hearing; physical/mobility impairments; and learning disabilities. Because of necessarily limited resources, each strand is operating under its own timeline. "At the moment, we're only starting with people with learning disabilities; obviously, we are using the good practice which is also present in other countries and regions. We're actually teaching people and institutions how to prepare typographic materials for themselves, because we have educators and artists in those cultural institutions.
Helping institutions better understand D/deaf people, meantime, has underscored how it's a genuine cultural issue; they have already invited more than 50 culture sector employees to learn sign language.
More recently, Małopolska Kultura wrażliwa has learned how it is not enough to provide some kind of standards against which an institution can be judged to be open and accessible—even though they're actively explaining the changed legal framework regarding disability in Poland since 2018. "What we've realised is there's a need to have some advocacy activities, supporting disabled people and driving change in local communities' perceptions of disabled people.
"After six years, we are ready, and are doing more in terms of advocacy. So, with the association of the British Council, we want to promote disabled artists," says Tomasz. "Two years ago, for example, we hosted deaf artists who produced a play and we actually sponsored and organised discussion evenings about the region about their performance. It proved to be really good because they attracted not just many people from the local communities, but also theatre directors across the region—who got involved because they recognised the artistic opportunities being opened there."
Like the rest of the world, the coronavirus pandemic forced Małopolska Empathetic Culture to "pivot" online and successfully find new ways of continuing its work. However, looking ahead, they understand there's another real challenge to be faced.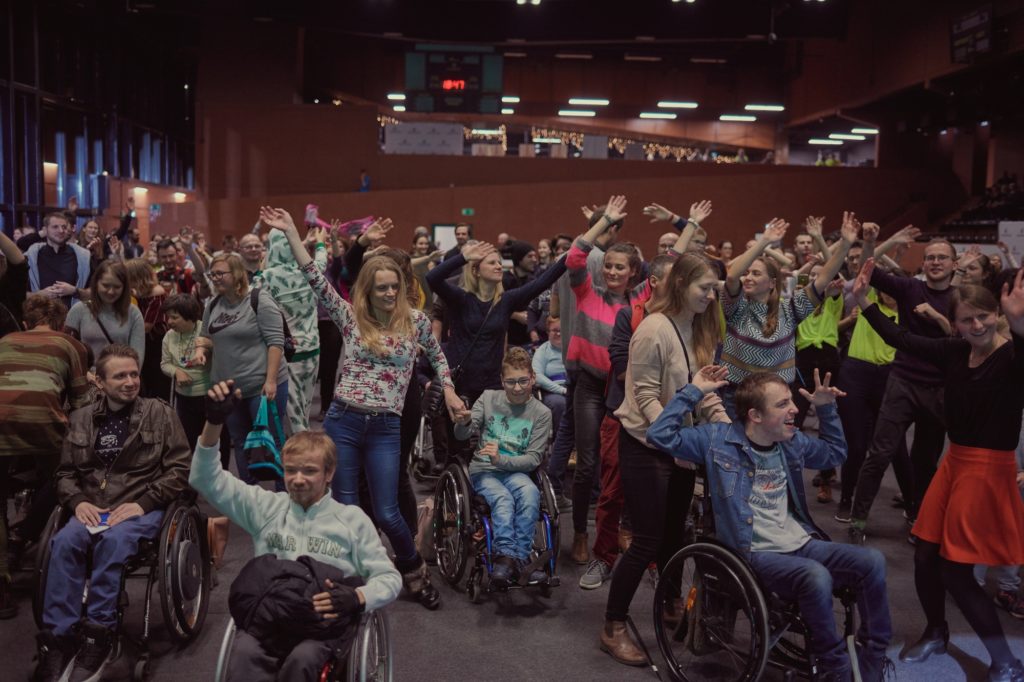 During the project, they have employed disabled people, not for permanent positions but some consultation contracts in the belief that, if you're consulting with people, it's only fair to offer some renumeration for their time and knowledge. Poland's social security system, as it currently stands, does not encourage this: many disabled people are reluctant to take any paid work in case they go above the proportion of minimum salary which triggers the loss of the financial support (and also additional support for buying specialised equipment) they currently receive.
Nor is there any financial support to encourage cultural institutions to ready themselves for employing disabled people. "I'm also a member of the board of the Foundation for the Human Rights in Business," says Tomasz, "so I've got some connection with the Ministry of Labour, and we got some lobbying opportunities towards changing this minimum salary proportion; it's not yet changed, but at least one of the ministerial departments has started to discuss this. And we've got involved with the other organisations that are trying to push this as well. Because we could move disabled people into the labour market, give people more confidence in the labour market."
National and regional politics have an impact on programmes like this, of course. Reflecting on recent developments Tomasz states "We have to fight a bit more; but, having said that, the model of the project is to start with empathy. As you can see, the project is not just a one-off programme that repeats itself, but it is always active in contact with the disabled people, and we've talked with the new government organisations."
Personally, Tomasz is still excited. "I've seen the change, I see the change, I've experienced the change. We were able to change our way of work in the public sector because we originally instigated a huge partnership with cultural institutions and we ensured a huge involvement by the community. So it's not just down to MIK, but the active involvement in organising activities."
As a result, they have much to share. "Since the [disability] legislation came, suddenly many cultural institutions, many public institutions, are actively searching for best practices," he says, in everything from face-to-face service to procurement of the right kind of disability equipment. The region's Department of Culture is in touch with the 16 other regions making up Poland, while the project's worth was recognised in 2018 by a European award.
"We do what we can when we find the resources to really find the best solutions," says Tomasz. "It's a small step that makes us move forward; it doesn't necessarily have to be a huge step right away. We don't expect huge change after a year; it's not political PR; it's more that we really want to make a long-term impact."