Between April 2018 and April 2020, French-based organisation Ciné-ma différence commissioned a comparative survey of 16 organisations* delivering Relaxed-style Performances in France, Canada, the United States, the United Kingdom, Sweden, and Switzerland. The resulting report also includes a toolkit with a series of recommendations so that other organisations can implement their own Relaxed Performances. Paul F Cockburn spoke with the survey's leaders to discuss both the survey's findings and what happens next.
It's fair to say that there were several good reasons why French organisation Ciné-ma différence – although quite small – decided to undertake an international survey of Relaxed Performances.
"It's a strategic move; we had to show to people in France that we – a little known organisation – were doing things that others around the world were doing too, that the basis of Relaxed Performances in France was common to different countries," says Ciné-ma différence co-founder and chair, Catherine Morhange. "We knew that the study would help us; what we didn't imagine was that we would make contact with a lot of people who would be so happy to share what they were doing."
Ciné-ma différence began in 2005 with the aim of improving and widening access to public film screenings across France—"Things which were relaxed screenings in all but name," according to the report's lead, Marie-Pierre Dupagne. By 2015, with around 400 inclusive adapted screenings each year across 70 towns and cities, Ciné-ma différence decided to expand what they did into live entertainment – initially live concerts, and subsequently plays and other shows. "At the same time, by chance, I realised that Relaxed Performances existed in the UK," adds Marie-Pierre. "We found out that The Globe [Theatre, in London] had been doing Relaxed Performances for some years."
So, with some official funding from Ministry of Culture and Communication in France, Marie-Pierre and the team began their research. Their findings have proved significant.
"We realised that there were people in the UK doing things, who didn't know we were doing them," says Marie-Pierre. "We realised that it was recent. We realised that the aim was the same for everyone—to give access to performing arts to people who found it difficult to go to a theatre without being shushed or looked at, or harassed. The adaptations were roughly the same too: a word of welcome to remind the audience that this was a Relaxed environment; a non-judgemental atmosphere; adaptive communications; and extra staff during the performance to make sure that everybody was comfortable, and that help could be given should the need arise."
However, there were differences too. "One difference between us and people in the UK and the US is that they are often autistic-orientated, whereas we're sort of broader scope," says Marie-Pierre. "Then another finding was that much of what was going on in the US and the UK was in the form of targeted performances: ie, performances which were meant for a specific audience, and which were sometimes custom-built for the specific audience for which it was targeted. Whereas Ciné-ma différence had always been going for inclusive mixed performances. The idea always was to organise standard, regular performances/screenings in a way that people with differences, with behaviour disorders, would feel welcome at a standard show."
The split between "inclusive" and "targeted" shows among the surveyed participants is about "half and half," according to Catherine. Nevertheless, this can lead to some confusion. "Inclusion, in fact, is not about organising a special show," she says. "It's choosing one, two, three or 10 shows in the programme of the theatre or concert hall during the year, and saying 'This one is Relaxed, and that one is Relaxed.' Exactly the same way that some shows have audio description, some shows have subtitles. It's saying: if you feel you need a more welcoming and relaxed etiquette, then here you can come to this show on a Sunday evening, or Monday afternoon, and you will be welcomed and feel safe, and everything will be tailored to your needs. For mainstream people coming to this show, there is no real difference; for them it is the same, except that there is information to tell them it is a relaxed performance."
The survey also showed an interesting bias in terms of the kind of shows offered as Relaxed Performances, especially in the English-speaking world—a bias towards shows aimed at young or family audiences. "I think that comes from the history of Relaxed Performances, because the first Relaxed shows [in the English-speaking world] were pantomimes," says Catherine. "It's still the case for a lot of theatres which do one relaxed production a year, and it is pantomime, so that children with autism or other types of disabilities are not deprived of – as I understand it – an experience that's very important to family life in the UK."
"Also, it was parents starting to try and think of something for their children," adds Marie-Pierre, "That's why it started with children's shows. But then those children grow up. And some disabled people become activists, saying they want to be able to access performances which are not specifically for children."
Both are genuinely pleased by a totally unforeseen consequence of the survey—the establishment of a relatively informal Relaxed Performance network.
"We conducted about 20 interviews in all, and everybody was keen and willing to keep going and to get to know the other people who had been interviewed," says Marie-Pierre. "People in the US were very keen to share what they had been doing with people, elsewhere. So we had a first Zoom meeting in December 2020 with the people who had been interviewed; that was about 20 people. There was a big feeling for sharing practices and thinking about what should be done; so we had a second meeting in March 2021, with people who we had identified after the survey—so it was wider. We're working now on our next meeting which will be in June, whose aim is to share practices, think about best practices, and to spread the word. So this is a major consequence, which means that people who've been working on Relaxed Performances for years, can get to know each other, share practices, and learn from each other's mistakes."
Such a network is significant because of possibly the survey's most surprising finding. "When we started working on the study, we tried to see if there was a sort of common definition of what a Relaxed Performance is," says Marie-Pierre. "And we were very surprised to find that there wasn't really one. While the adjustments were pretty much the same everywhere, there was no core definition."
This was particularly highlighted in their discussions with the team behind the world's largest performance event—the Edinburgh Festival Fringe. With thousands of performers, groups and theatre companies travelling to the Scottish capital each August, and a small but growing number wanting to nominate some of their performances as Relaxed, the team at the Edinburgh Fringe Society (which supports visiting artists, and organises most of the ticketing) believed there was a genuine need for an agreed minimum expectation of what a Relaxed Performance actually entails.
"We believe – and I think we're not alone in this – that one of the most important things is that everybody, before they enter the venue, knows that this is going to be a Relaxed Performance, that some people will express themselves differently—and it will be quite alright for everybody to do that," says Marie-Pierre. "But this alone doesn't make a Relaxed Performance 'relax', a minimum definition doesn't exist yet, and it will be the thing that will be discussed in our next Relaxed Performance network meeting in June."
What Relaxed Performances should never be are just "box-ticking". "We find that the work of reassuring audiences that they will be OK is at least as big a job, and as hard work, as putting on the show itself," says Marie-Pierre. "Reassuring people is tremendously difficult work, because they have had so many bad experiences, when they've been hurt. So that's why we're working on agreeing a common standard."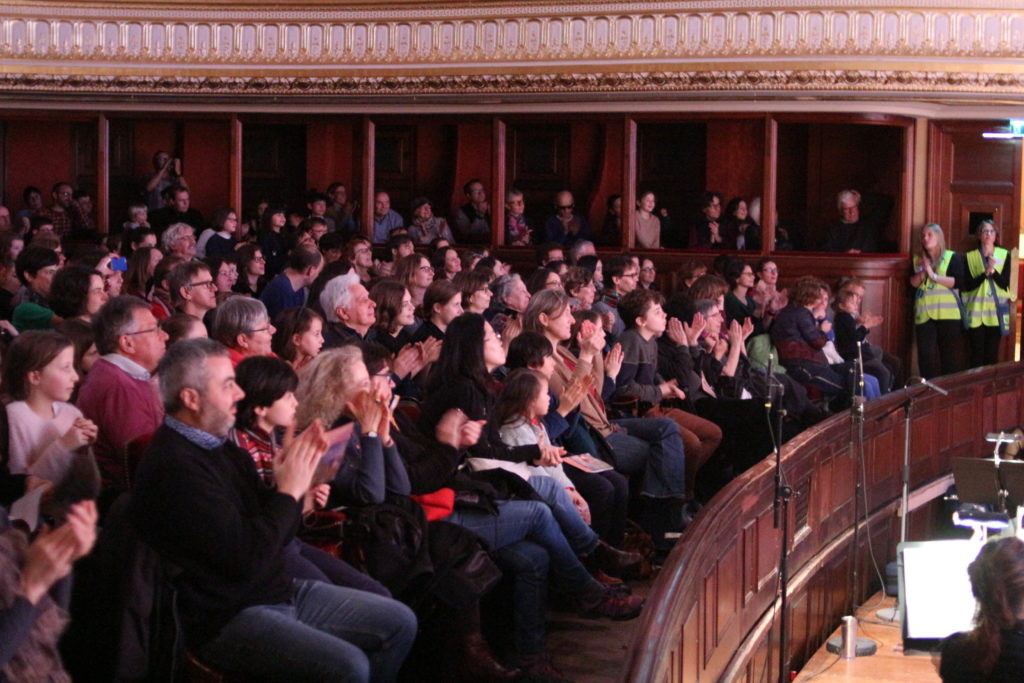 For now, Ciné-ma difference makes the following recommendations for French organisations looking to implement Relaxed Performances:
A Relaxed "theatrical etiquette" that ensures a caring and peaceful environment: an open-door policy, freedom to move around and express oneself in one's own way without being judged or criticised.
Increased numbers of front-of-house, trained to accommodate special needs.
Transparent information to patrons at every stage, and specifically: when the show is announced in the season brochure, when tickets are purchased, when audience members arrive, and in a pre-show announcement.
Communication tools adapted to audiences' disability, including an Easy-to-Read welcome kit addressing both the venue and the show itself.
Affordable ticket prices to increase financial accessibility for people with disabilities.
Recurrent performances (for example, three to four Relaxed Performances a year) and selected among the full range of programming, and not just family friendly shows.
A chill-out space.
Both Catherine and Marie-Pierre are pleased by the positive reaction to their report, especially in France. "We can send the report to people across major organisations in France; it's a good way for us to show them what Relaxed Performances are. People are actually reacting very positively, and are very interested," says Catherine.
That includes France's Minister of Culture. "We are a very small, non-profit-making organisation. If we say things, people can be interested, but if the Minister of Culture says the same things — and says this is really important – then it will help people to decide," says Catherine. "We have a lot of good feedback from people we sent the report to. We are working with people who want to do Relaxed Performances. It will take time; it takes human resources, and also money, to grow and develop correctly. But I was there at the beginning in 2005, and I can feel the difference. We're not getting the same reactions: people are now asking 'How we can do it?', not 'Why?'."
---
The Relaxed Performances comparative study is available in multiple formats and in both English and French here.
*The full list of participating organisations is: