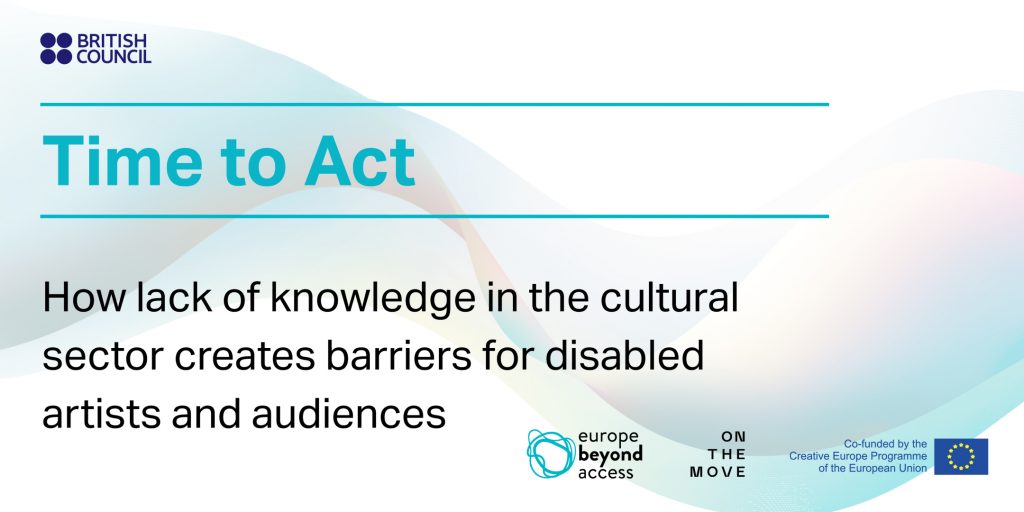 Launching the preliminary findings of our new report 'Time to Act: How lack of knowledge in the cultural sector creates barriers for disabled artists and audiences'.
This major new study from On the Move into the barriers that disabled people experience when accessing the arts spans 40 countries. It has been commissioned by the British Council through Europe Beyond Access.
Read the report on issuu here.
Time to Act: preliminary findings
How many programmers are actively seeking work by disabled artists? Do cultural venues have adequate engagement strategies to reach disabled people in their communities? These are some of the questions that the Time to Act report has posed in order to assess the knowledge (and lack of knowledge) amongst performing arts managers across Europe. Core preliminary research findings are presented in the following areas:
The depth of knowledge around the creative work and practices of professional disabled artists.
How to make cultural programmes accessible to disabled artists.
How to make cultural programmes accessible to disabled audiences.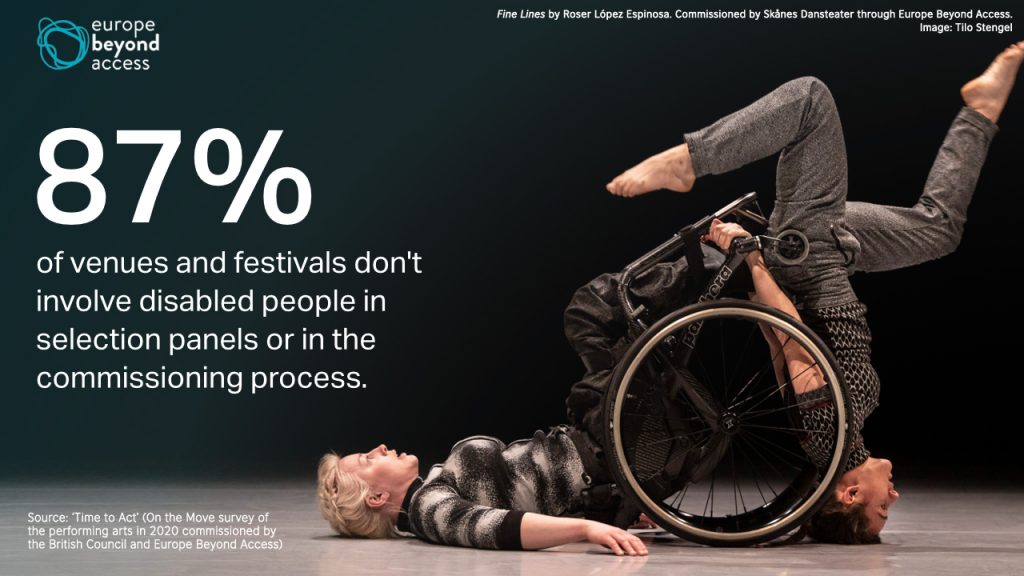 "This study was designed as the first part of the evaluation strategy for Europe Beyond Access, our collaborative project celebrating a remarkable generation of disabled dance and theatre artists.

However, some of the initial statistics are shocking, and they reveal the institutional marginalisation of disabled people in our European cultural sector. We have chosen to publish these initial findings now as an important contribution to the growing movement towards greater cultural access for disabled people across Europe."
Ben Evans, Project Director, Europe Beyond Access / Head of Arts & Disability EU Region, the British Council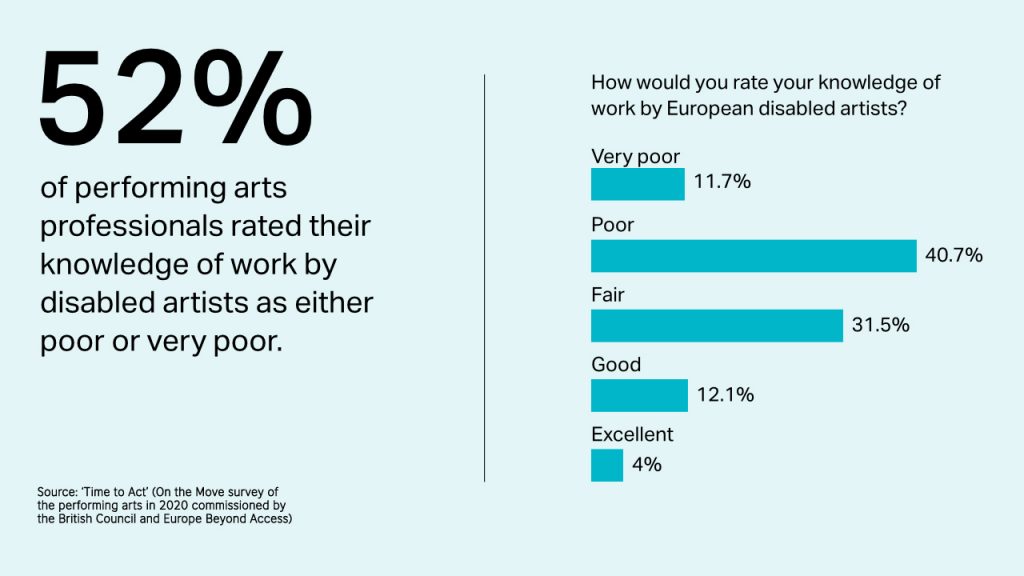 To mark the launch of the report, the British Council on On the Move hosted a webinar which brought together invited arts professionals, representatives of cultural ministries, arts councils and policymakers from across Europe. Panellists included:
Mindy Drapsa – Artistic Director: Riksteatern Crea (SWE)
Tanja Erhart – Dance Artist and curator (AUT/UK)
Anna Consolati – General Manager: Oriente Occidente Dance Festival (IT)
Lisette Reuter – Creative Producer: Unlabel / Project Director: ImPArt (DE)
The webinar was live captioned in English, with captions translated upon request.
The webinar was supported by British Sign Language and International Sign.
It is available to watch in full below:
As we move through 2021, more research and follow-up case studies will be conducted to produce even greater levels of detail in these areas.
Alongside this will be a series of events in which speakers in countries across Europe will respond and reflect on the findings.
Co-funded by the Creative Europe programme of the European Union, Europe Beyond Access supports disabled artists to break the glass ceilings of the contemporary theatre and dance sectors.
The core partners of the project are British Council (operating for this project in the UK and Poland), Onassis Stegi (Greece), Holland Dance Festival (The Netherlands), Kampnagel (Germany), Per.Art (Serbia), Skånes Dansteater (Sweden), and Oriente Occidente (Italy).
Dissemination associates are IETM, ONDA (France), EUCREA (Germany), Acesso Cultura (Portugal), Instytut Teatralny im. Zbigniewa Raszewskiego / Theatre Institut (Poland), and ISPA.
To keep up to date with the development of this research, with the Europe Beyond Access project in general, and with developments in Arts & Disability from around the world, sign up to our newsletter using the box below.