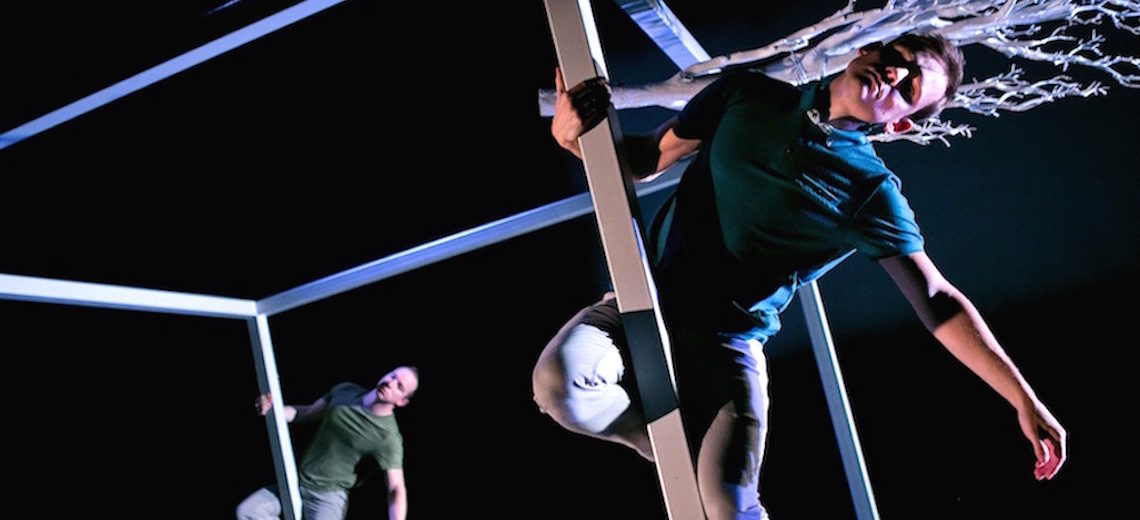 Kind of Silence
A photograph from Kind of Silence by Solar Bear depicting two men hanging from a metal cube frame. The frame is white. The men are on opposite corners of the frame and both are leaning to the right, in similar positions.
Claire and Craig
© Photo by: Image © Solar Bear
A photograph from Claire and Craig by Solar Bear depicting three performers; one is wearing a feather head dress, and is being hugged from behind by another performer.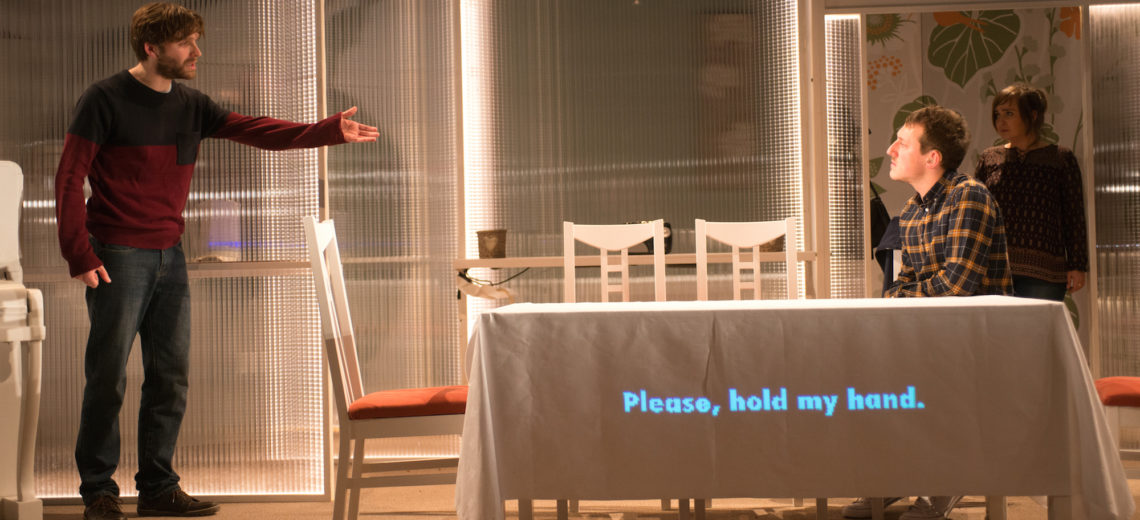 Tribes
© Photo by: Photo by Alan McCredie
A photograph from Tribes of a stage set up as a room with a table. One man is sitting at the table, and another is to the left of the table extending his hand. A woman is stood on the right in background. In blue pixelated letters on the table cloth are the words " Please, hold my hand".
Solar Bear has built up a world wide reputation over the past 15 years for providing accessible theatre for marginalised groups and for providing accessible routes into building theatre as a career for deaf/hard of hearing artists. We continue to focus and develop these strands of our work.
Our Artistic programme reflects the company's commitment to creating high quality theatre productions that are accessible to the audiences we seek to engage with and beyond. In offering a programme of work that ranges from classical through to contemporary text our productions will engage with deaf and hearing actors of the highest quality, offering new and existing audiences the opportunity to enjoy theatre going experiences that merge visual, signed and spoken language into all our work. Our productions will benefit from full six-week rehearsal periods allowing the professional artists we engage with to embrace the challenges and opportunities to be found in working in multi layered languages ensuring our audiences, whether deaf or hearing, experience work of the highest quality, which is both challenging and ground-breaking.
We continue to run the only year round deaf youth theatre for 12 – 25 years olds. We are nurturing a young company for older members that wish to expand their skills from all strands of the theatre industry – acting, directing, writing etc.
We continue to develop our partnership with the Royal Conservatoire of Scotland which has resulted in the UK's first BA performance degree in British Sign Language and English. This degree, set up in 2015, has opened up a formal training route for those who are deaf/hard of hearing.
Solar Bear is driven by the desire to embed inclusion and accessibility into the root of our society through inspiring, varied and innovative theatre.
Contact details
Angela Coates
General Manager
Solar Bear
Scottish Youth Theatre
105 Brunswick Street
Glasgow G1 1TF
Solar Bear also has a developing outreach programme. We are also in a position that we can provide bespoke outreach work on request.
Solar Bear runs a strong programme of Deaf Theatre Clubs - helping theatres and venues to make their productions more accessible by providing specially hosted BSL interpreted evenings. Deaf Awareness Training is always in great demand and Solar Bear has a significant record of providing training sessions to a wide variety of organisations.
Latest Video
visit the Solar Bear YouTube channel: https://www.youtube.com/channel/UC8v63P2dyRwuG6msHVKQqag/featured
Related artists from the same artform